There was a time when a touch of gold stood for the sign of luxury and exclusiveness. People with upscale taste found this to be the natural choice for their home decor. Whether it made a full-scale presence or popped out here and there, it was a matter of preference and personal style. The premium home improvement magazines and pictures also identified this specific finish as the esteemed choice. But slowly, gold started disappearing from the scene. It never went totally out of fashion, though. The main reason behind the dwindling interest was its shiny surface. The bright golden polish was too overpowering, especially for some bathroom decors.
source: homary.com
Today, the situation is different, and that's why the golden tone has regained its position. However, it is not the old brass finish that you must be thinking about from the 80's era. The one that is witnessing huge demand and giving everyone a chance to debate its age-old existence and comeback is more quiet and understated. The warm gold finish of the brass is full of elegance, charm, and softness due to its brushed finish. If you wish to experience its splendor, check the latest collection of a brushed gold bathroom faucet. You will get a fair idea of what it looks like and how it is no more a typical brassy affair.
Browsing through the rise of brushed gold bathroom faucet
Many homes adopted silver finishes in the form of stainless steel and nickel for their cost-effectiveness and physical appeal. But the challenge with them is the lack of warmth, which any brass finish can quickly add. Whether your bathroom has white, blue, or gray color schemes, you can install a brushed gold faucet to balance the cool tones with some warmth. A gold tap against a white backdrop looks even more magnificent. It always works if you desire to bring timelessness. And if the bathroom has gray cabinets and white countertop and sink, installing a golden faucet can be the ultimate decision.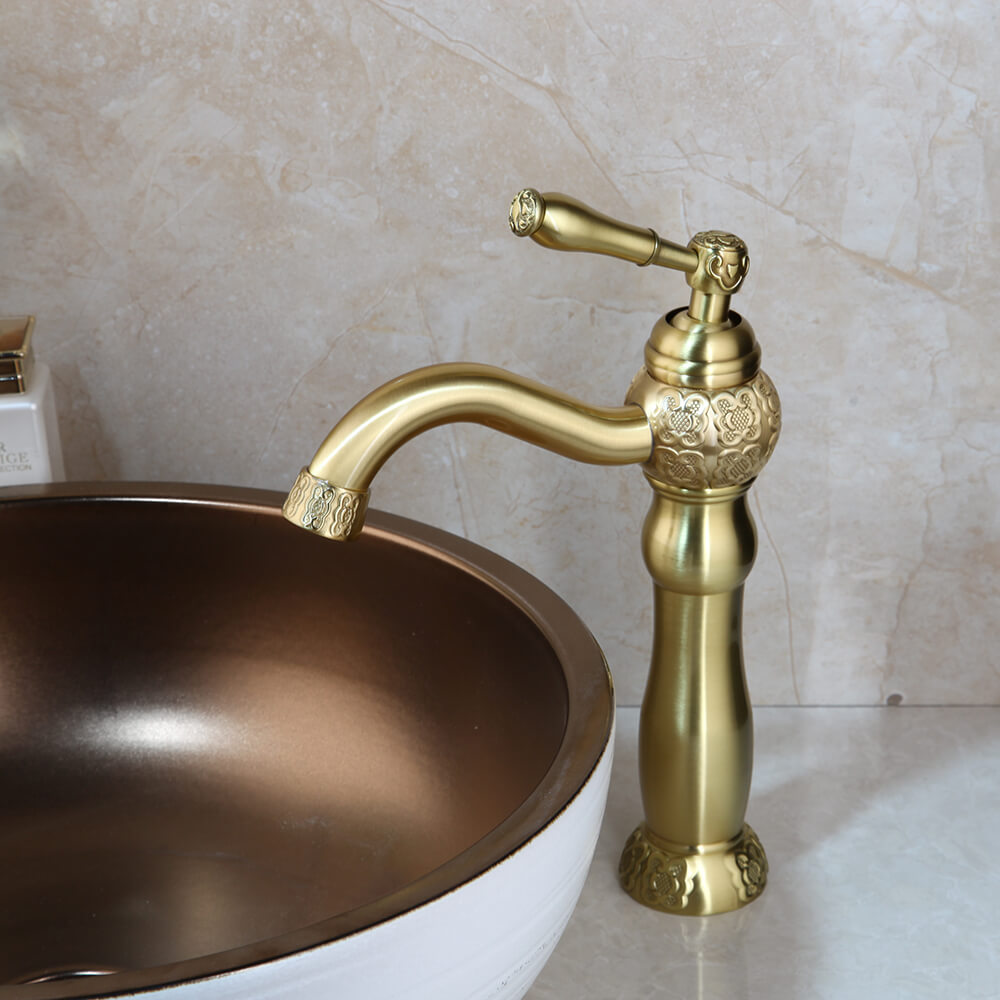 source: pushauction.com
Since gold fittings and brass are available in a brushed tone, you don't have to bother about them going overboard like the 1980s era. These are more attention-worthy compared to their previous shiny avatars. When you introduce them in your bathroom, you infuse a feeling of ease and elegance.
From this, you can understand that there is no risk if you want to gift your bathroom a brushed gold faucet. It can be relevant even after many years unless you decide to switch to something else. And the best thing is, whether you plan to paint your personal space in black, white, blue, gray, brown, yellow, pink, or any other tone, you can always have a way with a golden faucet.
Using the brushed gold faucet in the scheme of things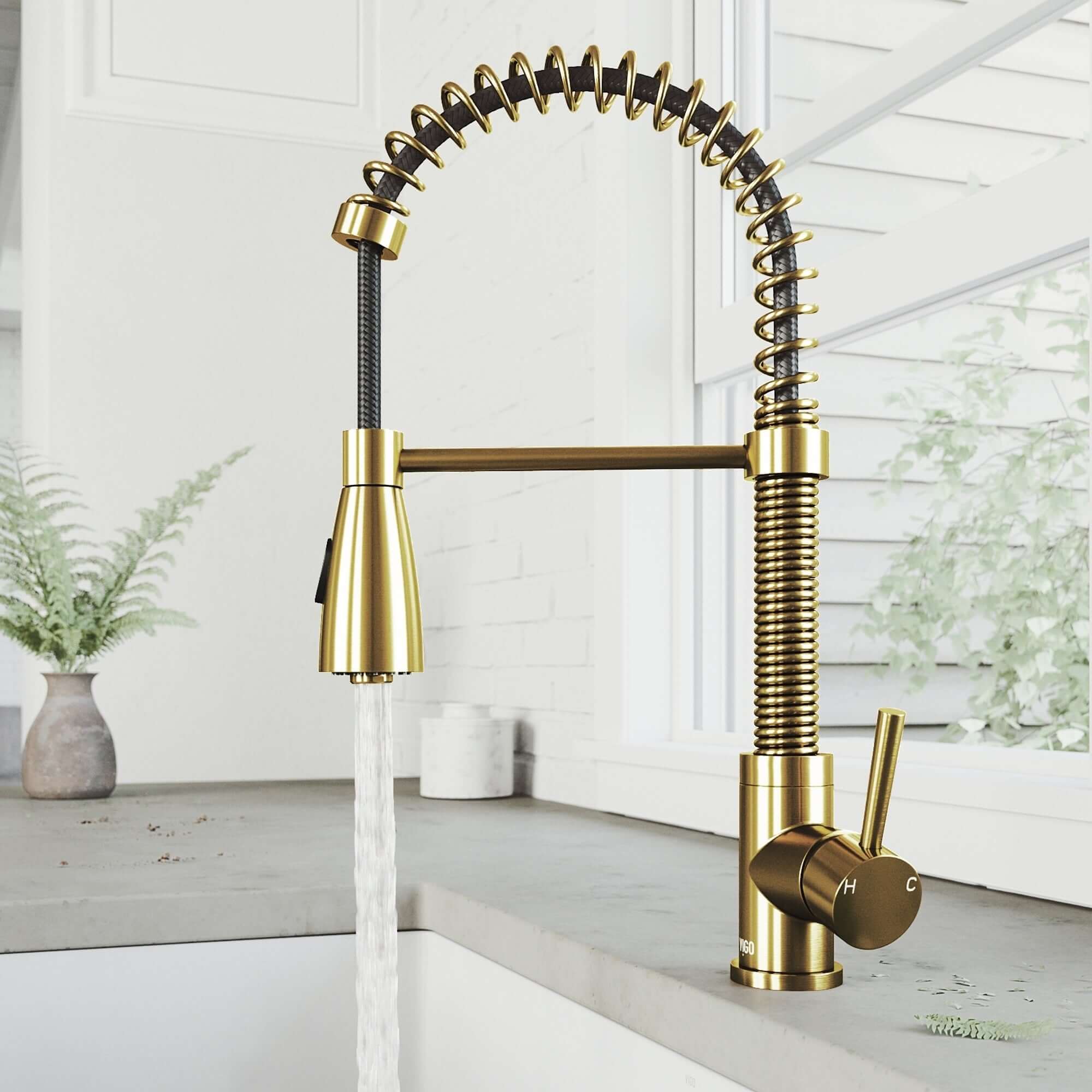 source: ostkcdn.com
When used as an accent, a little brass addition can never go wrong. That's why it is safe to use a brushed gold faucet. You will not have to worry about it fading away from trends. The quiet finish will complement the overall interior theme seamlessly. However, brushed gold or brass plumbing fixtures may not provide enough resistance against water spots and fingerprints. But since it is only a smaller thing, you will not struggle with its maintenance. You can keep it sparkling clean with little daily habits. For instance, you can make sure its surface is dry by wiping it with a soft towel after finishing your work.
Some people can be hesitant about introducing gold tones in their homes. But a bathroom faucet doesn't ask much to become a part of it; it can be an inexpensive appliance compared to others. At the same time, it can prove more impactful than many other elements while adjusting to their presence beautifully. To be precise, you can have a substantial amount of silver finishes in your bathroom. Amidst them, you can pop a single-handle brushed gold faucet. It can be the simplest design; still, it can immediately elevate the whole ambiance.
Features of a brushed gold bathroom sink faucet
source: faucetsinhome.com
No matter what color or finish you choose, the faucet has to perform ultimately to be the right thing for your busy place like the bathroom. One of the most common challenges with this plumbing fixture tends to be water leakage. It not only means putting up with the annoying dripping sound but also wastage of water. To avoid this, you have to find a design that doesn't allow such issues to occur. Faucets with ceramic cartridge can be pretty useful in this matter. This single component can ensure a leak-proof experience for you.
Another troubling part can be splashing. Some low-quality faucets compromise with the flow rate to control this situation. But it is not an ideal solution. Look for a golden tap that comes with adjustable aerators. They can offer a soft and splash-free stream so that you don't get wet when washing your hands. This specific feature can also save some water without sacrificing its flow strength.
source: karousell.com
You can also check its height and spout reach to be sure it is compatible with your sink, countertop, and other elements placed above the vanity. A slightly more than six-inch brushed gold faucet can be the safe option in terms of the space that you can have in and around the sink area. It will not be too overpowering or quiet. Many stores offer a good range in this; you can get one for your undermount or any other style of sink quickly. Hence, there is nothing to worry about if you have decided to add a golden faucet.
When you visit online stores, you can go through the product details to learn about construction and composition. It would be best if you had a corrosion-free finish to avoid the issues of discoloration and fading. It is more critical to consider when you choose a golden design. After all, How you would want it to maintain its original shine and presence for years at Live Enhanced.