The holy grail for all restauranteurs is to have a steady stream of loyal customers who, most of who will assuredly speak of their experiences to their friends, colleagues & family. After all, this is exactly how word of mouth spreads, which leads to a restaurant's eventual success.
A great sign of relief for restaurant & café owners is the steady relaxations of the lockdowns that were imposed due to the coronavirus pandemic.
In the aftermath of the crisis, especially after an effective vaccine has been made commercially viable (fingers crossed), there is inevitably going to be an uptick of business in the hospitality, simply because, massive sections of the populations have been indoors for over 6 months, an unprecedented situation that has not occurred in over a 100 years.
source: pinterest.com
Restaurants & Hotels should be in a unique position to cater to this demand, especially after a virtual shut down of business for over 5 months now.
This post is aimed at sharing a few décor ideas from an experienced restauranteur-turned hospitality furniture specialist.
Use Social Distancing Protocols to Your Advantage:
It is common knowledge that although the vaccine will be commercially available and businesses will inevitably begin opening up, social distancing protocols are not going anywhere in the near future. Although all commercial establishments are going to mandatorily have to put social distancing protocols into place, there are a few things that you can do as a restauranteur to take this to a next level, thus ensuring strict compliance and subtly marketing yourself as a restaurant that carries respect for every customer's well-being.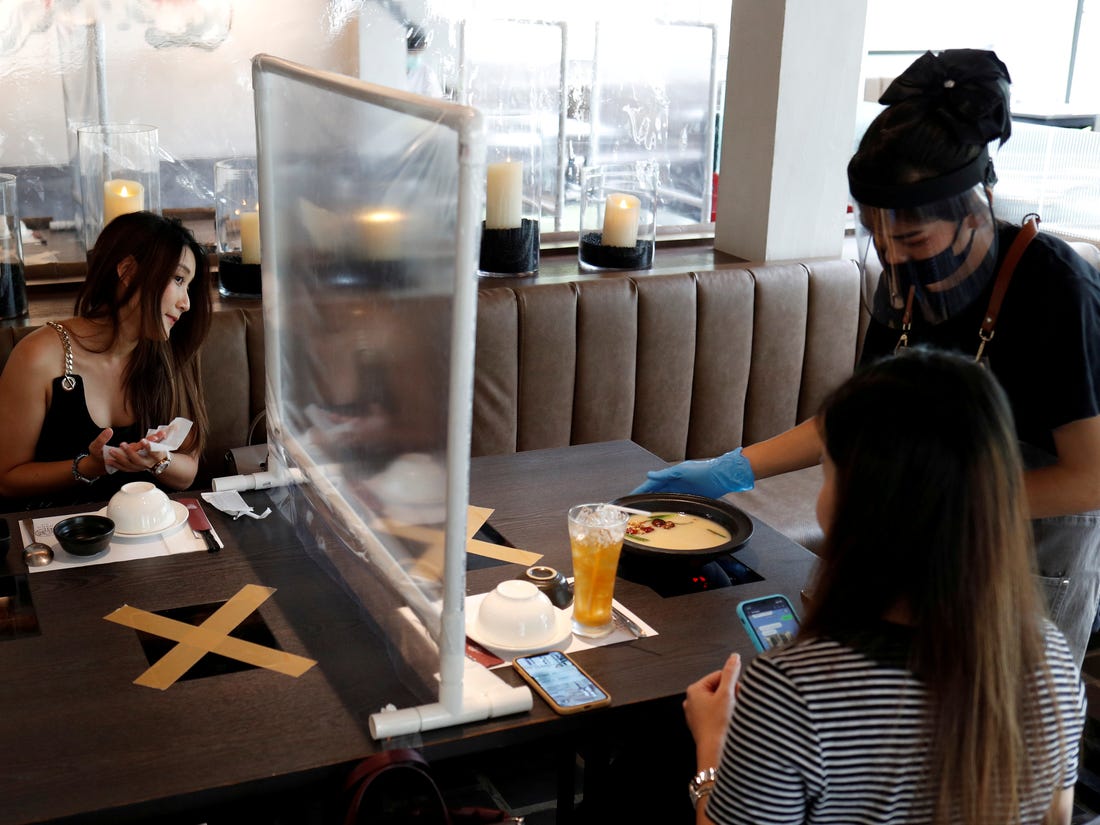 source: insider.com
On average, food changes hands at least 4 times before it finally reaches a customer's table. If left unchecked, this practice does have the potential to spread diseases quite rampantly. A solution to this problem is to designate a few inches of dedicated exchange spots within the restaurant/café, these spots should be replete with sanitizers, napkins and if possible, a ready supply of gloves.
Restaurants & Cafés have rarely factored in a people's preference for a closed dining environment because the very idea itself sounds like an oxymoron. People primarily eat out because they like to breath the fresh air, see an open atmosphere and also talk/discuss with others. Well, the pandemic has changed all that, people would feel much more secure sitting at a safe distance from others. To this effect, it would make sense for restaurants to change their existing set-up to space out by encroaching on patches of areas that were never used before. It would also make sense to use furniture pieces that tend to isolate a social group. For example, it would make more sense to use Booth seating instead of using open tables and chairs. A few manufacturers custom manufacture social distancing specific restaurant furniture as well. Visit furnitureroots.com/en_in/restaurant-furniture/ to browse more categories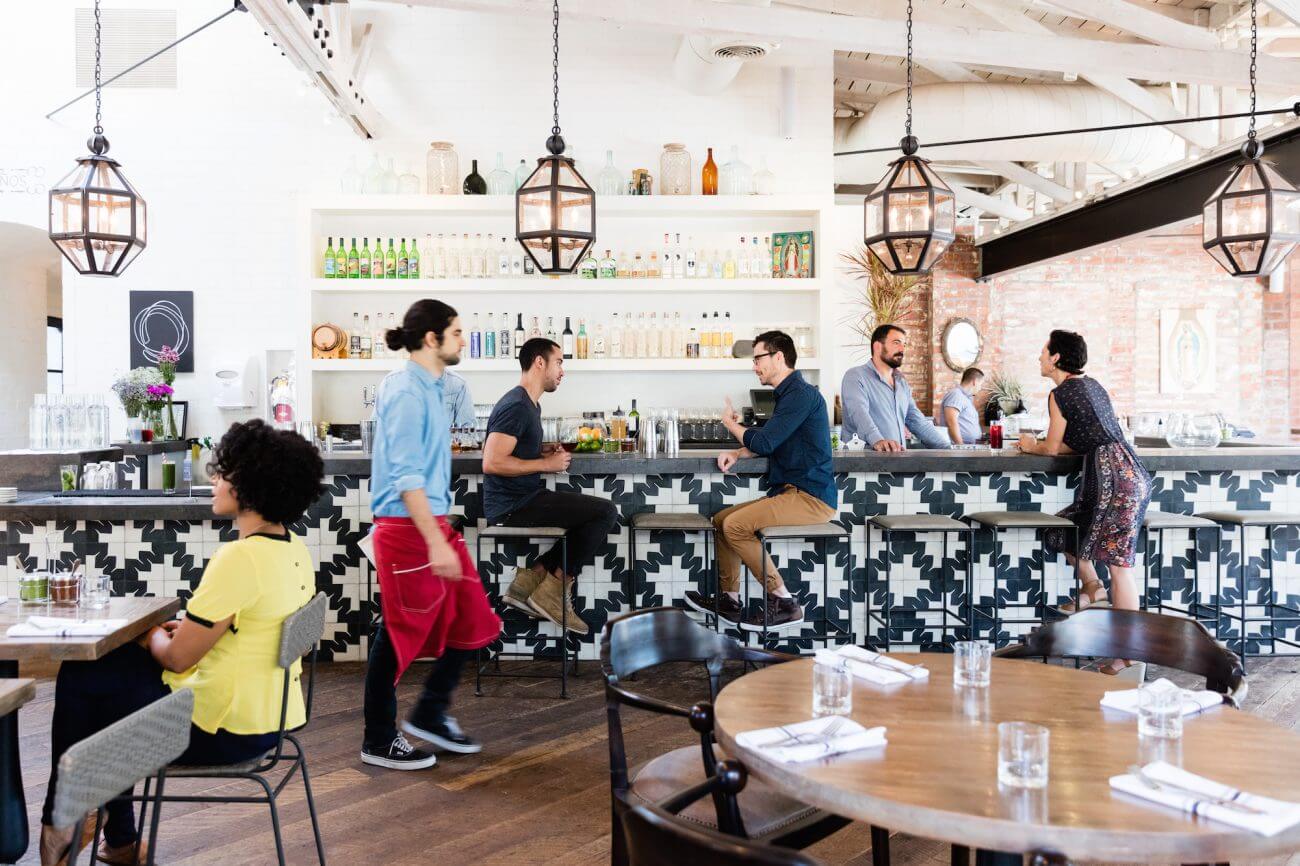 source: tastingtable.com
If you happen to have any area outside your restaurant, be sure to check with your local government if the area can be used by dining establishments. In the light of the coronavirus scare, chances are that they will be more than happy to accommodate your request since this will only strengthen social distancing norms. We have earlier listed the a few outdoor restaurants that are a must-visit.
Some of these strategies may require a overhaul in restaurant design. This article by therail.media on redesigning restaurants during the Covid-19 crisis should certainly help.
A key point to implementing these tips is that the communication to your audience and past customers regarding taking these measures for ramping up social distancing norms should be strong enough. Customer's -both potential & current – should have a lingering feeling that the restaurant values the importance of social distancing norms.
This can be communicated by way of stickers and signs across the restaurant and even via fliers.
Embrace Natural Design Elements: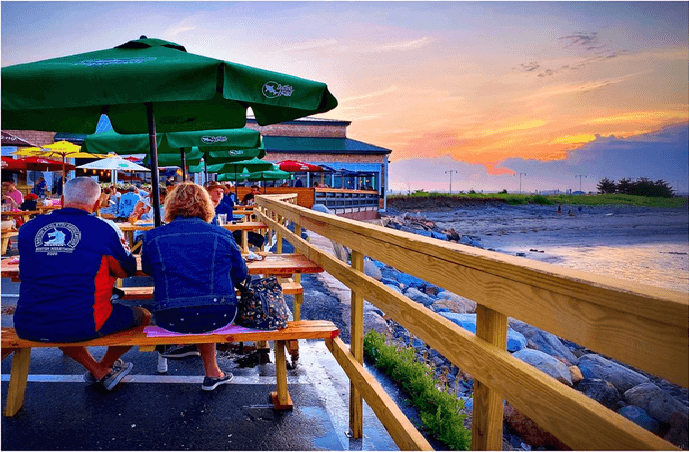 source: pinterest.com
Although eco-theme trends have been around for quite some time now (some have even overdone it). It is more important than ever, for a couple of reasons. Firstly, people have been indoors for quite some time now, naturally many of them would be quite claustrophobic. Getting some offbeat plants and decorating your restaurant with them would be a splendid idea.
Something similar to this natural fountain that we had published a few weeks back would also do the trick for your restaurant
Secondly, if external factors permit, consider switching to natural ventilation instead of sticking to prolonged air conditioning. Public health experts & even the EPA have cited in recent times that air circulated through air conditioning is a worse option when compared with natural ventilation from the outdoors.
Reservation policies: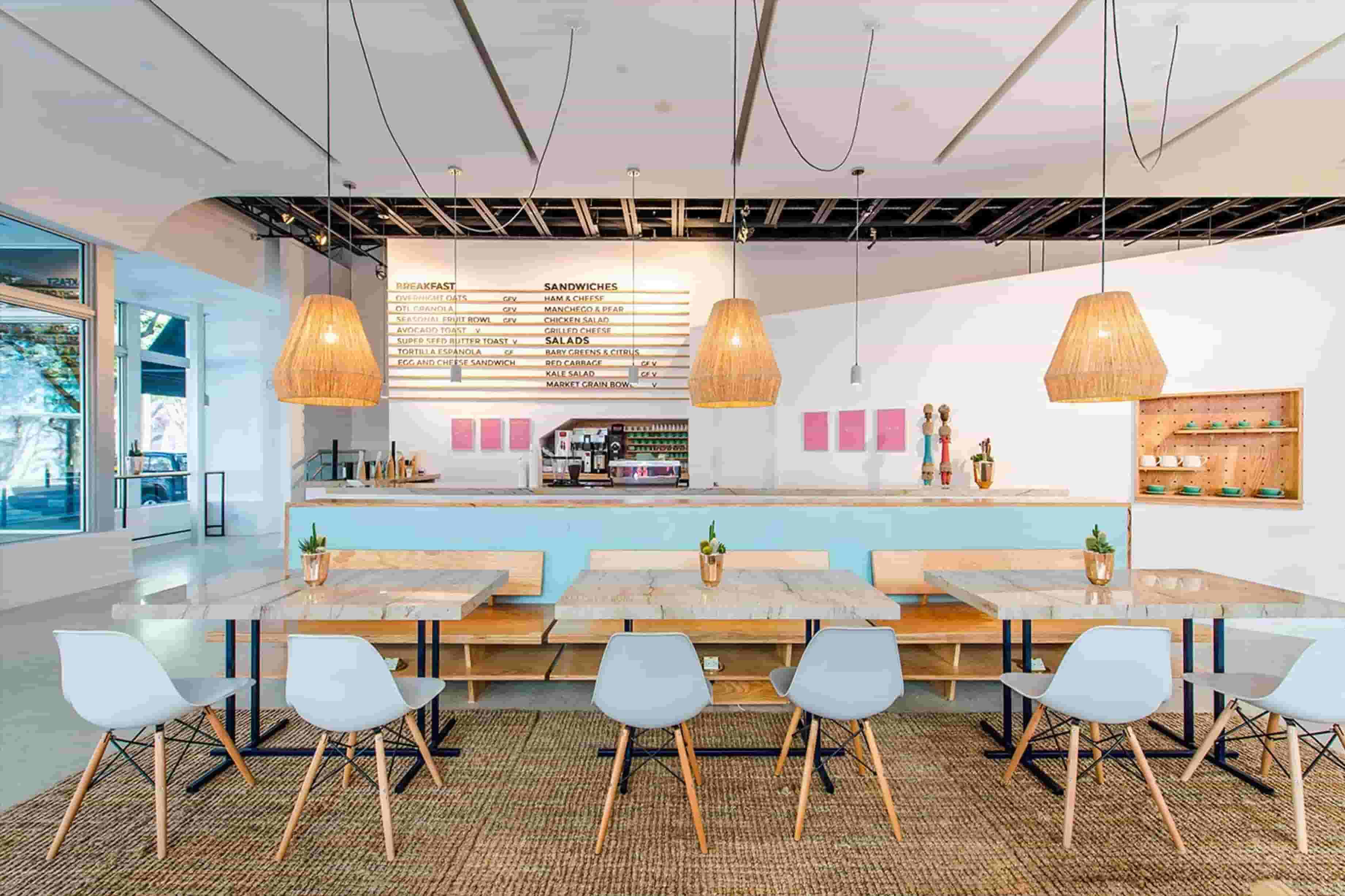 source: restaurant.opentable.com
This is a no-brainer. Most mid-sized to top-range restaurants see footfalls coming in quite in
advance. These reservations are either made with the restaurant through a phone call OR through
reservations on third party apps. Restaurants will do well for both long term brand retention and
even for short term business by adopting a strategy wherein only a limited number of guests can
dine in the restaurant at any given time.
Like every other strategy mentioned in this blog, this strategy will prove to be counter intuitive if the
initiatives conducted by the restaurant are not amply communicated to the target audience. A
special point – that the initiatives are undertaken in the interest of the customers themselves should
be made implicit in the marketing messages.
We are all quite anxious during these days of the Covid-19, we earnestly hope that you guys and the
businesses you're associated with are able to get back on their feet during these trying times.
Hope you liked the read! Cheers!