Christmas is all about colors and decorations and everyone is doing their best to decorate their homes, Christmas tree, porch, and yards but also use some of your creativity to decorate your desserts as these are the perfect add-ons to your Christmas party. Live Enhanced have some delicious and tasty Christmas cupcake decoration ideas, check it out.
source: justataste.com
Go for mini Christmas tree cupcakes. Nothing spreads more holiday cheer than Christmassy decorated cupcakes on your table. All you need is a simple chocolate cupcake and add a simple vanilla topping to it and a cute Christmas tree on top of it with sprinkled colorful sweeteners. Make sure you have an edible Christmas tree if not running out of time.
source: countryliving.com
source: hallmarkchannel.com
Instead of decorating a single cupcake with different patterns, collect all cupcakes and make a beautiful wreath out of all the cupcakes. All it takes is some beautiful green cupcakes and if it is not available, go for creative green frosting and arrange the same in the order and add an icing of a big bow and add some cherries to the cupcakes. Arrange the same in a serving tray and make it the centerpiece of your table.
source: bakingmad.com
source: victoriaskitchen.com
Why decorate only the cupcake when you can go way too far and create your own little wonderland. Get a small plate and add a small cupcake at the corner and decorate the same as a home with a cute door and wreath on the door. Add cream or vanilla icing all around it to give snowy effect and add a small Christmas tree and snowman to it. You can serve these small ones to every guest or can make a huge display and make it a statement centerpiece.
source: sugarsirencakesmackay.blogspot.com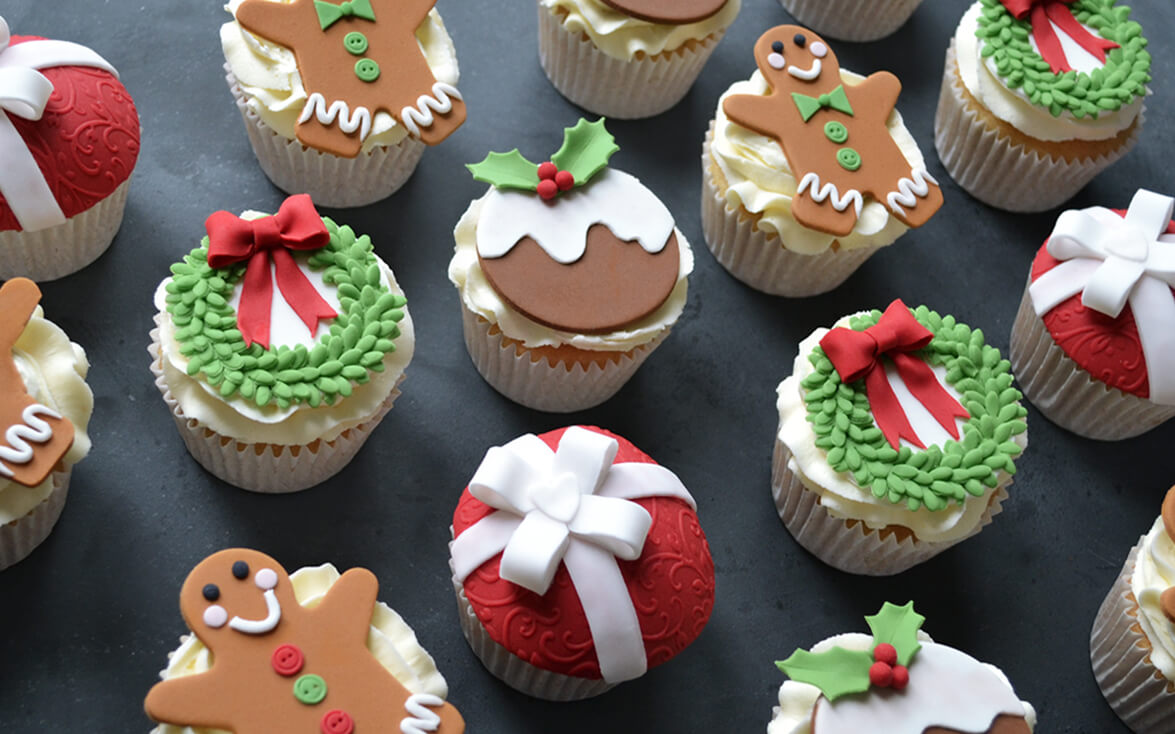 source: antoniascakes.co.uk
Give wintry glow to your Christmas cupcakes by decorating it with a pinkish glow of the season. Have simple vanilla or chocolate cupcake and decorate in any Christmas way you like such as prepare a cute sweater to show the wintry glow, decorate the same like a small Santa face, go for a little Christmas tree, small wreaths, flowers, or an image of cupcake on itself. There are lots of designs you can go for, to make it attractive
source: glutenfreefollowme.com
source: theloveofcake.com
Want to make your simple chocolate cupcake more striking? Here is the plan. Take a simple chocolate cupcake and make sure it has the wrapper only at the bottom. Take inspiration from the weather and go for frosty blue icing and add a small snowflake to make it look delicious. Or go for mini cupcakes and go for green buttercream icing and colorful sprinkles. Add a mini yellow star at the top and your mini Christmas tree is ready.
source: savvyhoney.com
source: glorioustreats.com
On a simple cupcake, prepare a lovely wreath to make it look delicious. Instead, you can make a gingerbread cupcake with cream and cheese frosting and sprinkles. Instead of making gingerbread as a frosting, a gingerbread cookie with brown sugar can also be added to mix and match the cake with cookies. 
source: pinterest.com
source: flickr.com
Taking inspiration from the north-pole winter charm go for an adorable polar beer frosting. Kids will love these cupcakes when made the same with an extra sweet Oreo and making cute footprints on the cupcakes. Make this more delicious and adorable by preparing it with white chocolate and peanut butter. Prepare little polar bear face by small candies and sprinkles and making baby bears attract kids and making it adorable.
source: olivemagazine.com
source: fanpop.com
Another easiest way to decorate your cupcake is by combining red and white frosting and making a small Santa hat with homemade icing. These are very easy to prepare but looks super adorable with a buttercream icing and red cherry that works really like icing on this muffin-cake.
source: etsy.com
You may also like to know about  Christmas Cake Recipes Ideas taken from Pinterest
source: marthastewart.com
Invite a happy-happy snowman to your Christmas party and bring a smile to everyone's face. Add some granulated sugar to act as snow and top it with little marshmallows. Decorate the cupcakes tasty buttercream icing and adding edible bows, silver sprinkles, and stars to make it look more adorable.
source: 3sweetgirlscakery.com
Create a hot chocolate cupcake keeping in mind everyone's love for a winter drink. Make it look more like a cup of hot chocolate by baking it with triple toppings and it will be a big hit among the guests.