In the last four to five years, there is enough data to prove that Halloween hangover is the highest among the party-lovers in October. About 180 people in the U.S celebrate "Halloween" every year. After knowing this data, I am sure you will feel the excitement to make Halloween 2023 bash a pro. But how to make it the most hilarious one? Of Course from the food for the Halloween party you offer! Yes, you have read it right!
One of the main draws of Halloween gatherings is food. You ensure that everything is done correctly by incorporating "The Halloween Theme" into every area, from Halloween activities to costumes. Why not then for Halloween cookies? There is no denying that you will share your cookies with other partygoers in a frightening way. Additionally, if you make personalized Halloween cookies, you may provide your visitors with the ideal Halloween gift.
So how will you make your Halloween cookies different from the ordinary ones? Our personalized Halloween Cookie Ideas will inspire you to think outside the box. Just try it and impress your guests with your creativity.
Witch Finger Cookie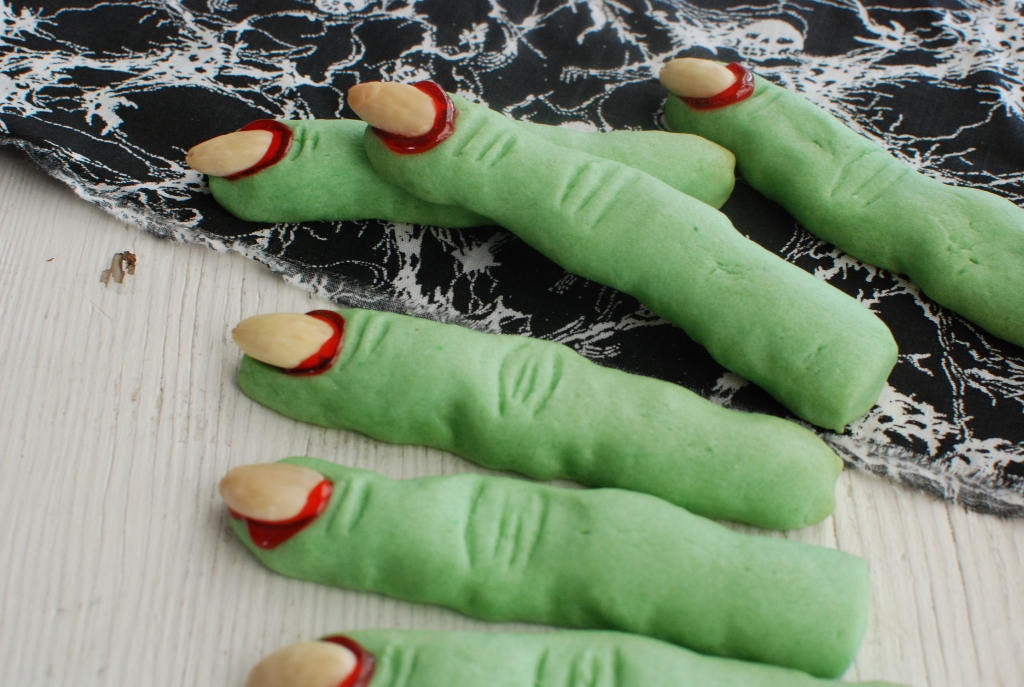 source: simplysogood.com
Halloween season has arrived and our guests are none other than ghosts, vampires, and witches. Why don't you try a witch finger cookie this year to make Halloween food spooky and delicious? Collect the ingredients like powdered sugar, egg, and butter for the base, food colorings for excitement, and pistachios, almonds, and jams for toppings. 
Skull Cookies
This idea is an inspiration from "The Day Of The Dead". A skull shape is easy to make and also has different options to decorate it with toppings. Make spooky eyes or scary teeth which will give Halloween theme to your cookies. Different curves using icing sugar make them the perfect meal for a Halloween party. Choose contrasting colors of your desire to make them attractive.
Reese's Famous Bats Cookie
These cookies are the most adorable ones on the list of Halloween food items. Additionally, they are super easy to make. You just need three to four things and create a wonder out of it. First of all, collect the mini Reese's and peanut butter. Then cut the oreo into two equal parts. Make the shape of the bats on the mini dresses and stick candy eyes on them. Your ready food for the Halloween party is ready!
Pumpkin Mummy Cookies
source: pinterest.com
Making different designs like mummies will inspire your guests to enjoy it with an extra dose of spookiness. Make sure that you have the homemade dough to make the cookies flaky and buttery. Pi-crust is the main attraction of these cookies. If you find difficulty in making pie crust, you can also order refrigerated pie crust online. Sugar granulation makes it rough and spooky.  
Rice Krispies With Jack-O-Lantern Shape
These cookies melt in your mouth in seconds. You just need a few ingredients like marshmallows, food colorings, and rice Krispies. Mix the ingredients according to taste and give them shapes with the help of a pumpkin cutter. After that, make eyes on it with the help of corn seeds. To give it extra spookiness, take a piping bag with melted chocolate in it and make scary mouth openings.
Dracula Denture Cookies
Kids will love making these cookies. Most of the ingredients are store-bought. You just have to assemble them correctly to make a perfect Dracula denture. You can use flour cookies on top and bottom, some mini marshmallows, or white candies as teeth and almonds for sharp tooth edges. For extra flavor and to show redness of blood, add some amount of jam to it. 
One-eye Monster Truffle
source: pinterest.com
These Halloween cookies are nothing but the colored Oreo truffles. The famous combination of green and purple color makes them a perfect food for Haloween party. Melt white chocolate with green food color and top it with purple sprinkling sugar. Candy eyeballs made them extraordinary. Stick only one candy eyeball to give it a perfect monster look.
Frankenstein Pretzels As Cookies 
Take square pretzels and spread peanut butter on them. Then place another square pretzel and stick it on it. Melt white sugar and give it green color with food coloring. Dip the square pretzels in it until they are coated with a green chocolate mixture. Sprinkle chocolate to make hair and candy eyeballs to finish the recipe. 
Black-web cookies
You must have the web-shaped cookie in your ingredients to make these cookies. Top them with black or brown chocolate icing sugar. Top icing with black sanding sugar. Now, take orange color icing sugar. With the help of the pipeline, make horizontal, vertical, and diagonal lines like webs on the top. Connect straight lines with curved lines that will exactly give a web shape to cookies. 
Spider Cookies
source: pinterest.com
Place round shape cookies on the base. Have some mini chocolate peanut butter cup bodies. Place them in the center of the round-shaped cookies. Now, take raisins that are coated with chocolate and place them on the head of the spider. Black icing gel will help you make the shapes of the legs of the spider. 
Witch-hat Cookies
Your guests will be surprised to know that these witch-hats are edible. The base is made from chocolate sugar candies and the ice-cream cone is used as the top. Use black sanding sugar to give it roughness in texture. Make suitable fondants to decorate it nicely.
Kit Kat Cookies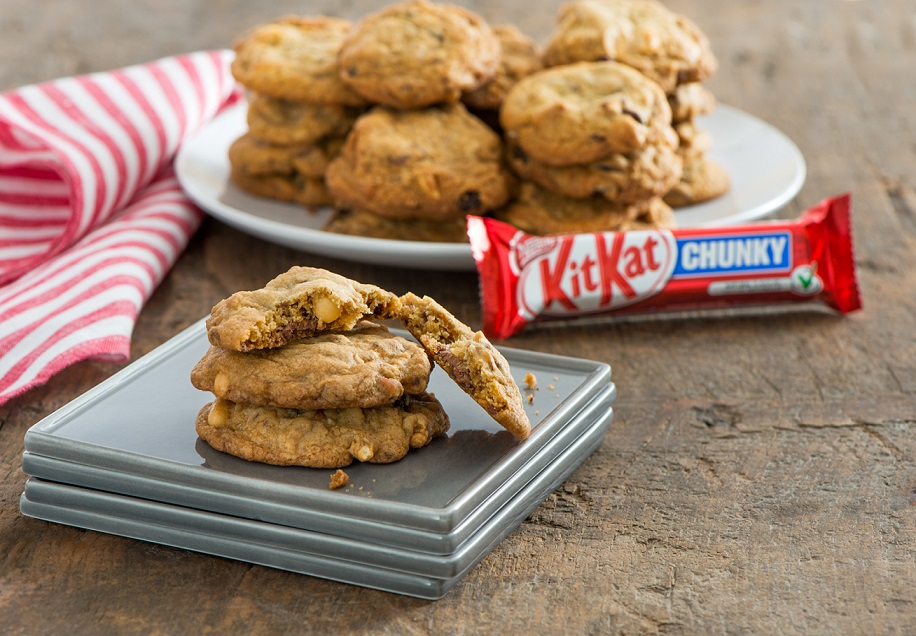 source: madewithnestla.ca
These candies are soft and chewy from the center and slightly crunchy from the edges. You need chocolate chunks and pieces of Kit Kat. Your guests will get fascinated with these cookies for sure. Make chocolate cookies as a base and add toppings like chocolate, morsels, and tiny Kit Kat pieces. 
Final Thoughts
Halloween parties always make deep impressions through their ghostly themes and spooktacular foods. Cookies are one of the best dessert options for Halloween 2023. Our heart-winning cookie ideas will impress your guests and make them enjoy each bite of it.