Do you cherish the flavors of real Thai cuisine and wish you could prepare it at home? We've got you covered with our favorite Thai recipes, which are suitable for cooks of all skill levels and use materials that can be found in most grocery stores or easily ordered online.
Our Thai recipe collection has it all, including vegan, vegetarian, and gluten-free dishes, whether you adore Pad Thai noodles, need summer party yummy snacks, or want to make wonderful weekend stir-fries. When the weather heats up, cool off with one of our Thai-inspired summer beverages, then dig into the rich flavors of all of our sweets. Here Live Enhanced exploring across the ocean without leaving home, learn about Thailand's exotic spices, sauces, and ingredients.
Welcome Drinks 
Mango Passion
source: thespruceeats.com
Mango cocktails are popular on the beaches of southern Thailand. It allows you to enjoy them in the comfort of your own patio paradise. Serve with something crisp and crunchy, such as Thai spring rolls, as a food match. Conversely, try some Thai finger and party foods, where the fiery flavors of chile peppers combine well with the cooling aromas of mango.
Thai Special Iced Tea
source: hearstapps.com
Thai iced tea is certainly recognizable to anybody who has eaten at a Thai restaurant in the United States. With a blend of black tea, spices, sugar, vanilla and almond tastes, sweetened condensed milk and evaporated milk, our version of the delightful iced tea beverage is smooth and creamy. On hot summer days, drink it as a caffeinated thirst quencher.
Thai Iced Coffee
source: sndimg.com
Don't bother with Starbucks. This robust, creamy, and sweet Thai iced coffee is about pennies a cup and tastes as well as or better than anything you'd get at your local coffeehouse chain. It's very simple to create with only three ingredients. Keep a jug in the fridge for those mid-afternoon work-from-home slumps when you need a sweet, cold shot of caffeine.
Salads & Dressing
Nam Chim Sauce 
source: wikimedia.org
Nam chim kai is the Thai name for sweet chili sauce. It comes in bottles and can be found in Asian markets, but it's very simple to create at home. It only takes a few minutes to create and provides a fantastic garnish for a variety of cuisines.
Cucumber Salad
This delightful Thai-style cucumber salad, bursting with Thai spices, takes only 10 minutes to prepare. Chopped cucumber is tossed with scallions, red onion, crispy roasted peanuts, and cilantro leaves in a zesty soy-citrus dressing. It's great for picnics and barbecues as a light lunch or as a side salad.
Thai Red Paste
source: thespruceeats.com
Thai curries using red curry paste are delicious, whether made with chicken, seafood, or vegetables. Alternatively, flavor Thai soups, noodles, and other meals with a dab of this red paste. Homemade curry paste is more flavorful than store-bought curry paste.
Green Mango Salad
The basic Thai green mango salad is refreshing, sweet, crunchy, and a little spicy, and it adds the perfect balance to a buffet table groaning with sauce or spicy mains. This delectable salad, accented with a sweetened lime dressing and topped with crunchy peanuts, has firm, unripe mango segments that provide tartness. When tofu or chicken is added, it makes a fantastic lunch or light summer meal.
Thai Green Paste
source: tmecosys.com
It's surprisingly easy to produce Thai green curry paste, and it tastes far better than store-bought.
This paste will make amazing, silky curries when combined with your favorite meats, veggies, tofu, or wheat gluten. When your curry paste is finished, test it for salt and spice, as achieving the correct flavor balance in curry can be an investigation process.
Som Tam Salad
Green papaya with a hot chile pepper dressing makes up Som Tam, a popular Thai salad. This salad explodes in your mouth with sweet, tangy, crunchy, and a hint of spice, making it the ideal side dish or light meal. Using a food processor will make this dish much easier.
Tropical Fruit Salad
source: jessicagavin.com
This Thai fruit salad served in a cored pineapple half will steal the show at your next gathering. Tropical and seasonal fruits are tossed in a bright and creamy coconut-lime sauce for a sweet and healthful dessert. It's ideal for those sunny days when you're craving something sweet and juicy.
Main Course 
Saffron Rice
This simple saffron rice recipe is popular in Thailand's south, where it's served with roast chicken. Saffron adds a distinctive flavor to this dish and a strikingly golden color to the rice. Due to the high cost of saffron, this recipe only uses a modest amount, and the addition of turmeric elevates the color.
Satay & Peanut Sauce
source: thespruceeats.com
Although this mildly spicy satay peanut sauce is most commonly associated with Thai cuisine, it is popular throughout Southeast Asia and has Indonesian origins. It's primarily known as the sauce for satay, a delectable skewer-grilled appetizer of marinated meat (usually chicken, hog, or beef). Combine the components in a food processor or blender, salt to taste, and you're ready to go.
Crisp Rice Noodle
Crispy rice noodles from Thailand are a delicious gluten-free snack as well as the base for many Thai cuisines like lettuce rolls, stir-fries, soups, and salad dressings. The dried rice noodles inflate out in a matter of seconds, but make sure the oil is hot enough for them to expand right away. Testing with a noodle or two initially is the best way to go.
Vegan Pumpkin Curry
This vegan and gluten-free Thai pumpkin curry are equally as tasty as meat-based curries. This meal is bright and lively, with yellow bell peppers, carrots, cherry tomatoes, and pumpkin, making it ideal for those gloomy winter days. Cumin and coriander, two warming spices, contribute to the comfort. It's dressed up for the holidays or dinner parties with a dusting of pumpkin seeds and edible flowers.
Chicken Pad Thai 
source: thespruceeats.com
Pad Thai is a local delicacy for a reason. The mouthwatering combination of chewy noodles, delicate veggies, and chicken or shrimp swirled in a tangy sweet and sour sauce is a sensory overload. The trick to excellent pad Thai is to cook the noodles just long enough to make them chewy and delicious.
Tom Yum Soup 
The king of all Thai soups is tom yum, and this recipe does not fail. The fragrant hot and sour soup with coconut milk, lemongrass, fresh herbs, and chili can be served as an entrée, lunch, or main dish with sticky rice. Try this tofu variation if you're serving vegetarians.
Fried Vermicelli 
Thai fried noodles are simple to make and delicious for vegans and gluten-free eaters alike. It begins with thin vermicelli rice noodles, which are boiled first before being combined with a variety of nutritious veggies, succulent chicken pieces, and a sweet and spicy flavor in a stir-fry.
Crispy Fried Pork
source: summitmedia-digital.com
These crispy, seasoned fried pork ribs don't need to be precooked. Instead, make them swiftly on the cooktop with only 20 minutes of resting time, or prepare them ahead of time for up to a day. Serve as finger-licking appetizers with dipping Thai chili sauce or as a meal with rice or potatoes.
Pineapple Fried Rice
Pineapple fried rice, a traditional Thai dish, is always a welcome addition to buffet tables. With canned pineapple chunks, frozen peas, crunchy cashews, chewy raisins, soy sauce, and dry spices, this 30-minute version is extremely scrumptious and easy to prepare. In addition, it can be served in a pineapple boat for a spectacular display when hosting guests.
Chicken Satay 
A favorite party snack, Thai satay chicken with peanut dipping sauce, is a terrific way to kick off summer cookouts. First, chicken thighs are skewered and grilled after being marinated in a distinctive Thai paste. Then, serve them with the rich, creamy peanut sauce accompanying them for the best flavor delight.
Mango Chicken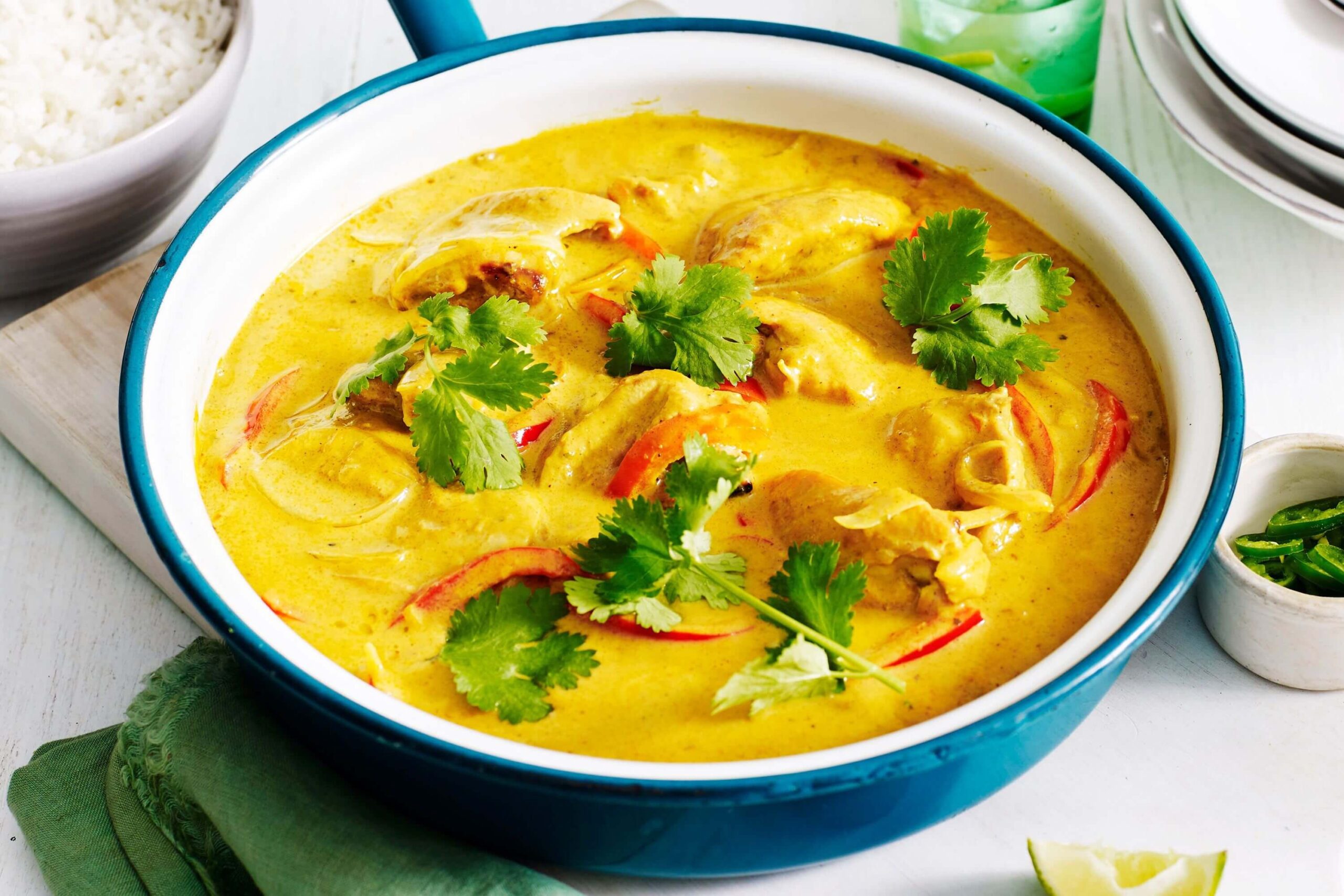 source: taste.com.au
Flour-dusted chicken pieces are skillet and then cooked in a delicious mango sauce topped with organic, ripe fruit in our Thai mango chicken. Add chicken breast meat if you want it to be extremely lean, or chicken thighs with a meatier, richer flavor.
Baked Tofu & Peanut Sauce
With this satay-inspired tofu recipe, you can make a vegetarian and vegan lunch that everyone will enjoy. We bake tofu in a delectable Thai-style peanut sauce for a low-fat dish that feels so excellent you will double the recipe for leftovers. Serve over rice, or use any leftovers in a stir-fry the next day with cooked rice or noodles and crisper vegetables.
Thai Spring Roll 
Have you ever wanted to learn how to make your own homemade spring rolls? While this dish has several steps, it is simple and approachable for novice cooks to try. The actual magic is the delectable stir-fried filling into the spring roll sheets before being folded uptight and pan-fried to delicacy.
Chicken Fried Rice
source: averiecooks.com
Do you want to make chicken fried rice similar to the kind you receive at your favorite Thai restaurant? Then, make this your go-to recipe. With left in the fridge cooked rice, chicken, and your choice of vegetables, it cooks in 30 minutes and creates a quick weekday meal in one bowl. Cleaning up is also simple because you only need one pan.
Thai Garlicky Fish
An entire roasted fish makes an excellent centerpiece for holiday feasts and other special occasions. Our Thai-inspired recipe for an entire fish baked in foil with a sweet-spicy-tangy Asian-style sauce is also an ingenious way to turn a gentle, white-fleshed fish into a delectable dinner party meal.
Fish Curry 
Thai fish curry is cook with any firm white fish, including salmon fillets. It's so fragrant and tasty that you won't believe how quick and easy it is to make in just 20 minutes. Fish pieces, tomatoes, mushrooms, and green beans cooked in a rich and fragrant Thai curry sauce. For dinner, serve it over rice, or eat it in a bowl for a convenient work-from-home meal.
Green Curry 
source: satyamskitchen.com
Green chicken curry is one of Thai cuisine's most popular dishes because it is colorful, fragrant, creamy, and vibrant. Without using readymade curry paste, learn how to prepare this takeout staple from scratch. Our simple recipe contains all of the instructions you'll need to produce fresh or dried herbs, fish sauce, and coconut milk curry paste from scratch in your food processor.
Dessert Zone 
Black Sticky Rice Pudding
Black sticky rice is an excellent choice for a Thai-style baked rice pudding since it is dark, dramatic, and naturally sweet. In addition, it features a delectable coconut cream topping that is dairy-free.
Kluai Khaek (Fried Bananas)
In Thailand and throughout Southeast Asia, fried bananas are a favorite dessert and snack. In Malaysia, Indonesia, Singapore, and other nearby nations, the dish is known as goreng pisang.
Making fried bananas as delicious as those served by street food sellers in Thailand and elsewhere might be difficult. This dish, however, comes the closest and receives excellent ratings from Thai and Singaporean taste testers. Coconut ice cream goes well with fried bananas, but vanilla ice cream also works. If you're a purist, eat them straight off the pan.
Thai Mango Cake
source: pinterest.com
Every large hotel in Thailand serves its own variation of this delicious mango cake. It's the delicious, rich dessert of your dreams, with a coconut cake core, fluffy cream cheese frosting, and a topping of fresh or canned mangoes. Make it up to two days ahead of time and keep it refrigerated for a delicious summer dessert. 
Mango & Sticky Rice
A Thai favorite is the mango sticky sweet rice dish. The consistency of the rice is stiffer than pudding by giving it a pleasant bite that enhances the smooth sweetness of ripe mango. This light and refreshing summer dessert is not too sweet and will leave you feeling lighter and more energized after a big dinner. Give this one a try if you enjoy tropical flavors.
Dairy-Free Custard
Both mango and custard fans will fall in love with this delicious mango custard dessert. Using a blender, food processor, or chopper, the dish will get ready in about 20 minutes. Coconut milk provides a luscious tropical taste to this custard while keeping it lower in fat than custards made with dairy cream.