A sound sleep is equally important in our daily routine as our healthy diet and exercise are. According to the research in the field of healthy living, it is shown that improper sleep negatively affects our health and increases the chances of diseases. For a life of wellness, proper sleep in our daily calendar is necessary. Following are the factors mentioned as Tips to Sleep Better at night-
Bright Light Exposure During The Day
source: spacecoastdaily.com
Our body has a natural function known as the circadian rhythm which can be called a time clock in our body. Natural sunlight or any bright light in the daytime keeps our circadian rhythm healthy. This improves energy in the daytime as well as night-time sleep quality and duration. It functions in our brain, hormones and body, which help us to stay awake and telling our body when it's time to sleep. 
As per the study, it increases our sleep efficiency by 80% and reduces the time takes to fall asleep by more than 81%, which helps a lot the people with insomnia.
Summarisation
Natural sunlight exposure to our body is necessary, in our home or outside ( taking the precaution of getting tanned or uneasiness to health because of the heat). However, if it is not practical for everyone then installing bright light devices in our home also helps.
Reduce blue light exposure in the evening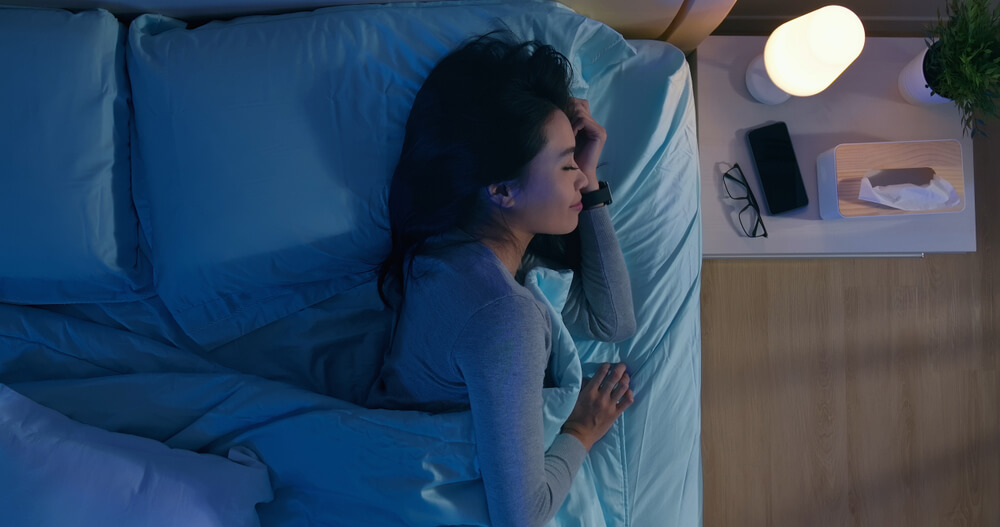 source: coloradoprimaryhealthcare.com
Exposure to light at night time has an opposite effect than its benefits in the day. This is also a function of circadian rhythm which let our brain think that it is daytime. Hormones like melatonin, which helps to relax and get deep sleep is reduced in this case. Blue light which is emitted from electronic devices like smartphones hurts our sleep along with eyes and can cause headache too.
Various methods contribute to reducing blue light exposure, such as:
Wearing glasses that block blue light.

 An app can be downloaded on your laptop, computer or smartphones to block available blue light. 

Stop watching Television in a dark room for a long.

2 hours ahead of going to bed, turn off any blue lights around.
Summarisation
Blue lights play a role in tricking our body and it tends to think that it's daytime, which in turn affects our sleep. Ways should be followed to avoid elongated exposure to blue light.
Caffeine consumption late in the day
Caffeine has numerous benefits to our health. It enhances our focus and energy level and our performance in sport. However, if we are consuming caffeine late in the day, it stimulates the nervous system and we may lose a relaxing night sleep. According to some research, caffeine consumption up to 6 hours before going to bed, worsened sleep quality significantly.
Caffeine stays elevated for 6–8 hours in our blood. Hence, it is not recommended to drink a large amount of coffee since late afternoon mostly if get trouble sleeping.
Summarisation
Caffeine has both positive and negative effects on our health according to its consumption at irregular times. If you are a coffee lover and crave a cup of it in the late afternoon or evening hours, then go for decaffeinated coffee.
Drop Late Eating Habits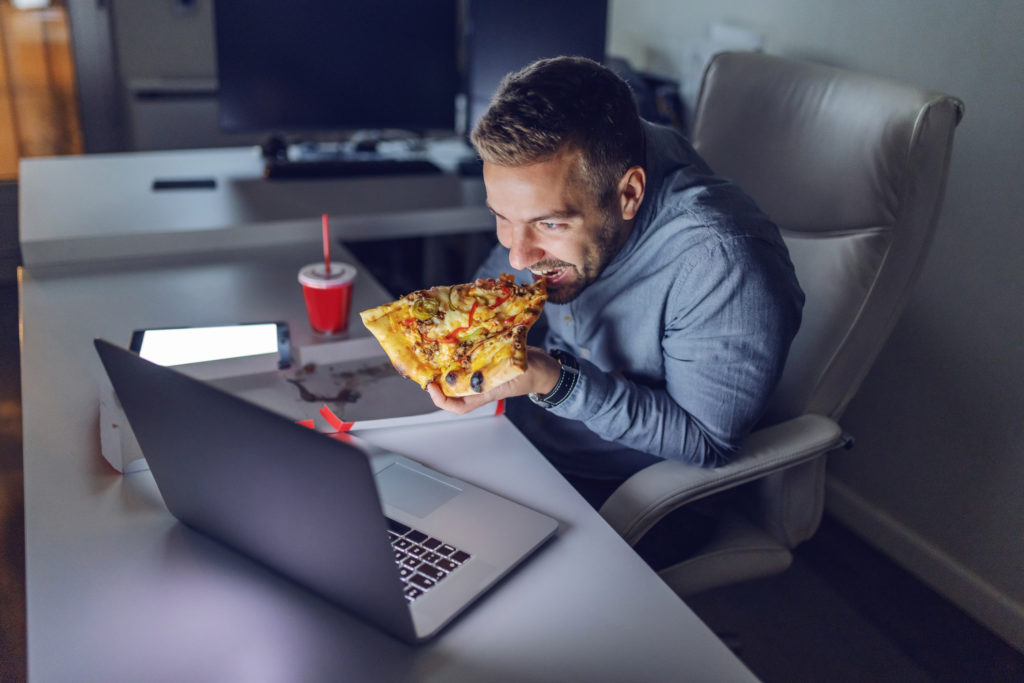 source: medicalnewstoday.com
Better eating habits are directly related to our better lifestyle and it takes care of our health and helps us to increase our immunity, fitness and take precautions against diseases. On the other hand, late eating habits at night affects negatively towards sleep quality and cause hindrance in the natural release of HGH and melatonin. It is also said that the quality and type of late-night snack also plays a role in your sleep. 
From a result of one study, it is concluded that a high carb meal which is eaten 4 hours before we go to bed, helped people to fall asleep faster. Interestingly, it is also discovered from one study that a low carb diet also led to the improvement in sleep, indicating that carb is not always necessary, especially if you are used to a diet with low carbs.
Summarisation
Consumption of a large meal before sleep may lead to poor sleep and hormonal disturbances. It is always advised in the balanced diet chart to go for a lighter dinner by 8 .00 P. To 9.00 P.M.
Go for a relaxing shower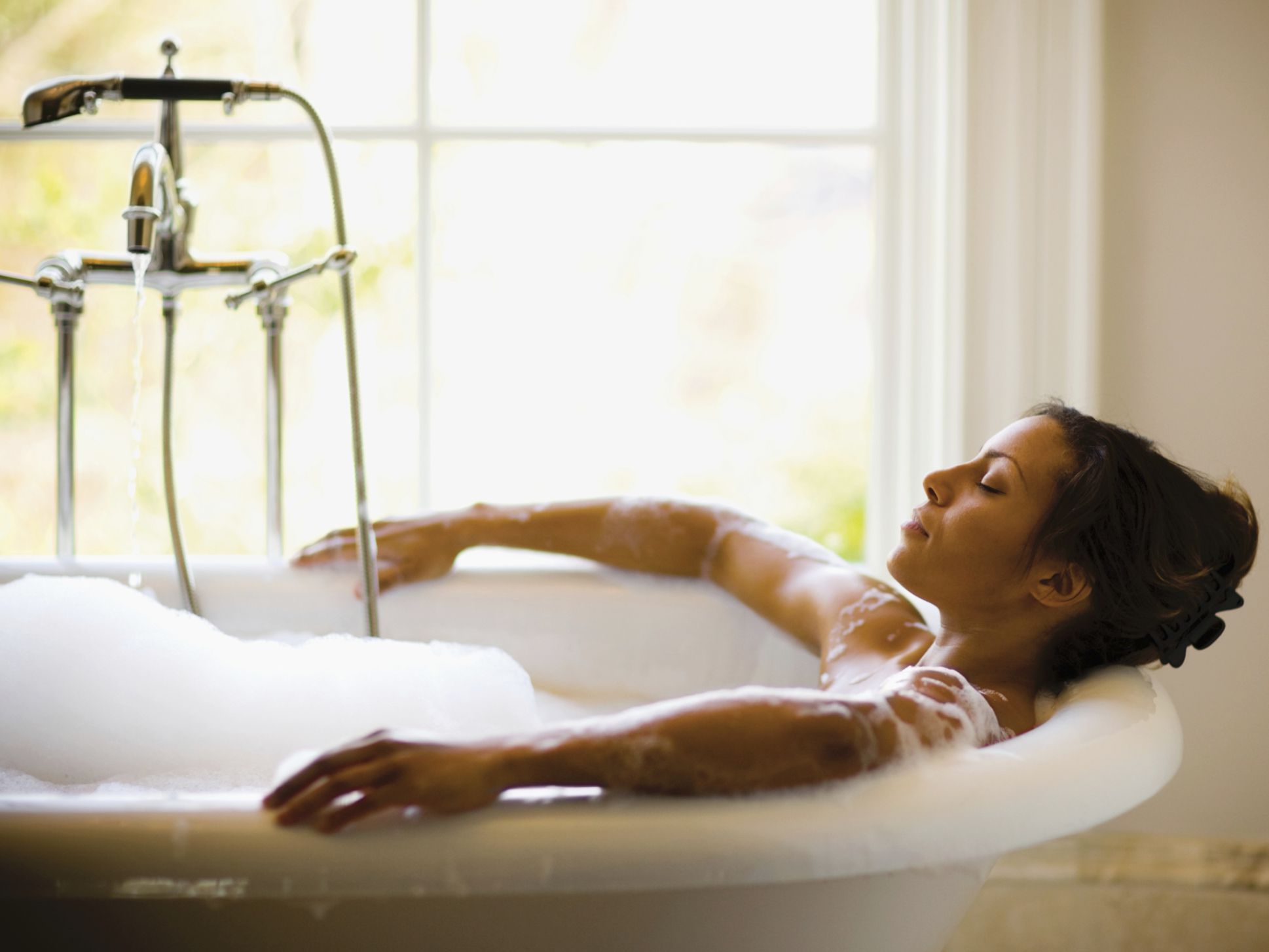 source: verywellmind.com
A relaxing shower is a common way that most of us do in our daily life before we go asleep. Generally, when we come home at night after office or doing after all the household work is done all over the day It comes under our personal care routine. 
However, where we are doing everything to take care of our body or beauty, we only compromise with our sleep by investing hours on smartphones, laptops or television which, in a way effecting our sleep as mentioned above.
Studies indicate that shower before bed improves our sleep quality and especially for old adults, it helped them to fall asleep faster. In one study, taking a hot bath before 90 minutes of going to bed, improved sleep quality and has helped people to get more deep sleep Alternately, if you don't want to take a full bath at night, then bathing your feet simply in hot water can also help you to get relax and get improved sleep.
Summarisation
A warm shower or foot bath before bed relaxes us and provides us with a sound sleep.
Relax your mind in the evening
Most people go for a pre-sleep routine that helps them to relax. Relaxation techniques before bed help to improve sleep quality and it is another common technique to deal with insomnia. As per one study, relaxing massage before bed helped to improve sleep quality, with a long and deep sleep.
Strategies for relaxation include listening to some relaxing music, reading a  book, taking a warm bath, meditation, and deep breathing. 
Summarisation
Relaxation techniques before you go to bed, includes a good massage, warm shower, meditation etc which may help you fall asleep fast and undergo a relaxed sleep. Try out any techniques which you are comfortable with and which helps u more.
Get a comfortable bed, mattress, and pillow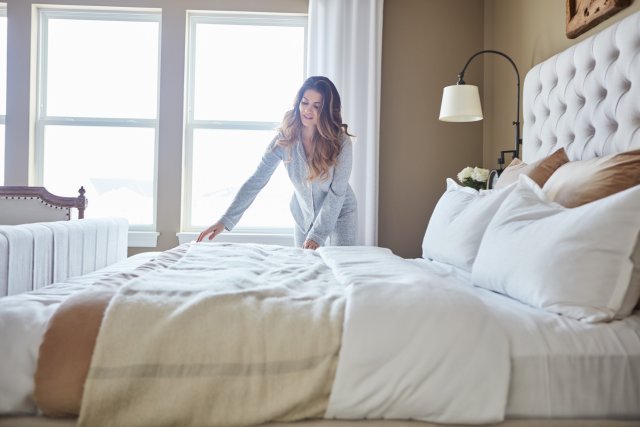 source: usnews.com
Many people wonder why they always get better sleep in a hotel. Along with the relaxing environment, bed quality can also impact our sleep. One study looked at the advantages of a new mattress for a count of 28 days, revealing that it helps to reduce back pain by 57%, back stiffness by 59%shoulder pain by 60%. Sleep quality is also improved by 60% with its help.
It is pointed out from other studies that sleep is enhanced by new mattresses. On the other hand, poor quality bedding can lead to increased lower back pain. The mattress and bedding you will buy depending on your choice. It is recommended to upgrade your bedding at A interval of every 5–8 years.
Summarisation
Bed, mattress, and pillow can affect sleep quality to a great extent and can also cause joint or back pain. High-quality bedding is always necessary and changes need to be done in a gap of 5 to 8 years as regular use of material decreases its effectiveness.
Do not exercise before bed
source: apartmenttherapy.info
Exercise is considered one of the best ways to improve your health. It enhances all aspects of our sleep and reduces symptoms of insomnia to a great extent. One study determined that exercise In old adults have brought down the time to fall asleep by almost 50% and more than 41 minutes of sleep is provided at night. 
Although the habit of daily exercising is key for a good sleep at night, performing in late hours of the day may cause sleep problems. The reason being the stimulatory effect of exercise, which increases alertness of hormones like epinephrine and adrenaline in our body.
However, It differs from individual to individuals and it is also noticed that maintaining the gap of intaking food, doing exercises even late-day hours doesn't cause any impact.
Summarisation
Regularising exercises during the early half of the day is regarded as one of the best ways to ensure good sleep at night.
Avoid drinking any liquid before bed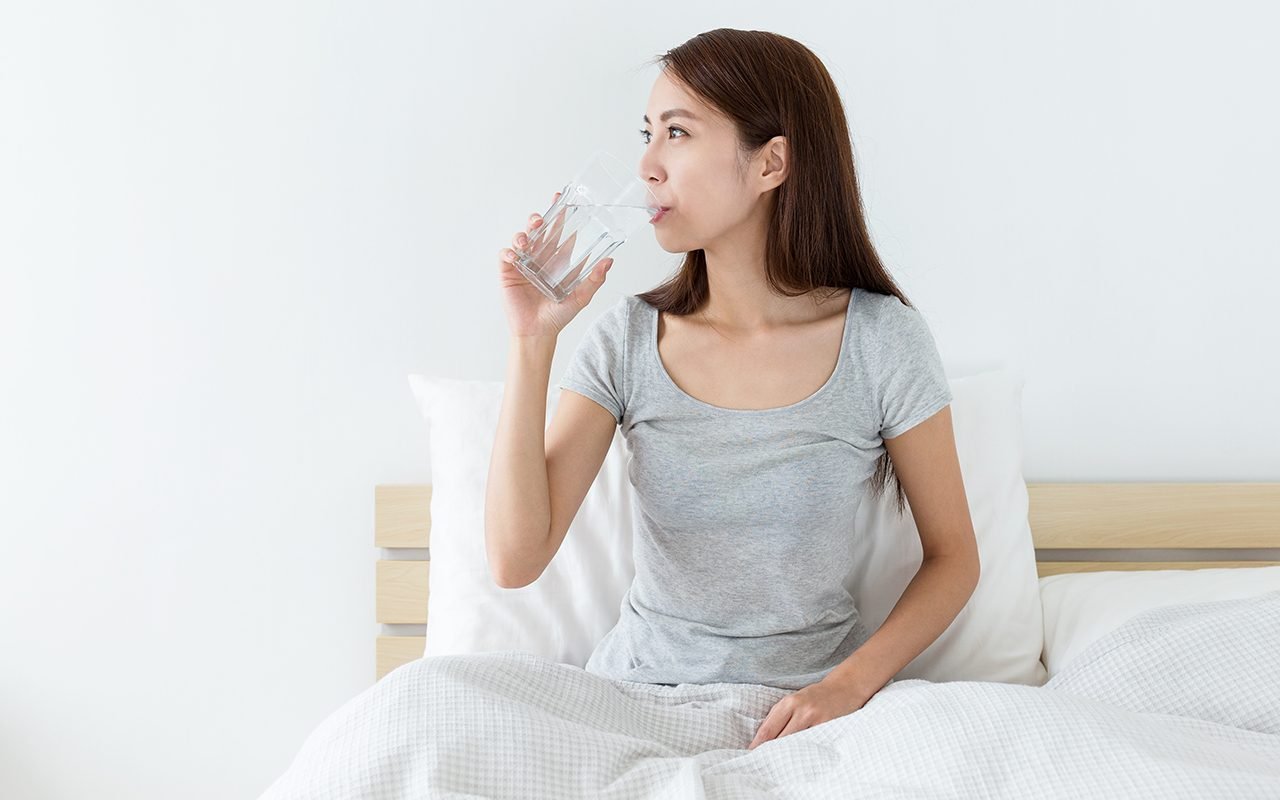 source: tasteofhome.com
Excessive urination during the sleeping hours at night is termed as Nocturia in medical terms. This affects our quality of sleep and daytime energy. Drinking before bed in a large amount can lead to similar symptoms mentioned, though the sensitiveness of this factor also varies from person to person.
Though hydration is also vital in our health system, it will be a wise decision if we reduce the intake of more fluid in the late evening hours Try not to drink any fluids before  1–2 hours of going to bed.
It is advised to use your bathroom right before you go for sleeping to reduce your chances of waking up at night and get sleeping disturbances as once we wake up, it takes  time to fall asleep again.
Summarisation
Reducing fluid intake in the late evening hours and using the bathroom right before going off to sleep is recommended for a smooth sleep until morning.
Optimization of the room environment
Many people believe that the bedroom environment plays a key role in good night sleep. These include the temperature of the room, furniture arrangements, noise and external lights. Each factors effects as stated below-
Numerous studies have pointed out that external noise, which often comes from traffic, causes poor sleep health issues.

Another research on the bedroom environment notices that sleep quality improves when lights and notices are diminished.

Other studies reveal that increase in body and bedroom temperature can decrease the quality of sleep and increase the time for wakefulness. For most people, around 70°F( 20°C ) acts to be comfortable, though it again differs, depending on one's preferences and habits.

Clean arrangements of furniture in the room, gives a satisfactory look to our mind and we can go for relaxing sleep
Summarisation
In optimization of the bedroom environment, minimization of noise and artificial lights along with the balancing temperature is necessary. For proper sleep, we need to ensure that our bedroom is a quiet, clean, relaxing and enjoyable place.
Reduce Irregular naps
source: nationwidepharmacies.co.uk
Taking short naps for certain times in a day increases the rate of wakefulness at night. However, everything for some people, if the total duration of sleep is completed by 7 to 8 hours, then it doesn't regard as poor sleep for them. However, on the other hand, the circadian rhythm of the body also encounters disbalances. It is recommended to fix a consistent time for going off to sleep and waking up 
Summarisation
Consistent time of sleep is required daily and naps during the days hours should be shortened if it is not affecting your health. Because it noted for many people that night time long sleep is required than sleeping on regular intervals all over the day.
The concluded facts
Sleep plays a necessary role in our health. One large review linked with insufficient sleep leads to an Increasing risk of obesity in children by  89%  and in adults by 55%. Other studies also conclude that getting sleep for less than 7–8 hours per night increases the risk of developing heart disease and diabetes.
If we are interested in optimal personal care and lifestyle. It is recommended to incorporate some of the above tips to sleep better in our daily life as an ultimate priority.