A kitchen remodeling project is a fantastic opportunity to modernize your interior design and appliances while improving the kitchen's functional value. The modern kitchen is now one of the central gathering places within the home and is often one of the most open areas in terms of interior design. Award-winning, modern luxury kitchen layouts follow shifts in timeless kitchen design while avoiding the short-term vogue. The end goal is to create a kitchen with a clean, cool atmosphere with custom features that directly support the homeowner and their family. Here are a few of the essential trends in kitchen design for the upcoming year.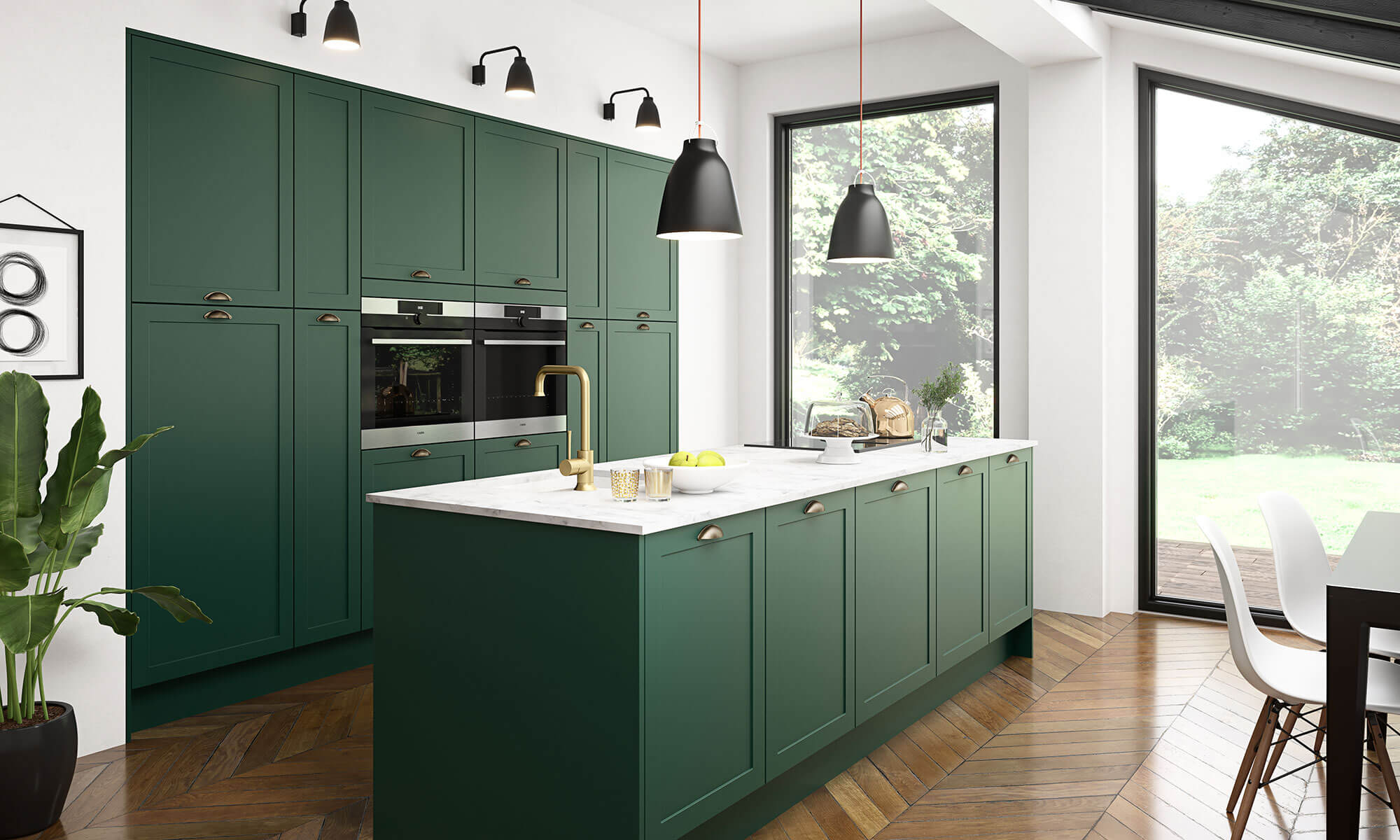 source: ksassets.timeincuk.net
Cabinets occupy a considerable portion of the kitchen's visual space, which makes finding the right color for them an important part of the remodeling process. White and cream color cabinets are dropping in popularity and quickly being exchanged with more inviting and relaxing colors. A cooler palette, with colors such as blue and grey, are popular choices for creating a modern appearance. The kitchen is in large part a workspace, which means it directly benefits from the spacious appearance that these colors offer. 
Mild and mint green is also growing in popularity and works well for setting up a comforting, rustic appeal. Most of the time, it also works well with sleeker, modernized designs, without demanding to be paired with wood finishes or accents. Choosing cooler colors for kitchen cabinets helps create a space with a visual flair that isn't tacky, as it can be with warmer colors, or too blank and sterile, as it often appears when white is the primary color.  
Brass and Gold Fixtures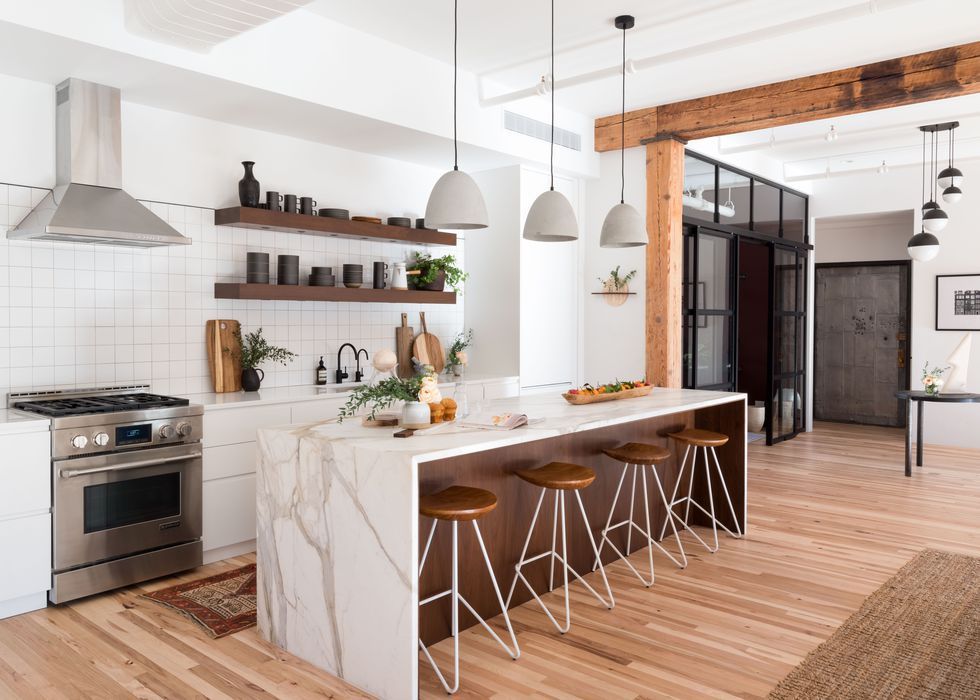 source: hearstapps.com
Brass and gold handles and fixtures are popular choices for accompanying colorful kitchen cabinets and add a luxurious appeal to the space by applying what essentially becomes "kitchen jewelry." Gold cabinet handles and sink fixtures are fantastic when aligned with blue cabinets, while brass fixtures pair well with green and grey. If you decide to work with gold fixtures and handles, make sure you pick a shade that isn't overpoweringly bright. This prevents these items from appearing cheap or tacky. No matter which color you're working with, the trending design for the kitchen sink is a faucet with a swooping arch and touchless capabilities. You'll also want the color of these fixtures to match your overhead lighting to create a seamless kitchen accent.  
Designer Range Hoods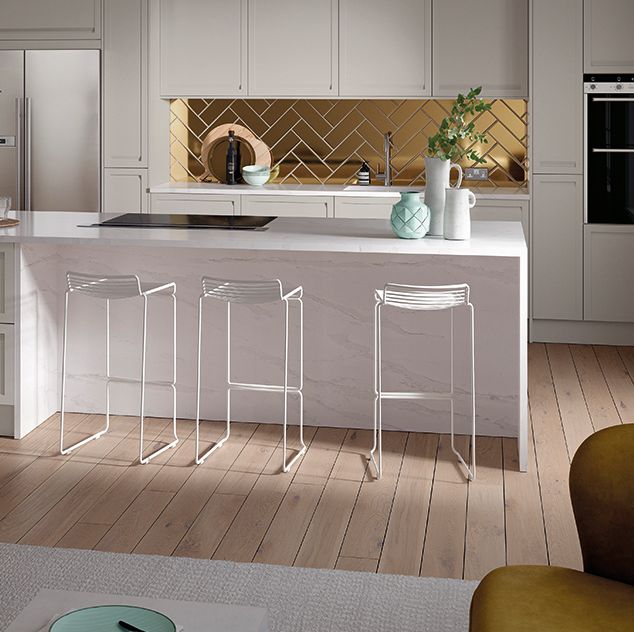 source: hearstapps.com
A large range hood that sits above the stove is currently one of the most popular design choices for new kitchens. In previous years, most designs would hide the functional components of the hood below cabinets or mix the hood's appearance with the surrounding kitchen design. However, the current trend is moving towards making the range hood a designer element, with a coloring and metal finish that stands out from the surrounding cabinets. 
The central color of the hood is often the secondary color of the kitchen at large and features similar metallic finishes to the sink, cabinet handles, and lighting fixture framework. Range hoods can be surprisingly expensive and their weight often makes them particularly tricky to install. You'll likely want to speak with a luxury kitchen design firm first before choosing a range hood. 
Open Shelving
Open shelving is a kitchen design trend that's become increasingly popular in the last five years and often applies to overhead cabinets rather than those closer to the floor. These shelves keep key cookware elements within reach and are a fantastic opportunity to add smaller decorations to the kitchen with visible china patterns on dishes, small houseplants, or decorative glassware. 
It's important to note that open shelving doesn't work for everyone and can sometimes leave your space feeling somewhat cluttered. You'll need to carefully maintain these spaces and keep them fully organized to make them a beneficial feature of your kitchen's design. Cabinets with open glass panes are a popular alternative to open shelving. They are significantly easier to keep clean while still highlighting the organized decorative appeal of your dishes and glassware.
Countertop Designs & Building Materials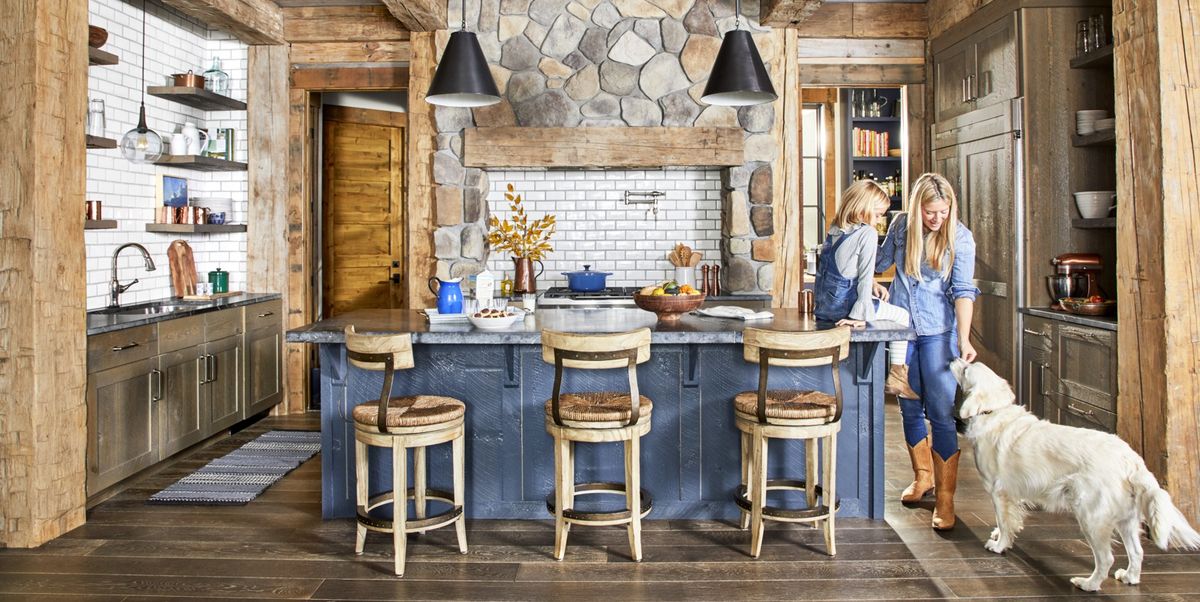 source: hearstapps.com
When it comes to choosing a kitchen countertop for your remodeling project, the trendiest choices are quartz and engineered stone. Marble countertops are still a popular choice for luxury kitchens as well, though they are usually a considerable way beyond the budget of the average homeowner. Marble countertops are also tougher to seal and maintain. However, their design is undoubtedly timeless and fits in well with other trends in kitchen design. 
Quartz and engineered stone countertops carry modern appeal and offer the potential for more customization than you might find with granite or marble. Engineered stone offers the wider range in color options, while quartz offers more of a natural appearance with its veining and patterning. White and grey stone is usually the best choice, simply for its timeless appeal and ability to match up with the more dramatic cabinet colors associated with trendy design.  
Minimalism and Scandinavian Design
source: delucahomes.com
Scandinavian design for kitchens keeps the space clean, neat, and clutter-free. Colors are fairly  muted relative to other design principles, while natural light is often a high priority. Everything within the kitchen, whether it be a countertop appliance or cookware, has a designated location that keeps it off the counter. Small potted plants accent this design and assist with oxygenating the space. Laminate floors with lighter wood colors are a popular choice for the kitchen and are significantly easier to clean than most other options. Scandinavian interior design focuses on balancing functionality with simplicity, and for this reason, continues to be the trending design style for kitchens. 
Conclusion- Top Kitchen Design Trends for 2022
source: premierhomesca.com
A kitchen remodeling project or new custom kitchen from a designer is a fantastic way to modernize your home and improve this core gathering space in your home in the upcoming year. Your new kitchen should be a blend of modern and timeless design features, with a few standout colors and a high functional value.