Everyone knows about the change that pandemic has brought into our lives. In the absence of live music and physical music classes, the virtual lessons came to the rescue. From musicians to music teachers, everyone adopted the online platform to continue the process of learning. 
The age of online learning 
Well! That's totally right. The age of online learning has arrived. All thanks to the evolving technology. The pandemic made us realize that social distancing and no physical classes are no more a barrier to learn music. With your computer system and an internet connection, you can easily get online music lessons from the comfort of your home.
The best part of these classes is that they let you choose your teacher from all over the world.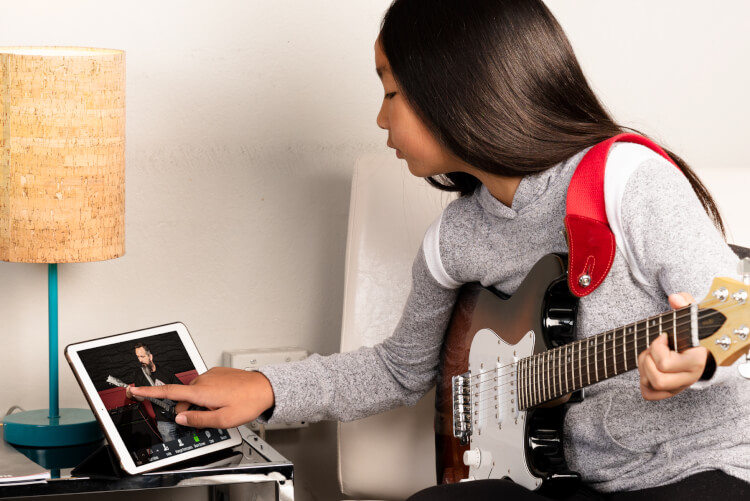 source: schoolofrock.com
Not only this, there are so many other reasons that prove that online lessons are no less than physical music classes. 
If you are still not sure and feel hesitant about these classes, here we have mentioned some points that will let you know that online learning has got many beneficial impacts. Consider reading them here: 
Do not put music to hold: As a musician or a vocalist, the worst thing is to put your art on hold. This is something you love and have an immense passion for. What is better than an opportunity that lets you continue your learning music without a hold? Do you really need some other reason for not opting for virtual music lessons?
source: open.edu
Easy recording of the lessons: During a physical class, there are times when you are not able to process the idea that your teacher wants you to understand. These classes allow you to record, pause and even save the entire recording. This way, you can easily watch the video again and pick up the points that you missed during the lesson. 
Saves time and money: Signing up for these classes lets you save your time and money. How? With virtual lessons, you don't have to worry about the time. You can fix the timing that is convenient for you and your teacher. Also, with these lessons, there is no need to travel and spend your expenses. 
Better learning experience: Better and deeper learning is another biggest advantage that  online lessons have to offer. You can choose what you want and learn in your own way. This way, you are more likely to stay pumped up and motivated to learn more. 
source: sentinelsource.com
Virtual classes have opened the door to many opportunities. The points mentioned above clearly state that online lessons are the perfect way to continue growing and learning. 
But, before you do so we suggest you be a bit selective while choosing a teacher for yourself. This is an opportunity that lets you pick teachers of choice, irrespective of the place they reside. Thus, get yourself enrolled in a program that perfectly fits your requirements. You might need a program that might not be available in your city. However, with virtual classes, this is not the case. Take your time and make a smart decision.