Cupid has already struck you with an arrow and you are madly in love with your soul mate. Love is an emotion that helps you cross the mountains or traverse an ocean and provide strength. It is his love and support you will need for the rest of your life. Why not make him feel how close he is to your heart?
The best way to propose your love again to your soul mate is by gifting him you adorned in beautiful sets of lingerie bought from online stores on that day. The Valentine's Day gifts will encourage him to express a raunchy masculine side you have never witnessed. It will be an erotic gift for your husband, as well as, for you. Why not make the following nights more erotic and interestingly hot? Let us dig a little deeper to find sexy lingerie online.
Best lingerie as Valentine's Day romantic gifts
Imagine the shine in his face when he will witness you in an erotic lingerie set. His entire day's stress will be busted in seconds. He will find a new source of energy in him to make you feel loved. For this, you will have to dig a little deeper and find out the top lingerie choices from online stores like Clovia, Victoria's Secret, and Third Love.
Multiway bra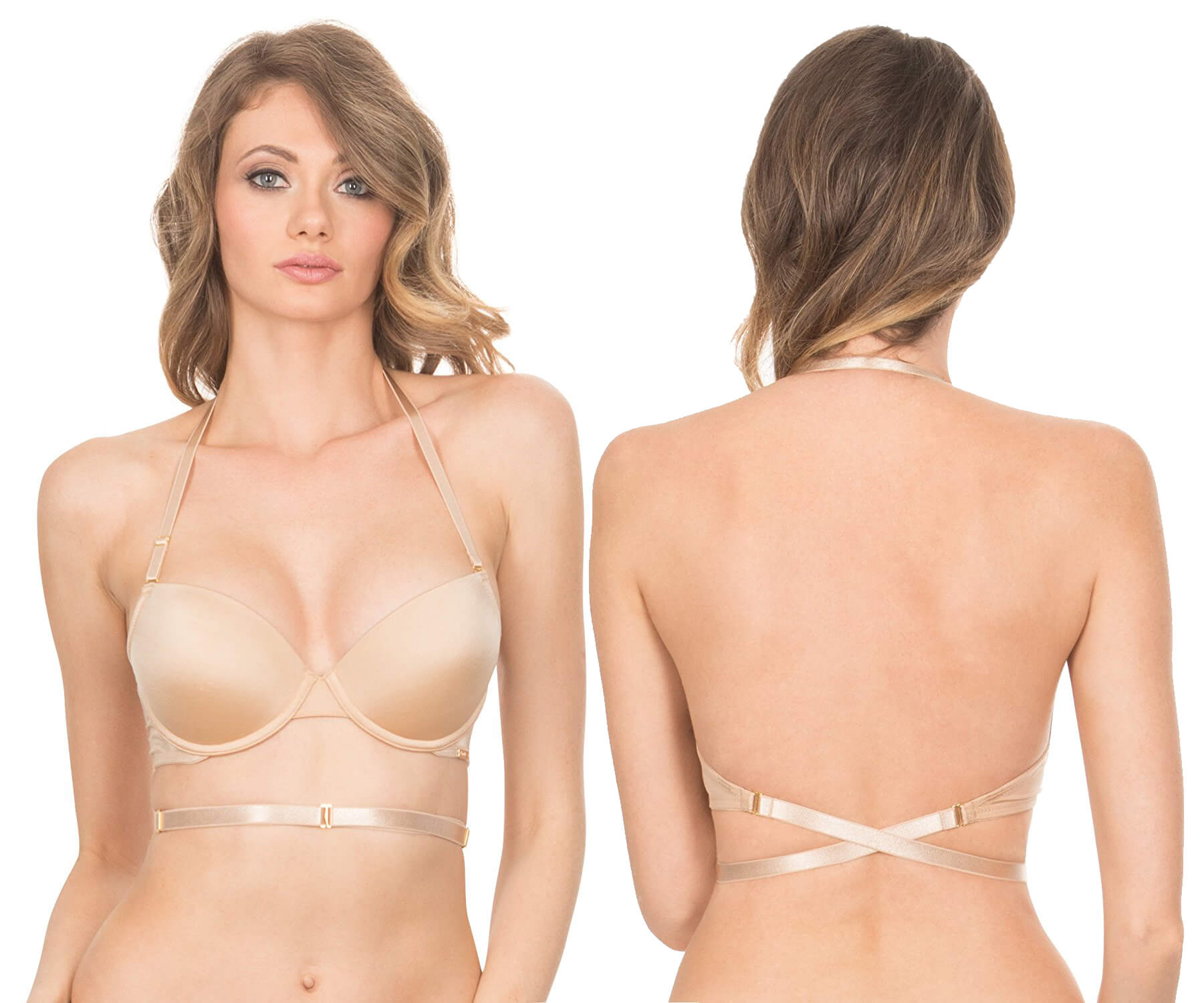 source: typeset-beta.imgix.net
For the ladies, nothing makes them more comfortable than wearing a favorite t-shirt outdoors. This is where you will need a multiway bra that can be transformed into something more comfortable. The secret of a multiway bra lies in its detachable straps. You can understand how easy it is to improvise the design and can be worn with any dress you like. For pairing with t-shirts, you will need a padded design so that you can look phenomenal in your t-shirt attire.
You can also wear your backless gowns and tops on that very special day by using this bra design. The concept will let you free from straps despite providing ample support to your girls. Your husband will be drooling all over you seeing you in your backless gown off-shoulder gowns. Go for multiway bra as the ideal Valentine's special gift for wifeand enjoy wearing it in different attires.
Pushup bra
source: Clovia.com
Add more prominence to your cleavage by lifting your girls up. For this, you will need pushup bras for confidence and convenience. When you are willing to woo your husband with a low-neck dress, all you need is the assistance of a pushup bra to add more erotica to your attire. This is one of the best Valentine's Day romantic giftsyou can go with to swoon your husband.
Nighties
source: Clovia.com
Are you bored of wearing the same old dress before going to sleep? Do you want to make it more special for you and your husband every night? Go for erotic nighties in the online stores and make your night attire sexier. In this aspect, you will find different lengths to consider. The short length nighties are also called as night slip. These nighties are made of satin and lace and can be considered as sexy lingerie or a nightdress. You can also go two-piece nighties where a nighty comes with a beautiful gown.
3-piece nightwear
source: ae01.alicdn.com
Add a degree of royalty and luxury to your night attire by choosing 3-piece nightwear. it comes in the form of a combination of a robe made of satin, babydoll lingerie, and a thong. This will probably be the best Valentine Day special gift for wifeone can think of.
Lace Crotchless Teddy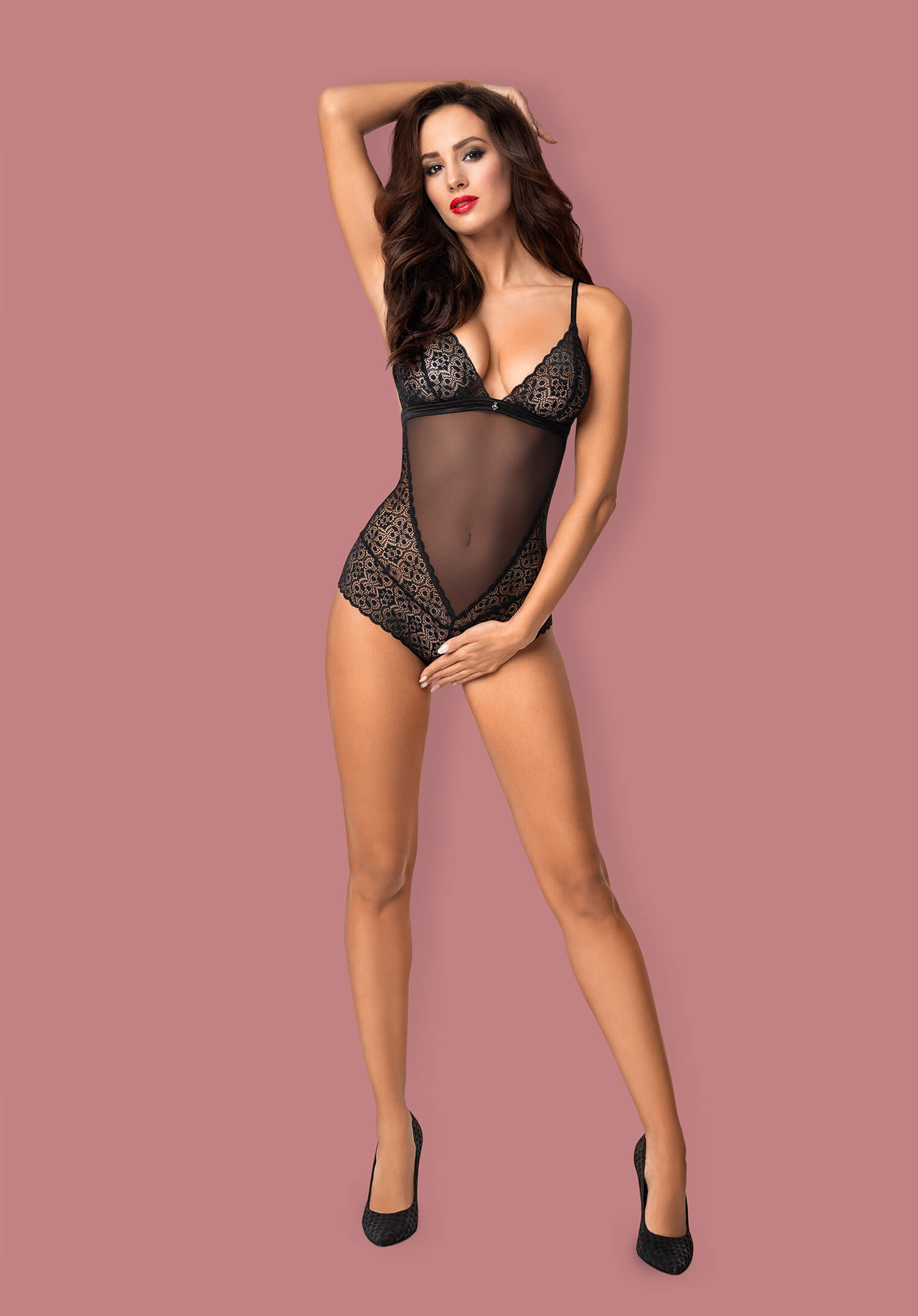 source: obsessive.com
Women love to be gifted with lace crotchless teddies and they are obtainable in a couple of colors; red and pink and both of them are classic colors of Valentine's Day. The edges and spaghetti straps of the teddy do feature satin bow accents and detailed lace trim and they would adorn the center of your lady's body in the best possible way. When you have been hunting for a modest piece of Valentine's lingerie, then it can turn out to be ideal for you. This features the colors and special details of your Valentine's Day gift of lingerie without looking excessive or frilly.
Bralette-babydoll sets
source: shopify.com
The bralette-babydoll sets turn out to be ideal for the romantic couples and they compel you to come closer to each other. Women love to get into them and get involved in dirty talks with their men. These sets escalate men's romance to the subsequent level when they find their lady love dressed in them. Again, your lady will also be able to show her skin because of the mesh detailing of these sets.
Striped Babydoll G-string set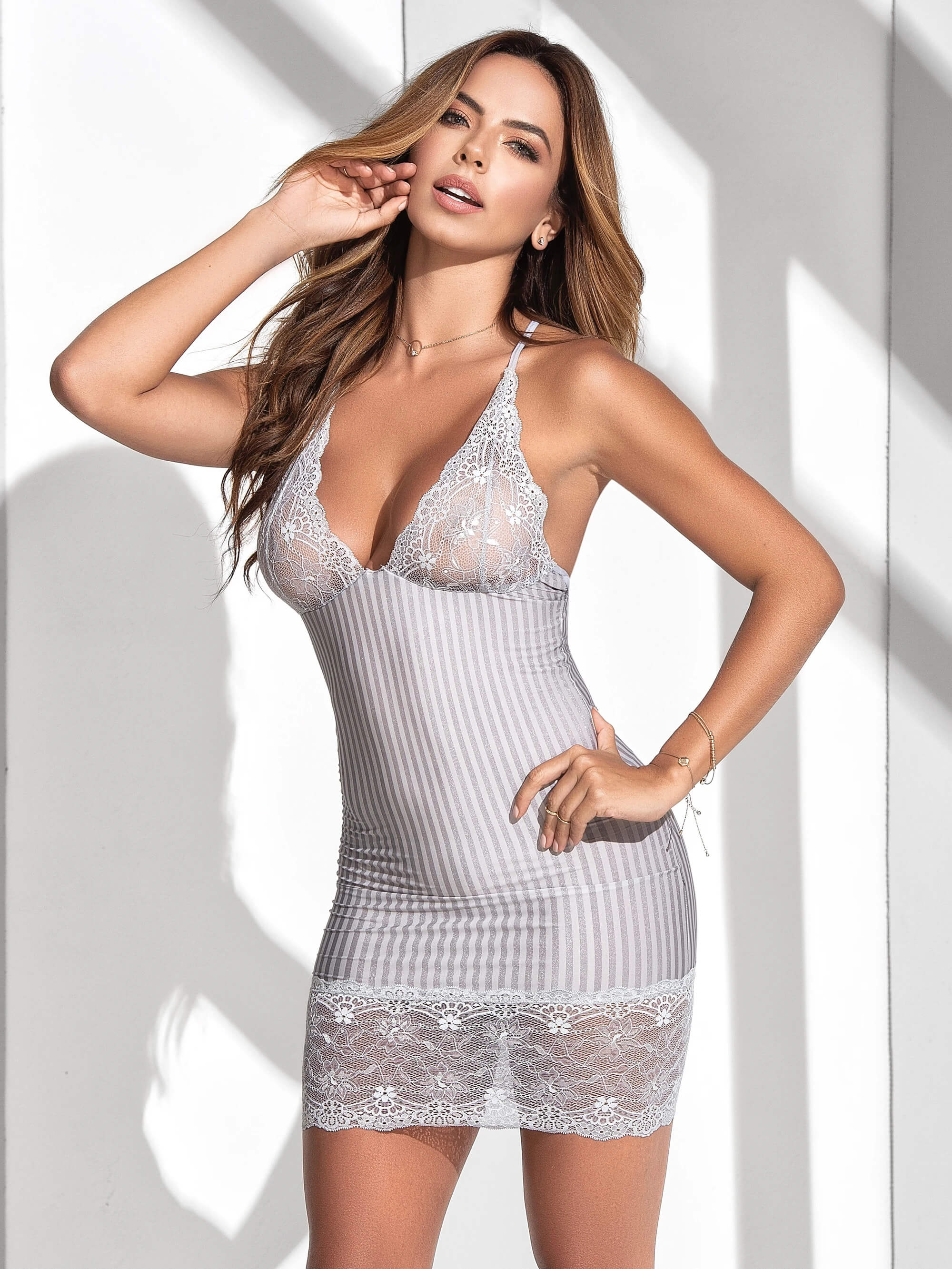 source: shopify.com
Your lady can become classy when she wears this G-string Panty. Both pieces of the set comprise lace construction and leave lots of imagination while revealing enough skin for maintaining a sexy finish. This set comprises mesh-lined opaque and soft cups with stunning scalloped lace trim which proposes nothing but comfortable coverage to your bust. The best thing about this set is it is comfortable and breathable and you will find it in black stripes which would be fitting enough.
Thongs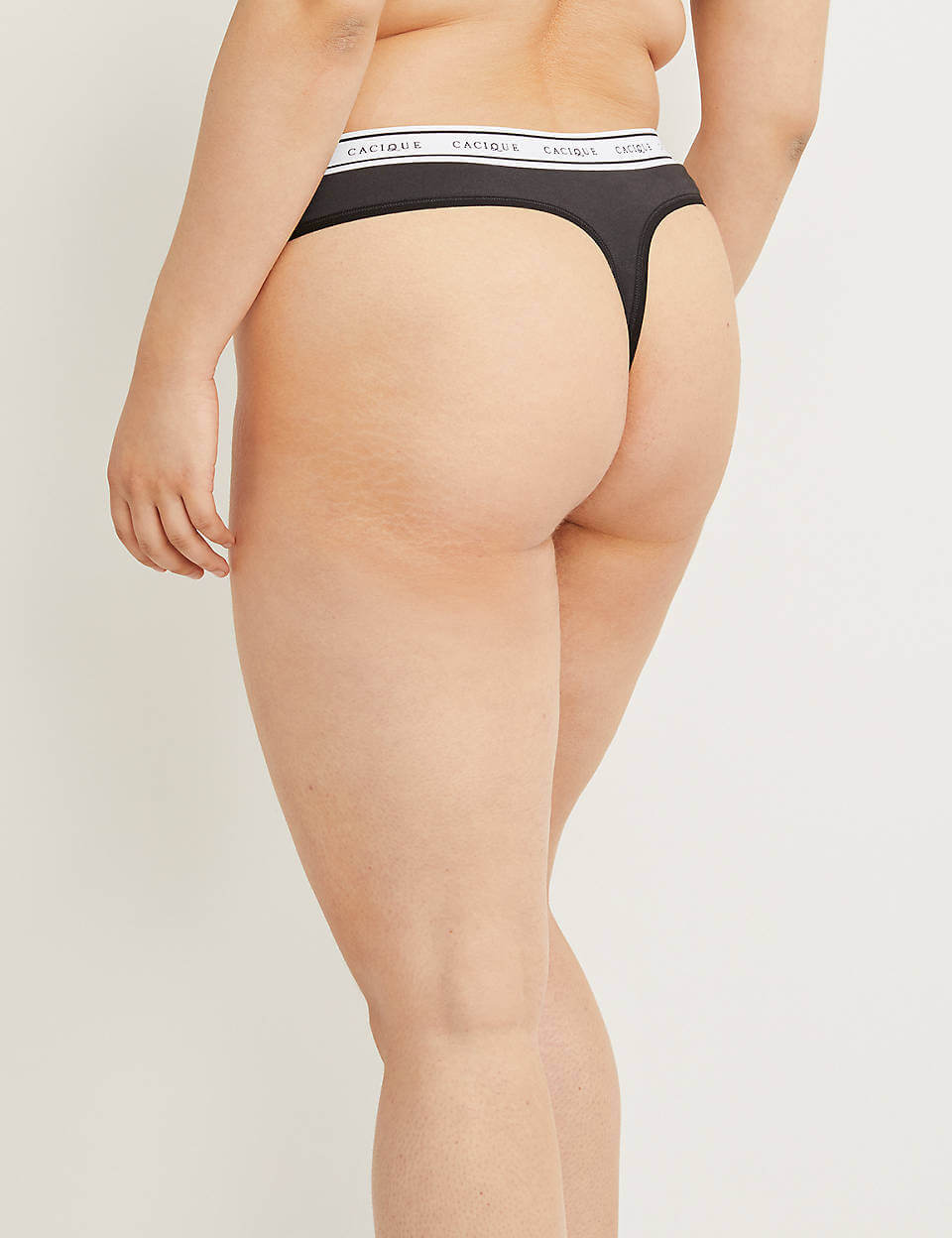 source: lanebryant.scene7.com
Thongs are ideal when you wish to try something else other than your regular panties. You can always wear one of those fancy and attractive thongs. When the matter comes to purchasing Valentine's Day gift, then thongs top the list. The sexy thongs never fail to improve the sex appeal of your lady and so, men look for more than before.
Chemises
source: bigcommerce.com
Chemises are also a huge favorite with women from all across the globe. You can get a huge variety of sexy chemises. Most women prefer romantic chemises that feature dainty details, such as bows, lace trim, and silky satin and they turn out to be excellent gifts for the ladies who are new to lingerie. So, explore the full collection of chemises set online and make yourselves excited.
Erotic lingerie set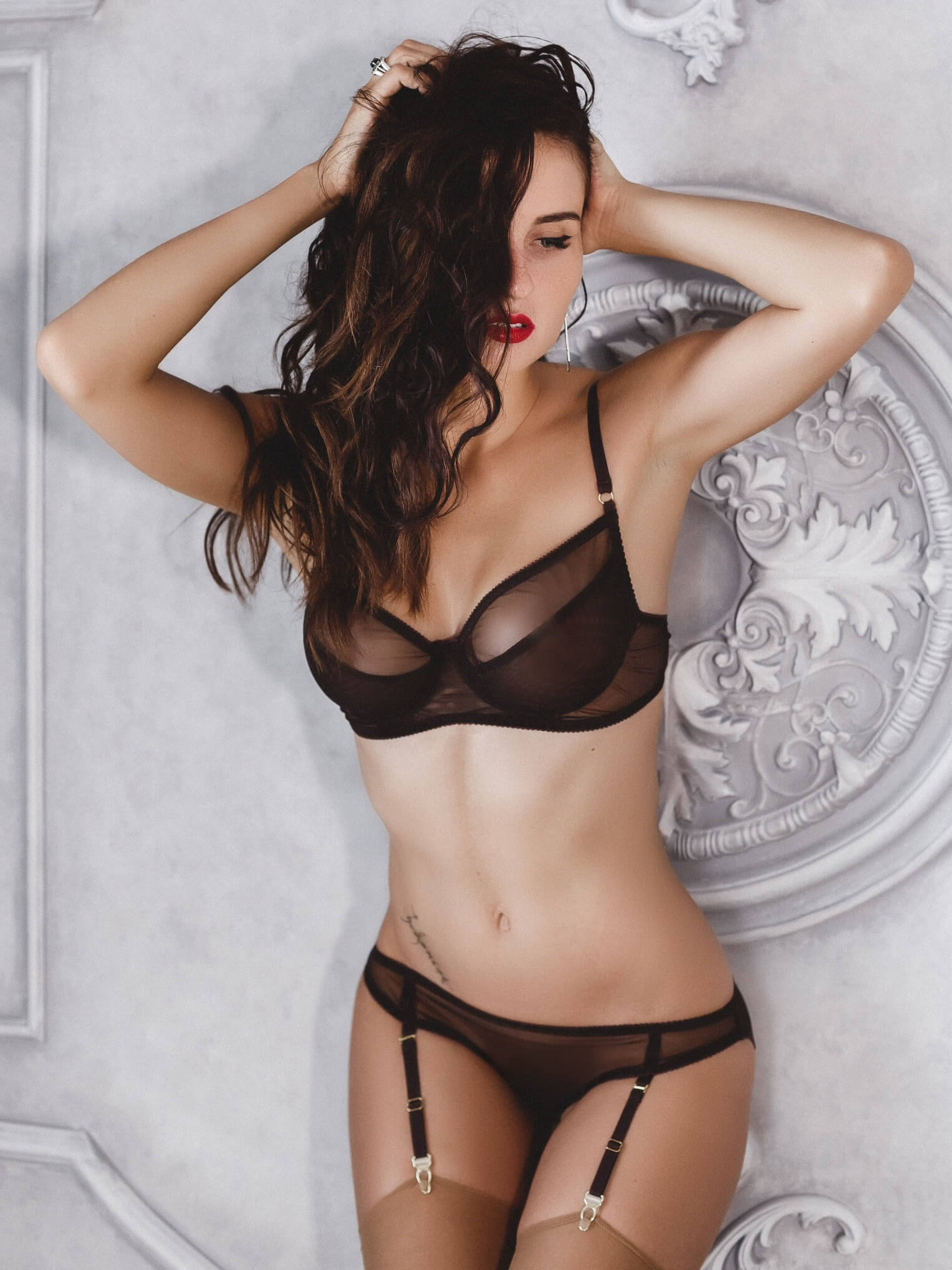 source: etsystatic.com
The erotic lingerie sets are edgy and bold and you can find them in the romantically themed novels and movies. This style will reverberate well for Valentine's Day particularly for the women who do not fear to attempt sexy and daring styles. A woman can achieve a sensual Valentine theme when she chooses heart-shaped bra and panty matching sets, strappy bras and panties set, crotchless panties, and red leather pieces. When you wish to become more dramatic, then you can choose outrageous ad racy Valentine's Day themed pieces contrary to the delicate and modest pieces. A woman can surprise her man by wearing an unusual lingerie piece but people should buy these lingerie sets carefully.
Three-piece garter and bra set
source: shopify.com
When you wish to gift your lady sexy red lingerie which isn't non-functional and flimsy, then you can surely buy this set. This set comprises a full-coverage bra having underwire and soft cups, supportive bands and straps, and a normal hook-and-eye back closure. Your girl will feel comfortable while looking utterly sexy in this set. It also has a matching G-string panty that features adjustable garters and they provide an additional sexy finish. The good thing about this two-piece set is it has been crafted from dark red and soft material with beige trim and lace overlay.
Final words
These are the best options for sexy lingerie you can go for to gift your husband a more-erotic version of you this Valentine's Day.