We all want our homes to seem like they belong in a design magazine, but finances sometimes get in the way. Instead of fantasizing about that pricey piece of furniture or rug you can't afford, how about freshening up your house with these low-cost interior decoration ideas?
In today's ideabook, we'll show you how to give your home a fashionable look without breaking the budget. Whether you're looking for DIY projects to spice up your living room or budget-friendly kitchen remodel ideas, this list has it all. From decorating using materials you already have (like innovative ways to organize your glassware) to painting thrifted chairs or tables, many of these ideas are simple enough for people of any skill level to execute. It includes practical design ideas for small spaces that are simple to implement.
See if there's anything on this list that inspires you before you go out and buy something new. Perhaps you'll make your own wallpaper (hint: use paint!) or construct a temporary bookshelf unit out of an old ladder. If you still want something new, there are ways to save money, such as using removable wallpaper or purchasing a bistro table rather than a complete kitchen table. So, before you begin your renovations, Check out these cost-effective luxury house interior design ideas.
Light & Action 
source: pinterest.com
Get rid of the belief that lights are simply installed to brighten a space. A sculptural luminaire can give a room a new look. A fantastic way to achieve both warm lighting and polished aesthetics in a single shot! Look for fixtures with personality and artistic touches. At the same time, make certain that they have enough bulb holders to accommodate the size of your room. Small spaces benefit from fixtures with three or fewer lights, while chandeliers with multiple arms evenly distribute light throughout the room.
Plates On The Wall
For framed artwork, plates are a fun option. They're typically found at antique shops and can be changed overtime. Use elegant hangers that stick to the backs of the plates and are undetectable to hang them on the wall. But first, try laying down the plates on the ground and experimenting with different alternatives to discover a pattern that you prefer.
Paper Lampshade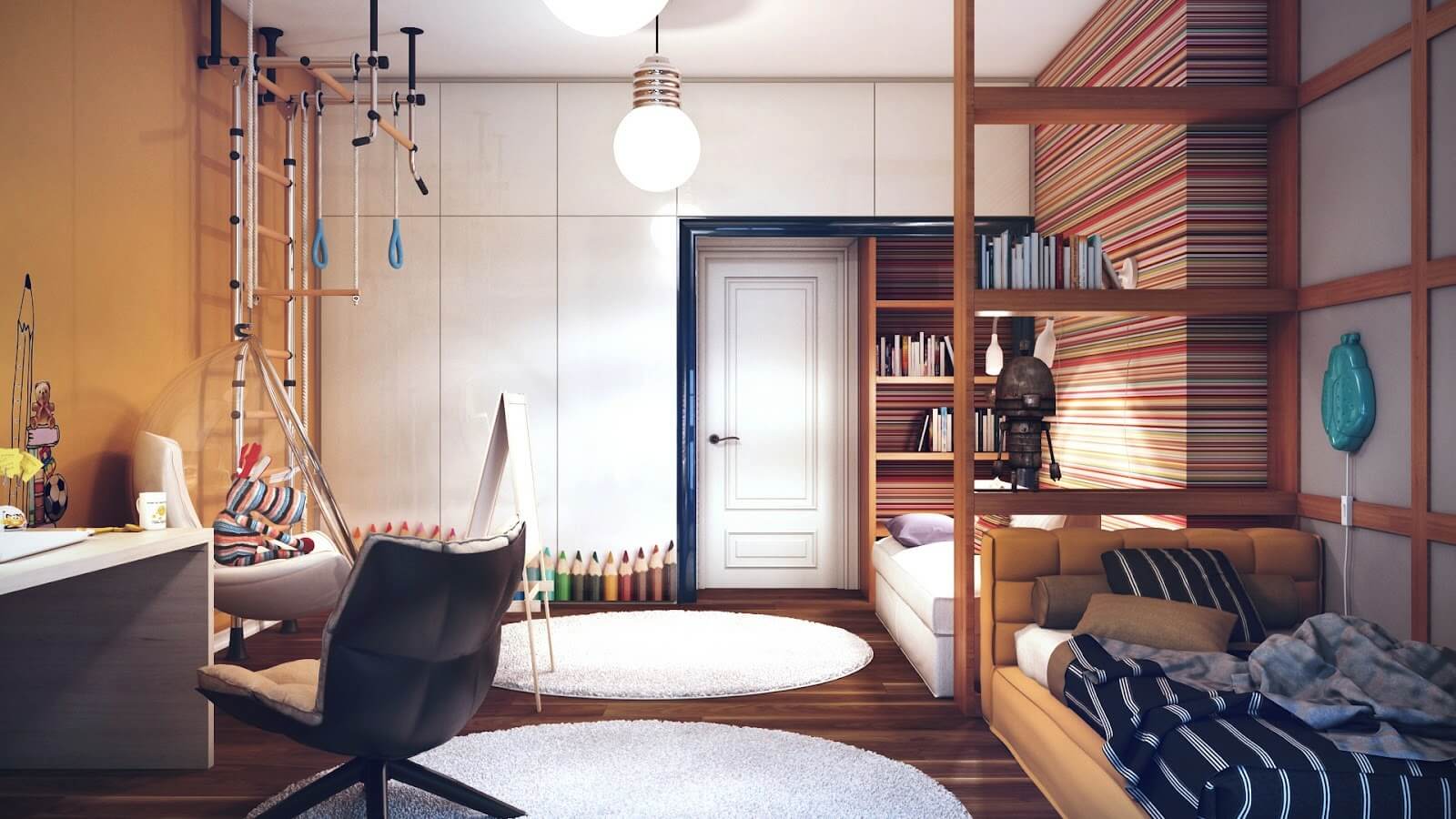 source: home-designing.com
If you're looking for adorable and inexpensive ways to decorate an apartment, we've come up with the ideal solution. Purchase a few paper lampshades and drape them over your current light fittings. It complements almost any style of decor, whether modern or rustic. For a minimalist house, go with white, and for a rustic or country-style home, go with bolder colors.
Mirrors & Mirrors
It's not all awful if you have a little house. It's cozier than most huge areas, and there are plenty of ways to make it appear larger, such as adding mirrors. Mirrors are another low-cost décor option, and their versatility allows them to be utilized in almost every area in the house.
They are also available in a variety of shapes, styles, and designs, and can be used to create artistic effects in addition to visually enlarging a space. A lovely frame can transform a plain mirror into a stunning display piece.
Photo Wall
Framing photos is another way to personalize a space. For example, you can make a family gallery by displaying pictures of everyone in the family on a living room wall. You can apply the same concept to your dining room or office to make it feel more welcoming and pleasant.
Look Around
Moving items from one room to another may appear to be a no-brainer. But you'll be surprised at how many useful items you can find in your own home! Baskets, boxes, and vases are just a few examples of items that can be easily moved from one room to another. So, whenever you feel like you need something new for your home's décor, take a look around to see if you already have it! Shopping for your own home is something you'll always do, and sticking to a color palette will make it easier in the future.
Think Beyond The Box
source: tlcinteriors.com.au
Creativity is frequently used to solve practical problems. And, when it comes to home decorating, it allows you to see things in a new light. If you let your imagination run wild, you'll discover that you don't have to limit yourself to using an object for its original purpose! Here are some ideas to help you try new things when it comes to home decor. Looking for a new brass towel bar but can't seem to find one? A drawer pull is more able to reach and will do the job perfectly! Do you need new flower vessels? Mason jars can save the day! No more storage in your bathroom? Why not simply lean a ladder against the wall?
We are used to viewing things in terms of their primary function, but they can also serve a variety of other functions! Looking at things in a creative way can also help you save money. While you're at home, you might come across something that can be used for a new purpose.
Big Yes to Accessories
What if we told you that you could completely transform the look and feel of your home for a very low cost and without having to replace any of your existing furniture? Doesn't that sound like a good decor solution? That is exactly what home accessories are capable of! Artworks, vases, cushions, trays, candles…the list goes on and on! Generally speaking, all of these items are more than just dust collectors and can benefit your home in multiple ways. For starters, accessories can spruce up a room, give older furniture a new look, and even hide flaws on older pieces.
Mix & Match 
Patterns and textures are valuable tools in the designer's toolbox. For starters, they offer depth to a surface, which will help you update your existing furniture (see the effect new cushions make on a sofa!). But that's not all they can accomplish! Patterns and textures have the ability to create an ambiance in a room. 
Soft textures and subdued designs quickly convey a sense of comfort, while strong brilliant patterns and dazzling textures convey a more refreshing feeling. Begin by asking yourself what impression you want your home to have. Then, employ patterns and textures to achieve that, and, of course, keep in mind that you can go for different vibes in different regions of your home!
Hanging Canvas
Making a patterned canvas to hang on a wall is a simple process. You can use a cardboard template or freehand something if you prefer something a little more artistic. Allow your talent to speak for itself. The canvas can subsequently be used as a unique decoration in areas such as a home office, dining room, bedroom, or any other space you like.
Show Your Creativity
source: prolinerangehoods.com
However, painting and displaying the finished product on the wall is not the only way you can contribute to the creation of a one-of-a-kind home décor. You can be crafty in a variety of ways. For example, you may frame a favorite piece of wallpaper to make an eye-catching display for your dining room, office, or other space.
Go Green
Plants are undoubtedly one of the most simple home décor solutions! All you have to do is go to your local nursery and choose the appropriate plant for your home. If the price of a certain plant is too high, you can choose the silk version or grow the plant yourself from seeds, which are generally affordable. To complement your living area, keep it basic with one giant plant. Another alternative is to arrange a short line of plants on a window sill or table to create a nice garden atmosphere.
Refinishing Furniture
New furniture is usually a terrific way to freshen up space, but it can be costly and time-consuming. Instead, give your existing furniture a new look by repainting it in a different color or style. Paint is cheap, and the greatest thing is that it can be used on almost any type of furniture, from wood to plastic to metal. 
Tag & Labels
This following home decor concept is especially charming if you have a large collection of glass jars on your kitchen counter or open shelf. Labeling is a smart method to stay organized and avoid having to guess what is in a given container, in order to add style. You may buy jar and bin labels online, but you can also make your own with a laptop, printer, and sheets of sticker paper.
Wood on Wheels
source: remodelista.com
Don't underestimate the impact wheels can have on the appearance (and usability) of your furniture. Add wheels to a kitchen shelf to make a handy kitchen cart for storing pantry goods, coffee supplies, or as a portable island that can be placed to the side when you want to show off your kitchen. Alternatively, you can add wheels to a pallet bed, as shown in this Palletlist example, to create a portable guest bed that can be rolled into a child's room when guests come to visit. Furthermore, wheels can be added to your child's toy box so that they can play in the living room but easily tidy up and relocate to another room in the house when guests arrive. There is no end to what a set of wheels can do!
Replace Old Faucets
Replacing a massive installation, such as a sink, can be costly, but you can modify the design of your kitchen or bathroom simply by changing out the faucet. Choose an industrial-looking copper faucet for a more rustic farmhouse style in your bathroom, or utilize this opportunity to upgrade your kitchen by installing a smart faucet on your kitchen tap. Even acquiring a newer, shinier version of an existing tap may help brighten up space without blowing the budget so don't be hesitant to give it a shot!
Glass Deco
Glass jars, bottles, and containers of any shape and size may be transformed into lovely yet affordable home decorations. Fill huge glass jars with Christmas ball ornaments and place them in a wire basket for a mason jar chandelier effect, or fill tinted glass jars with tinted glass jars for some colorful holiday decorations. Try painting jars different colors or creating mini-dioramas in them with sand and shells for a simple beachy look. Glass jars can significantly boost your home décor without spending a fortune, no matter what your style is!