Over the past few years, the cost of the average wedding has skyrocketed, from around £20,000 in 2009 to more than £30,000 in 2019. While Covid-19 might have put a dampener on our ability to throw a lavish party to mark the occasion, we're still willing to pull out all the stops.
Fortunately, there are plenty of ways to optimize your wedding budget, thereby squeezing every penny for all that it's worth. Let's run through a few worthwhile budgeting strategies.
Don't be fooled
source: hellomagazine.com
It's easy to draw inspiration from the extravagant weddings you might see on television, or in magazines. It's more difficult to keep an eye on the amount of money that other people are spending. 
For example, Carrie Bradshaw's marriage to Mr Big would have cost around £130,000, according to estimates from jeweller F.Hinds. This includes a Vivienne Westwood designer dress, which would have come in at around £18,000. Since Mr Big was a millionaire, this wouldn't have represented all that big of an imposition – but most of us aren't millionaires, and so this kind of expense isn't really practical.
Prioritise
source: pinterest.com
You'll want to run through the entire budget and decide which elements are essential and which are merely nice. F.Hinds study found that the boat trip where The Office's Jim and Pam secretly tied the knot before their ceremony would've only cost £32.10, showing if you only want to focus on the two of you, you can keep the costs down. If you decide that your outfit is more important than the flowers you buy, then you can reallocate your funds accordingly. Similarly, you might determine that having a band is more important to you than having a brand-new dress. 
Put yourself first
source: mishamedia.com
What's the real purpose of your wedding? Is it to make a commitment in the sight of your family and friends? Or is it to spend time with your partner at the outset of your new life together? If you don't assign any value to a big occasion with an extensive guestlist, then there's not much point in spending big on one.
Wedding guestlists tend to swell exponentially. If you're inviting a few second-cousins and loose acquaintances from work, then you have to invite them all to avoid causing offence. And that can mean doubling your guestlist, and doubling your expenses.
Why not go in the other direction, and invite just a core of close family members? Or, if you'd prefer, you might just have yourself and your significant other in attendance. 
Save in Advance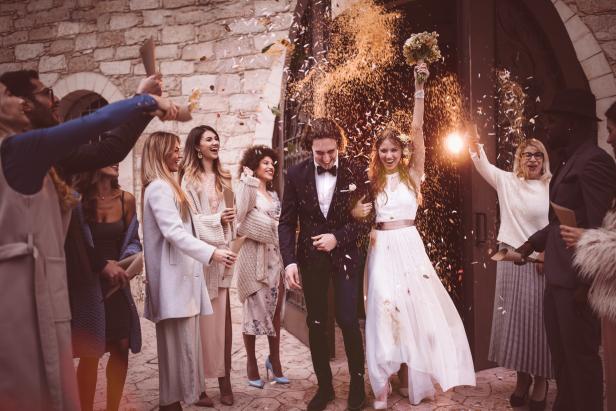 source: pinterest.com
The more time you have to save for the big day, the more you'll be able to spend on it. You might find that it's better to save for a wedding than it is to borrow for one. If you're like Mick and Linda from Eastenders, and your wedding costs £20,243, you might pay it off over a year and a half on a combined salary of £53,620 if you can start your savings pot in advance.