Most designer frames glasses are so expensive that they never fit the common man's budget. Agree? Raising or income or burning your pockets aren't really amazing solutions. That's why we bring to you these two brands. They can help you find the most gratifying pairs of eyewear possible in your budget.
Of the numerous brands out there, some shine bright when it comes to style but not in quality. Others focus so much on the quality that their solemn nature makes them forget the demand of the era – a flattering appeal. And then, there are those brands that ask for a massive chunk of your bank account to promise both the necessities of fashion and supreme quality.
That's the reason why these two brands that we will talk about today are special. All kinds of glasses and sunglasses that they bring for you to admire, fit your budget without making you compromise on quality or comfort. Ready for us to drop the bomb? Live Enhanced explores the budget-friendly designer frames glasses
Presenting two designer frames glasses brands with super pocket-friendly prices
Tom Archer
The brand designs simple styles with eccentricity enough to mesmerise everyone around you. Their designer frames glasses, however, do not do that only with bold colours and shapes. They do it with minimalistic creativity that you can move around with daily.
Yet, if you love the bold and flattering look, Tom Archer has those styles too. This variety is what makes the brand so loved by its fans. It can disappoint, simply, no one. Whether a vibrant and feisty red is your choice or the hipster tortoiseshell with a booming browline, you will find every variety in the Tom Archer assortment. New styles like asymmetrical glasses and geometric ones are also something that the brand offers for the quirky and different being in you. Wondering what we mean by asymmetrical glasses? Well, imagine a pair with a round lens for one eye and a square for another. Intrigued? That's exactly why Tom archer is adored by its fans.
With those two, the brand has other Herculean types of styles for any mood of yours. From the simple classics like round, rectangle and wayfarer. To the bold classic like Aviators and the cat-eyes. Full-rimmed, semi-rimmed or rimless, whatever you say!
But, how does this awesome brand fit your budget? Well, they are an in-house designer brand of Specscart. The company has its own labs with technicians having an experience of over 20 years. This facility makes them create high-quality designer frames glasses, without any middlemen. Thus, reducing the cost.
The frames have a starting price of as low as £15 which makes the unbelievable deal. After all, you will hardly find the same quality, style and service from any other company at such a price.
Marc Fabien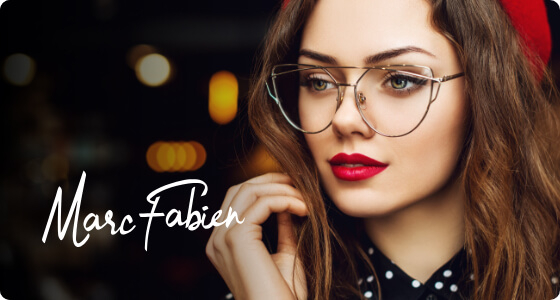 This brand is another in-house name born at Specscart which currently serves only designer frames glasses for women. The scintillating style with embellishments in some frames make them stick out a mile to pluck and bring admiration for you. And which woman doesn't like some sweet and solid appreciation? Right ladies?
Most of the glasses frames available are either sassy cat-eyes, wayfarers or ovals that add flattering sparks to women's faces. You ought to love them as they bring elegance, sophistication and the right amount of spice to your looks. Thus, helping you and your appearance go la-la.
Don't believe us? Imagine yourself in a pair of full-rimmed silver wire-framed metal cat-eyes with crystal beads on either side of the frames embellishing it. That too, with a beguiling black or pampering purple on the top corners of the frame fronts calling for attention to your beautiful eyes. Thus, getting you loads of compliments to cherish and express your unspoken charm.
And this is just a bit of the description for one kind of pair. More kinds are waiting for you to consider them. And flaunt with your ensemble day after day.
Similar to Tom Archer, these glasses frames for women are made in Specscart's own labs and by their own technicians. This ability removes the need for middlemen. Thus cutting the cost that they might have otherwise charged from you.
A Final Word
Ready to liven up your wardrobe and personality? Choose one or more of your favourite designer frames glasses from the brands we mentioned online on Specscart today! Cherish the beautiful designs, styles, and colours that could amp up your looks in no time.
Specscart is under your budget not only because of the no-middleman strategy but also because of all the freebies it brings along.
How many eyewear companies have you heard of, who provide free of cost shipping? That too, worldwide. In fact, Specscart offers free return shipping as well when you order frames for home trial.
Now you might say, well maybe they take those charges in the expenses of home trial. Well, no they don't. Specscart offers absolutely free home trials. You can choose up to 4 frames and try them at the comfort of your homes for 7 whole days. Take opinions from friends, family, click pictures, play the rating game, and do all that you want to do before committing on your favourite frames. This experience saves you more money as you don't settle for a wrong pair.
Unlike a few other companies, Specscart doesn't charge any return fee as well, in case you wish to return your order within 30 days. So, if you feel your money wasn't well-invested you can return it without any questions asked.
Finally, the most significant way by which Specscart saves you a chunk of your hard-earned money is by providing essential protective coatings on your lenses for free. These include anti-glare coating for all kinds of reflective light that might trouble you. And the anti-UV coating to help you protect your eyes from the sun. The cherry on top is their scratch-resistant coating which works wonders for clumsy souls out there.
To add to the feast, Specscart's blue light glasses are quite affordable too. So, they are the best way to gift your eyes ultimate protection along with a fashion-centric appeal.
Go ahead and grab a pampering pair. They have glasses frames for men and women both. That too, with style, comfort and quality all scoring at par.