Easter Sunday is another one of those rare occasions when you may eat all day, from Easter lunch through Easter dessert. You've also come to the right spot if you're searching for a supper menu to put food on your table this year. You'll discover mouthwatering main courses, Easter appetizers, and more 2022 traditional easter dinner ideas for your Sunday feast right here. To finish up the dinner, we've also included some surprise Easter treats too!
Here are some Easter table decor ideas To Set You Up:
Almost every Easter dinner/lunch/ includes juicy glossed ham, mashed potatoes, and fresh cross buns, but is there something else you're overlooking? Before you even serve any food to your guests, choose the Easter table decor you'll employ. After all, the presentation makes all the difference.
Simple Easter Table Decor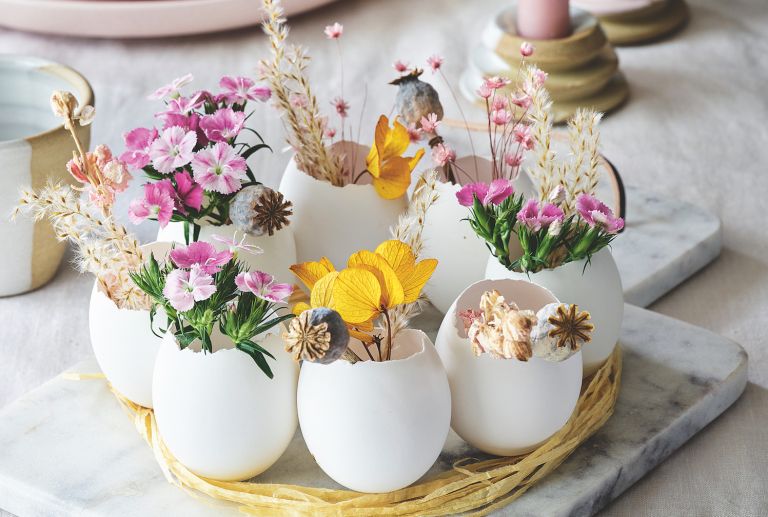 source: pinterest.com
This easter table setting flips the tables on the concept of using ferns as filler greenery. Instead, the major attraction is the multitude of fronds, with barely a few tulips peeking out. The fronds also give their outlines to a DIY runner; created with stencils and canvas painted in a choice of green tones and printed cards on suede napkin ties.
Spring Inspired Easter Table
This vibrant spring table features our favorite seasonal bloom, the delicate irises. Displaying each flower in a separate vase brings forth the simple charm of each one. Clip stems of varying heights and places them into small white vases to get the appearance. Arrange them along the center of the table and finish with linen napkins.
Eggshell Candles
Rather than purchasing store-bought table candles, create your own! The fragrant lavender eggshell candles will look lovely blazing in your egg cups.
Easter Tree
source: pinterest.com
In Germany, trees have been adorned for generations. Fill a tea tin with floral foam and insert blossoming branches to create this variant.  Using a piece of ribbon wound around the egg and secured in place with wooden craft beads, hang colorful blown or decorated wooden eggs.
Easter Woodland Theme
Arrange stony corals, fronds, acacia, and pastel-colored eggs on a burlap runner to create this earthy and flower-filled show. Monogrammed eggs, wood slabs, and moss heaps are other great touches. 
Welcome, Your Guests With Refreshing Easter Cocktails:
Spring has finally arrived after a long winter. The sun shines, the birds are chirping, and the lawn is beginning to turn green. It's time to sit back and unwind. What better way to kick off the celebration of Easter 2022 with a welcome cocktails party?
Raspberry Rose Sangria
Since most people equate Easter with spring and renewal, the ideal Easter drinks are mild, fruity, and soothing. This raspberry rose sangria satisfies all three factors! It's bright red, gently sweet, a little tangy, and loaded with raspberries. It's the perfect patio drink in the springtime.
Chilled Sunrise Time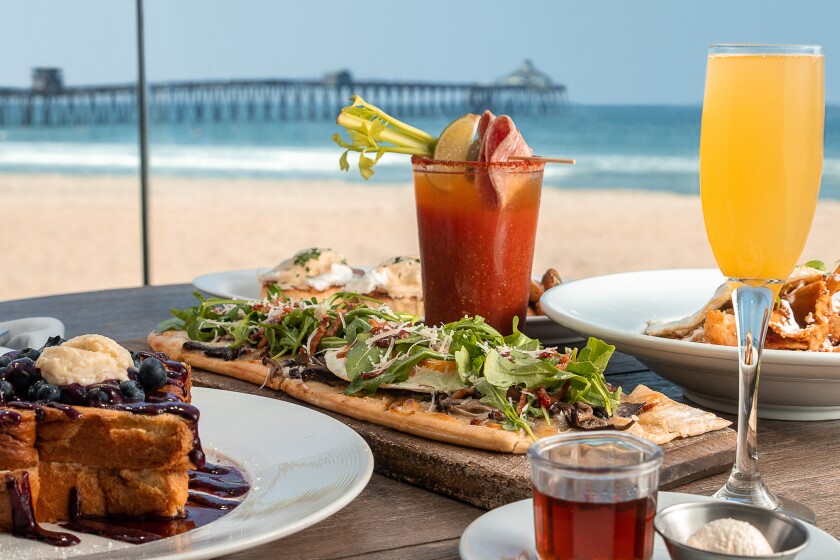 source: pinterest.com
The sunrise is an all-time favorite cocktail named from its dawn-like look. It features a red bottom, an orange center, and a golden, sunny yellow peak. It just takes 3 minutes to set up and calls for tequila, orange juice, grenadine, and garnishes of an orange slice and a maraschino cherry. It has a tart flavor and is a terrific wake-up punch during a graceful brunch.
Blackberry Champagne
The sip of blackberry champagne is sweet, refreshing, and tasty, but that's not why I like it so much. It's arguably the most beautiful drink I've ever seen. It's so stunning that it nearly doesn't appear genuine. It takes a bit longer to create than the majority of the beverages on our list, but its unrivaled beauty is beyond the extra effort.
Minty Mimosa
Consider combining the crisp, clear mint flavor of a mojito with Limoncello lemon liqueur and lime juice. The strong zestiness of the orange compliments the cool mint mojito nicely. But be cautious. The rum is nearly unnoticeable in this cocktail since it tastes so wonderful. With a cocktail like this, you may consume a lot of alcohol without even realizing it.
Color Changing Margaritas
source: hearstapps.com
Yes, you read that correctly. CABBAGE is the key ingredient in these margaritas! Don't worry, it has no flavor and is just used to get that stunning bright fuchsia color. Purple cabbage has been used to generate natural Easter egg color, and it works well enough in these delectable margaritas. Just don't mention your buddies till they've tasted them.
Glass of Tiffany
These stunning tiffany color cocktails are the perfect way to elevate your easter 2022 brunch! On a small shallow dish, place the sugar. Each champagne glass should be rimmed with a lemon slice and dipped in sugar.
Divide the blue curacao equally among the glasses. Half-fill with bubbly, then finish with lemonade. Make sure to chill both your bubbly and your Blue Curacao until you're prepared to enjoy.
It's Time To Snack On Easter Appetizers: 
We are aware of whether the Easter bunny is real or not, we all know that you have to devour some actual food before you can start eating candies. You've probably covered your 2022 Easter menu ideas, but you'll need some mini snacks to complete the joyous spring feast. Even in their post-Easter egg hunt daze, these easy easter starter ideas are sure to keep the kids (and grownups!) happy.
Traditional Deviled Eggs With Twist
source: pinterest.com
Deviled eggs are a traditional appetizer, but if you're looking for something new, try these deviled eggs. These deviled eggs are created using avocado instead of mayonnaise, as is the case with traditional deviled eggs. The addition of avocado to deviled eggs adds a nutritious touch to the classic appetizer. They not only taste great, but they also supply you with a portion of veggies.
Ham & Cheese Pinwheels
When we think of an instant, tempting, and delicious side dish, we always picture ham and cheese pinwheels. They're the perfect on-the-go snack since they're quick to prepare, easy to eat, and delicious. You may also personalize them to your preference!
Honey Roasted Carrots
If you want to simplify your grocery shopping, try this honey-roasted carrots recipe, which only requires three major ingredients. Carrots are abundant in vitamin A and antioxidants, making them a nutritious foodstuff. With the orangish carrots, green crowns, and complimentary parsley finish, you'll get a beautiful splash of color by using mini carrots chopping the little tails.
Easy-Peasy Cheesy Bread Sticks
You can prepare cheesy breadsticks by yourself with only a few simple ingredients and just a few minutes of hands-on work. These cheese breadsticks are perfect for gatherings, snacks, and starters. What's the best part? You can have cheesy breadsticks at any time of day since they're available in minutes!
Easter Potato Nest
source: easyhomemeals.com
We can't think of anything better to commemorate the occasion than with a delectably quirky potato nest. This dish is simple to prepare and may be tailored to your preferences. The greatest thing is that it's a fantastic way to make use of any leftover mashed potatoes & kids can also have fun by thinking of easter day activities for kids!
Spinach Feta Buns
As an appetizer, you can't go wrong with these buns. They're tasty, and they're a great way to persuade your kids to eat their spinach. Best of all, they're really simple to make.
Come Join Us For A Mouthwatering Easter Dinner/Lunch:
After feeling tired of all the fun Easter activities. Even doing all of the preparations for Easter table decor and art projects. It's now time to gather around the table for an Easter feast. The delectable Easter recipes are finally on the table. Pull up a chair and enjoy your meal!
Cream Of Asparagus Soup
Asparagus soup is traditionally served in the spring and summer, although it can be made any time of year with fresh asparagus. This simple asparagus soup recipe utilizes veggie stock, making it suitable for vegetarians and vegans.
Spring Minestrone
source: simplyrecipes.com
If you're expecting vegetarians at your Easter table, look no further than this vivid, spring soup, which comes together in thirty min and can easily be ramped up to accommodate a crowd. Minestrone is an Italian soup cooked with veggies and frequent pasta, and there are countless variations: perfect as the easter recipe for vegetarians.
Four  Cheese Scalloped Potatoes
They're tasty and creamy, and they're a wonderful complete meal. Don't overlook the scalloped potatoes with four different kinds of cheese. These scalloped potatoes are exceptionally creamy and savory, and they will be the standout of your 2022 easter dinner party.
Classic Mac & Cheese
The clocks are set back an hour, the sun rises later, and the kids scream for mac and cheese. We know it's not fancier, but Easter dinner isn't complete without it. There are no words to explain why this belongs on our list. Mac and cheese is a wonderful, high-protein dish that is so simple to prepare.
Hot Cross Buns
The aroma of freshly made bread is synonymous with Easter. The hot cross buns are the main attraction. The dough is so smooth and delicious that it practically melts into your mouth. The gooeyness of the dough is what makes it so delicious.
Lemony Asparagus Pasta
source: pinterest.com
Pasta may be served in a variety of ways. The lemon and asparagus flavors in this dish are truly delicious. Lemon is a fresh fruit essence that may be used in various ways. It goes well with all dishes.
Mushroom Risotto
This Creamy Mushroom Risotto is the ultimate in comfort food. Simply top with some creamy, buttery Grated parmesan and you're ready to go. This easy risotto is ready in mins and makes an excellent Easter dinner.
Hope You Enjoy The Easter Desserts:
Share your Easter throwbacks & create new sweet memories while hoping for Easter sweet treats!
Carrot Cake
Carrot cake is a traditional treat that tastes best when served warm with a dollop of vanilla ice cream. It's also a terrific way to use up leftover carrots, which are frequently found in the refrigerator. Simply grate the carrots and include them into the mixture before baking. This dish is simple to quadruple or double, making it an excellent dessert idea for Easter 2022.
Easter Bunny Cake
source: pinterest.com
This Easter bunny cake is a perfect way to enjoy it! It's a wonderful treat for any kids' gathering and a terrific way to use up any extra Easter eggs. These cakes may be made in a number of colors to commemorate your child's favorite Easter bunny!
Adorable Easter Cupcakes 
This adorable Easter cupcake is a wonderful way to enjoy the occasion! To complete the image, the cupcake is adorned with a bunny face and adorned with a bow. This is a delightful treat and a terrific idea for any children's Easter celebration.
Last But Least- Easter Day Cookies
For almost everyone, the terms "Easter" and "cookies" are equal. The shape and size don't even care so long as it's delicious, and what better way to express easter 2022 vibes.