1. Old City, Jerusalem
source:  tripsavvy.com
Jerusalem is considered as one of the holiest and most contested religious sites and the Old City in Jerusalem is considered one of the world's most extraordinary souks. It is one of the main tourist attraction in Israel. The marketplace bustles with life with everyone ready to sell you something. Not only Islamic products but you may also find mementos of religions such as Christianity, Jewish, and Armenian displayed in their own individual quarters waiting to be discovered. The narrow street, the atmosphere and the carts piled high with dates and goods- all contribute to the charm of this souk. You would get items like pashmina scarves, bejeweled camel figurines, colorful beads, beautiful Armenian ceramics, fabrics, and many others. 
2. Khan el-Khalili, Cairo
source:  wikimedia.org
The widely known souk in Egypt, Khan el- Khalili sells everything. You can find jewelry, antiques, shisha and much more. It is considered as one of the oldest souk in the world with it's foundations dating back to 1382. Many visitors include it in their itinerary not just because of it's shopping but also because of it's restaurants and coffeehouses. Fishawi's is one of the oldest coffeehouse you can find there. Beyond Hussein Mosque you can find the market selling art, perfumes and fabrics. Walking along the alleys of Khan el- Khalili makes you feel like you have travelled back in time. 
3. Houmt Souq, Djerba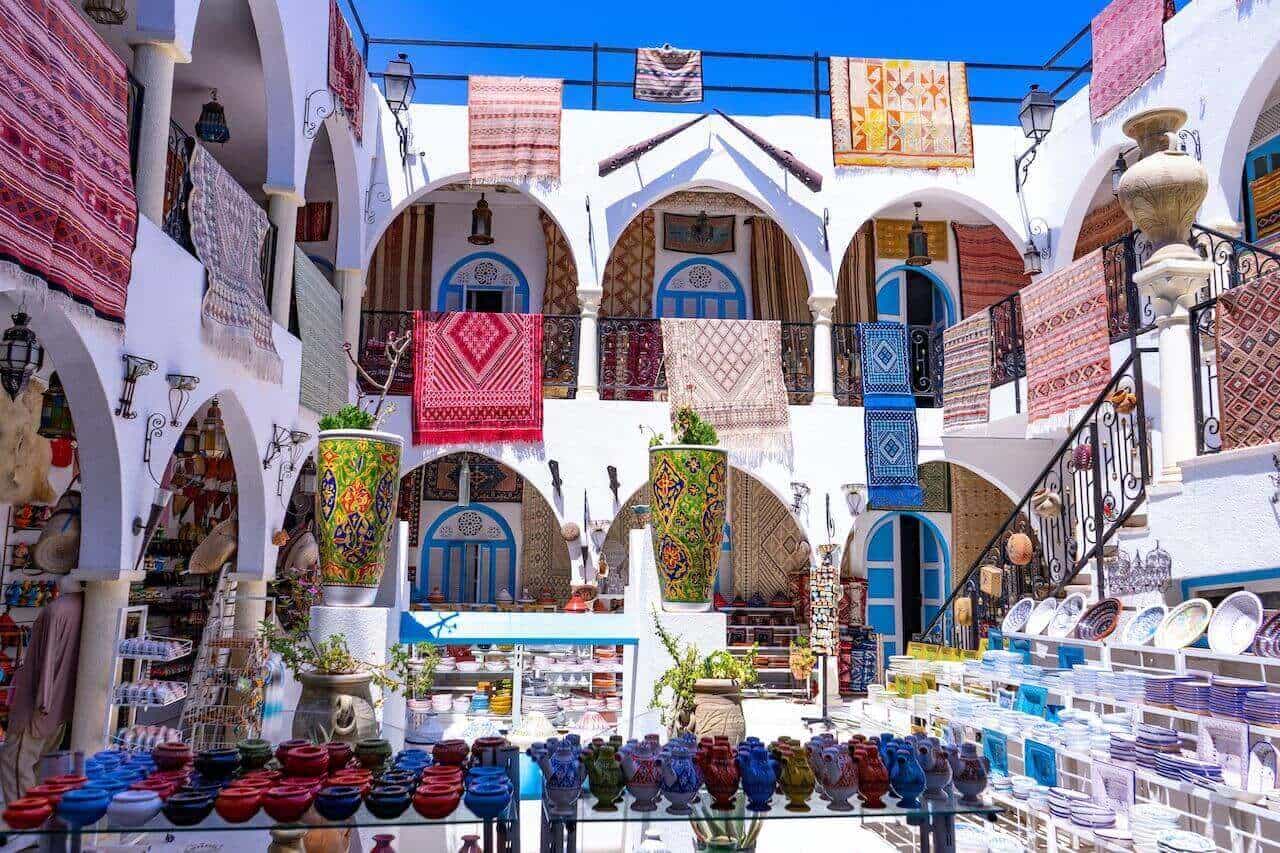 source: pinterest.com
The entire city of Houmt Souk is like a market which is how it gets it's name meaning 'market neighborhood'. The houses framing the streets are designed as a 15th century buildings with whitewashed exteriors and balconies. On reaching the center of the market you will find people selling varied items such as woven palm baskets, rugs, fine jewelry leather goods, pottery, spices, fish and caftans. 
One of the famous spot of Houmt Souk is the fish market. Here fresh seafood are auctioned. You can buy a fish and can take it to the nearby restaurant and they would cook it for you there.
4. Al-Hamidiyah Souq, Damascus
source:  wikimedia.org
Syrian souks sale items like walnut wood furniture, pistachio covered desserts. Everything displayed here are amazing and this is the reason Syrian souks are the most extraordinary around the world. Though many of the souks suffered damage in ghe war, Al- Hamididiyah Souk has been restored to it's beauty and has started bustling with tourists and locals. The either side of the path is packed with vendors and stalls selling clothes, perfumes, silk, metalwork, jewelry and much more. 
The 33 foot tall metal arch prevents sun's direct rays from entering thus preventing the souk from overheating. Bakdash is a famous ice- cream vendor in Al- Hamidiyah Souk. 
The exit of the souk is very impressive with vaulted ceilings paving way for an open space to the Umayyad Mosque's courtyard where John the Baptist's severed head is believed to be rested. The architecture is splendid with perfect use of space, natural light and motifs. 
5. Souq As-Salt, Jordan
source: pinterest.com
Souk As- Salt is considered as Jordan's last traditional souk. It is mostly visited by the locals on a daily basis for the purchase of the regular items. Walking along the alleys of the souk you may find many cobblers and tailors mending shoes and clothing. The items available in the souk are non- native indigo- dyed fabric, raisins, Araq a local liquor, etc. 
6. Jemaa el-Fna, Marrakech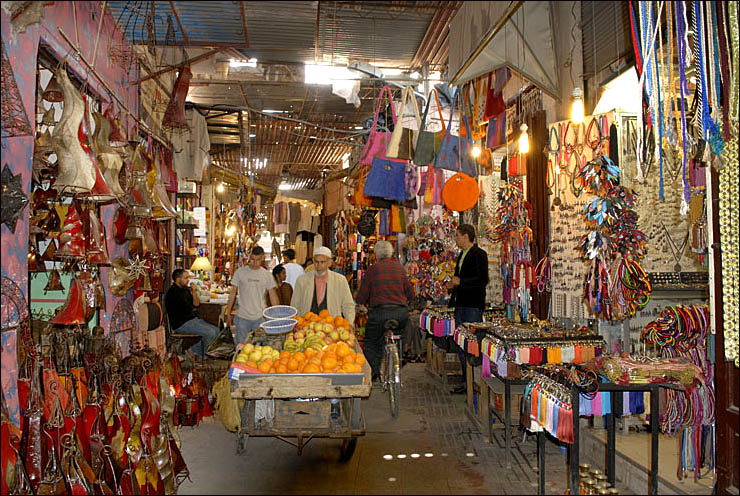 source:  trekearth.com
Jemaa el- Fna stands strong for a thousand years and is declared as an Intangible Cultural Heritage of Humanity by UNESCO for it's profound historic and cultural importance. In Marrakech's medina you will find many activities like snake charmers handling the serpents skillfully to earn tips from the tourists, acrobats performing stunts through the air, dancers whirling, etc. The enticing aromas emanating from the food carts draws the visitors towards itself. It is one of the busiest souks around the world.
7. Nizwa Souq, Nizwa
source:  hiqcdn.com
Nizwa Souk has lost it's popularity over the years. But it's beauty is what still draws the tourist towards itself. Upon entering you get stunned with a mesmerizing view of sandstone buildings surrounded by lands with palm trees. Nizwa's marketplace offers it's visitors an assortment of clothing, meat, fish, jewelry, coffee pots and kettles. You can also find many traditional offerings such as the Bahla pottery, the khanjars, etc.