Are you searching for ways to enhance your facial beauty by using natural products? Fairness creams and cosmetic products that are available in the market can have an adverse effect on your skin. It is always recommended to use natural products that are easily available in your home for cleaning your facial skin as they are absolutely safe to use. Also, taking good care of your face is of utmost importance.
Listed Below Are Some Important Aspects That You Should Follow For Taking Care Of Your Face:
Keep Your Skin Hydrated:
Although drinking water is the best way to keep your skin and body hydrated; but, you can also add raw fruits and vegetables in your daily diet that are high in water content. Fruits and vegetables like watermelon, grapes, cucumber, etc. contain plenty of water, so you should consume them on a regular basis. Drink at least one glass of fresh juice each day to keep your body and facial skin hydrated.
Eat The Right Diet:
To have a supple and more youthful-looking complexion, you should add a good amount of essential fatty acids in your diet. Consumption of food that contains Omega-3 can help in keeping your skin gleaming. You should always have a low-sugar diet and avoid having junk food completely, as it helps in reducing aging.
Use Natural Ingredients:
There are innumerable natural ingredients in your kitchen that can make your facial skin glow. You should use them regularly for cleansing your skin.
Here Are Some Great Tips:
You can reduce skin care problems by applying juice of fresh tomato on your face. Just wash it off after it dries. Tomato juice will remove wrinkles and make your facial skin glow.
To treat dry and sticky skin, you should apply orange juice on your face. Once it dries, wash it off and see the instant glow on your face.
If you are facing a lot of acne, blemishes, pimples, and wrinkles, then apply the juice of cucumber on your face. Wash it after 15-20 minutes.
Rub milk or cream on dark areas of your face for bringing back the glow on your face. Let it stay on the face for 10 minutes, and then wash it off with water.
Use Facial Steamer:    

If you want to improve the general health of your facial skin then you should consider doing facial sauna or facial steaming. The facial steamer will bring back the radiance on your face that you have always wanted to acquire. You can either use an electric face steamer or a bowl of very hot water to steam your face. However, among the two, the electric facial steamer is the best option as it will cleanse your face accurately. Always make sure that you buy the best facial steamer after researching well about them.
Keep Your Face Clean: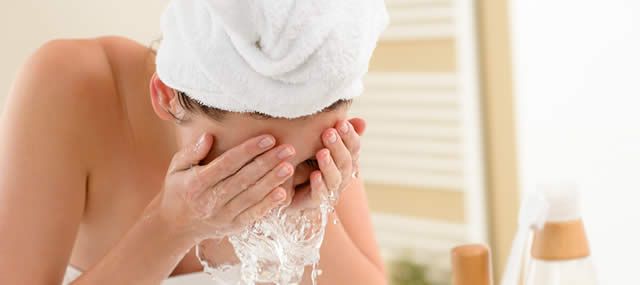 You should always wash your face gently and in circular motion. Do not rub or pull the skin vigorously as it may damage the capillaries and lead to stretching of the skin. Another important aspect to remember is that you should always remove your makeup before going to sleep. If you hit the bed with your makeup on then it may cause blackheads and blemishes.
Sleep Well:
You should sleep for at least eight hours every night. If you do not get a good and comfortable sleep in the night then ensure that you take a short nap in the afternoon for compensating your sleep loss. Always remember to wash and moisturize your face before hitting the bed. Avoid using hot water for washing your face as it will dry out the skin.
To conclude, if you take good care of your face then you will certainly look much younger than your present age. So, use the aforesaid tips and let your face stay healthy and glowing forever.