Mykonos, the jewel of the Aegean Sea, is renowned for its stunning beaches and vibrant beach bars. These seaside establishments are the pulse of the island's social scene, offering exquisite cocktails, tantalizing cuisine, and the rhythm of music that defines the Mykonian summer experience.
For those seeking exclusivity, renting a villa through The Ace VIP adds an unparalleled touch of luxury. This article dives into the best beach bars in Mykonos and how The Ace VIP ensures an unmatched experience.
1. Scorpios
Location

: Paraga Beach

Vibe

: Bohemian Chic
Scorpios is a world-famous beach bar that has redefined the Mykonian beach club scene. It is a blend of the rustic and the sophisticated, offering a serene ambiance by day and a lively atmosphere by night.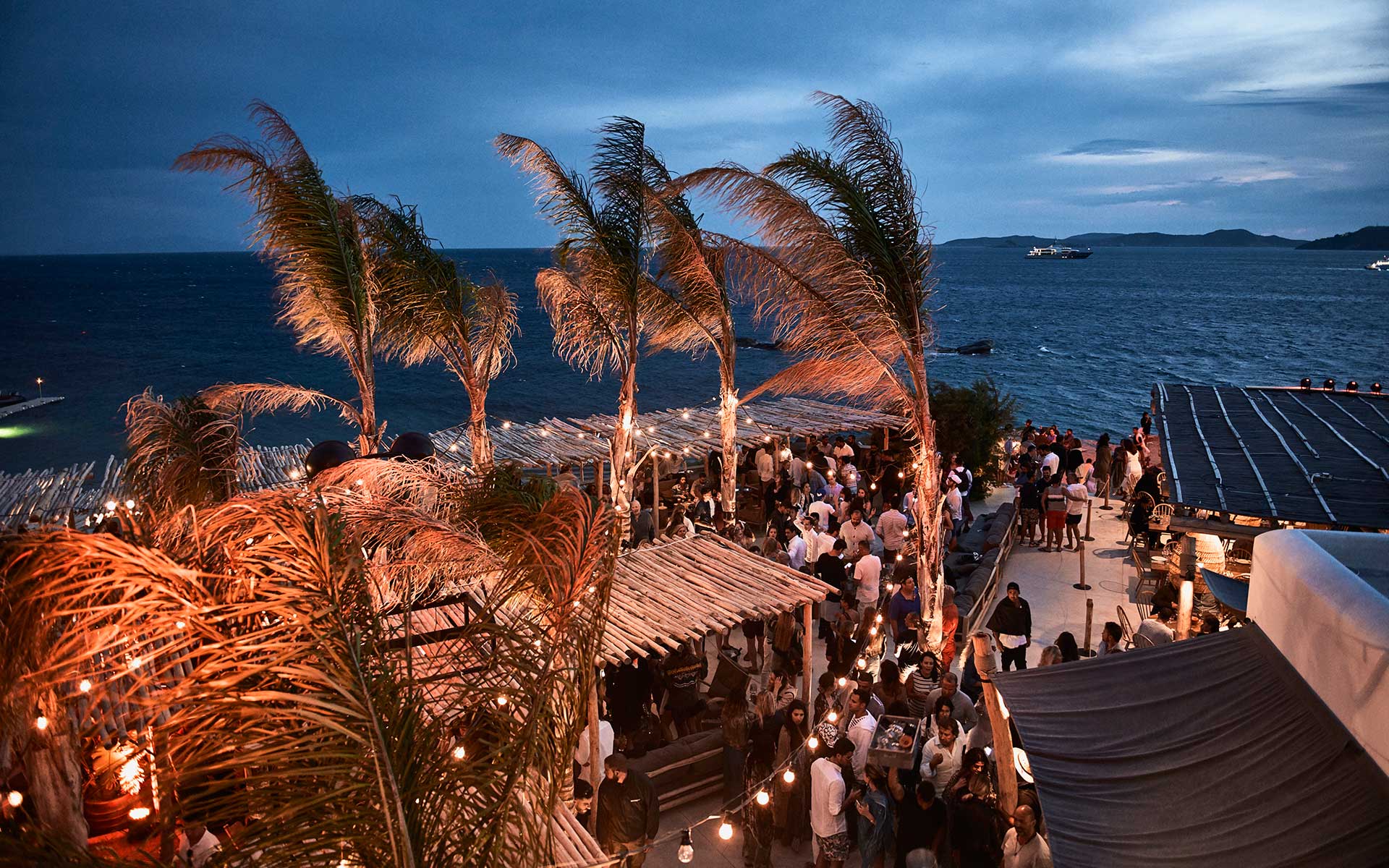 source: pinterest.com
Why Visit: Enjoy the stunning sunset view, eclectic music, and delicious Mediterranean cuisine. The beachside cabanas provide an idyllic relaxation spot.
2. Nammos
Location

: Psarou Beach

Vibe

: Glamorous Luxury
Nammos is synonymous with glamour and elegance. Known for attracting celebrities and jet-setters, this beach bar provides top-notch service, excellent food, and a selection of fine wines and champagnes.
Why Visit: Experience the high-end shopping area, savor gourmet dining, and groove to international DJs who often play here.
3. Tropicana
Location

: Paradise Beach

Vibe

: Energetic Party
Tropicana is where the party never stops. Located on Paradise Beach, it's a haven for those looking to dance, mingle, and enjoy exotic cocktails.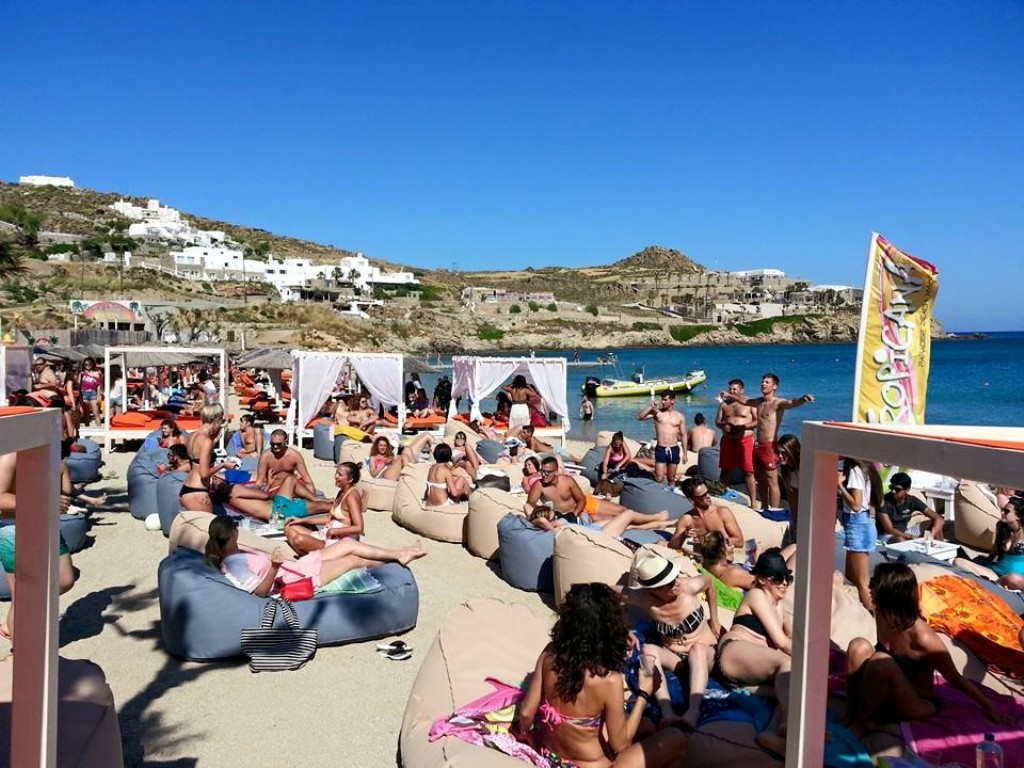 source: pinterest.com
Why Visit: The daily beach parties are a signature feature, and the energy is contagious, making it a favorite among the younger crowd.
4. Alemagou
Location

: Ftelia Beach

Vibe

: Tranquil Sophistication
Alemagou is a sanctuary for those seeking peace and tranquility. The design harmoniously blends with the natural surroundings, offering a unique retreat.
Why Visit: Enjoy a refreshing cocktail or a culinary delight from the locally inspired menu. The laid-back vibe is perfect for a relaxing day at the beach.
5. Kalua
Location

: Paraga Beach

Vibe

: Vibrant Beach Party
Kalua offers a lively beach experience, with dance floors that come alive as the sun sets. It's a perfect blend of relaxation and revelry.
source: pinterest.com
Why Visit: Taste creative cocktails, indulge in fresh seafood, and dance to famous DJs. Their special themed events are not to be missed.
6. Jackie O' Beach Club
Location

: Super Paradise Beach

Vibe

: Inclusive Celebration
Jackie O' is known for its fabulous atmosphere and its warm welcome to everyone, irrespective of orientation. It's a celebration of love, freedom, and joy.
Why Visit: Enjoy drag shows, signature cocktails, and a beautiful infinity pool that overlooks the beach. It's a place where everyone can be themselves.
7. Branco
Location

: Platis Gialos Beach

Vibe

: Elegant Relaxation
Branco redefines beach luxury with its elegant design, world-class service, and mouth-watering cuisine. It's a retreat for those who appreciate the finer things in life.
source: pinterest.com
Why Visit: Relax on the exclusive sunbeds, enjoy top-tier culinary experiences, and take in the beautiful views of the Aegean Sea.
The Ace VIP Experience: Booking an Exclusive Restaurant and Private Chefs
For visitors seeking an exclusive and personalized experience, The Ace VIP offers luxury villa rentals with ocean views and modern amenities. What sets them apart is the option to book an exclusive restaurant and private chefs that can be arranged within the villa.
Booking an Exclusive Restaurant

: Enjoy a meal crafted to perfection by skilled chefs in an exclusive restaurant setting. Whether it's a sunset dinner or a sophisticated lunch, your personal dining experience caters to your preferences.

Private Chefs

: Savor gourmet dining prepared by a private chef, tailored to your culinary desires. From traditional Greek delights to international cuisine, the culinary experience is as exclusive as it gets.
A Toast to Beachside Luxury and Unforgettable Memories
Mykonos is a destination that celebrates life in all its vibrant hues. The beach bars, each with its distinct character, encapsulate the island's vivacious spirit. For those seeking a more intimate and luxurious experience, The Ace VIP offers the pinnacle of exclusivity with private bars and chefs in their villas. 
Whether dancing under the stars at Tropicana or savoring a gourmet meal at Nammos, Mykonos has something for every taste and style. Make it your next destination, and immerse yourself in the rich tapestry of experiences that only this island can offer.