Why experience Indigenous Culture on your Australian road trip?
International visitors and domestic travellers can equally enjoy and learn from Aboriginal experiences whilst touring Australia's states and territories. There are now many First Nations excursion offerings, and continued implementation of tourism signage promoting local heritage, and the restoration of Aboriginal place names (eg. Uluru replacing Ayers Rock), supports a deeper connection to the country's history.
The benefit of a self-drive holiday, as opposed to a scheduled tour or a city stay, is the opportunity to cover a larger region throughout your holiday in this special country. Arguably the most useful means of travel for your Australian road trip is a campervan rental; having the dual benefits of accommodation and transport in one, provides freedom to travel at leisure, and make itinerary changes as suits your wishes along the way.
Here is a guide to assist in making your next Australian itinerary both unique and meaningful, whilst immersing yourself in over 65,000 years of traditional history and culture.
Sacred Aboriginal Sites to See
Kakadu National Park, Northern Territory
Explore the exceptional outdoor galleries of Kakadu National Park's collection of Aboriginal rock art, which provides insight into Dreamtime stories and first contact with Europeans. Roughly half of this 20,000 km² national park has been officially declared as Aboriginal land.
Carnarvon Gorge, Queensland
Deep inside the Carnarvon National Park you will find Cathedral Cave, the home to a showcase of ancient Aboriginal artwork displayed along the sandstone walls.
Ikara-Flinders Ranges National Park, South Australia
A leisurely one-hour round-trip hike, and you can witness the charcoal and ochre art, that has been etched into walls of Arkaroo Rock by early Indigenous Peoples.
Budj Bim National Park, Victoria
The Budj Bim volcano has been long-dormant, but the Aboriginal culture in this area is still very much alive. The scenic Budj Bim region is the only place that has been World Heritage listed based entirely on its cultural significance to First Nation Peoples.
Pilliga National Park, New South Wales
At this iconic landscape made up of a huge conservation area, you can take a bush-walk yourself or join a guided tour with a local Aboriginal ranger. Here you can discover the ancient rock art and engravings that adorn the Sandstone Caves.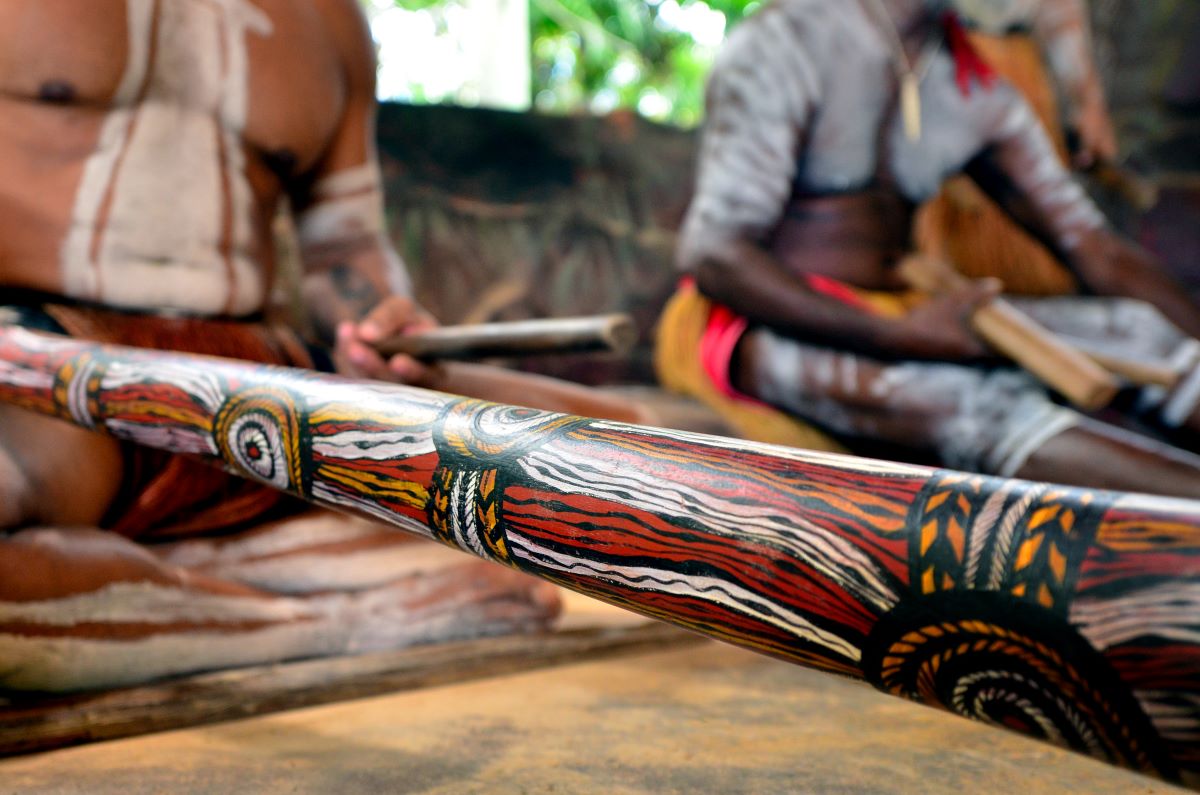 Purnululu National Park, Western Australia
Located in the east Kimberley expanse, Purnululu National Park contains the renowned Bungle Gungle Range. This sacred region holds over 20,000 years' worth of Dreaming stories and cultural history.
Indigenous Australian Art and Museums to Visit
South Australian Art Gallery and Museum
This art gallery contains a permanent display of Aboriginal paintings, including the work of several local artists. The museum next door holds a substantial collection of Indigenous Australian cultural materials.
Museum and Art Gallery, Northern Territory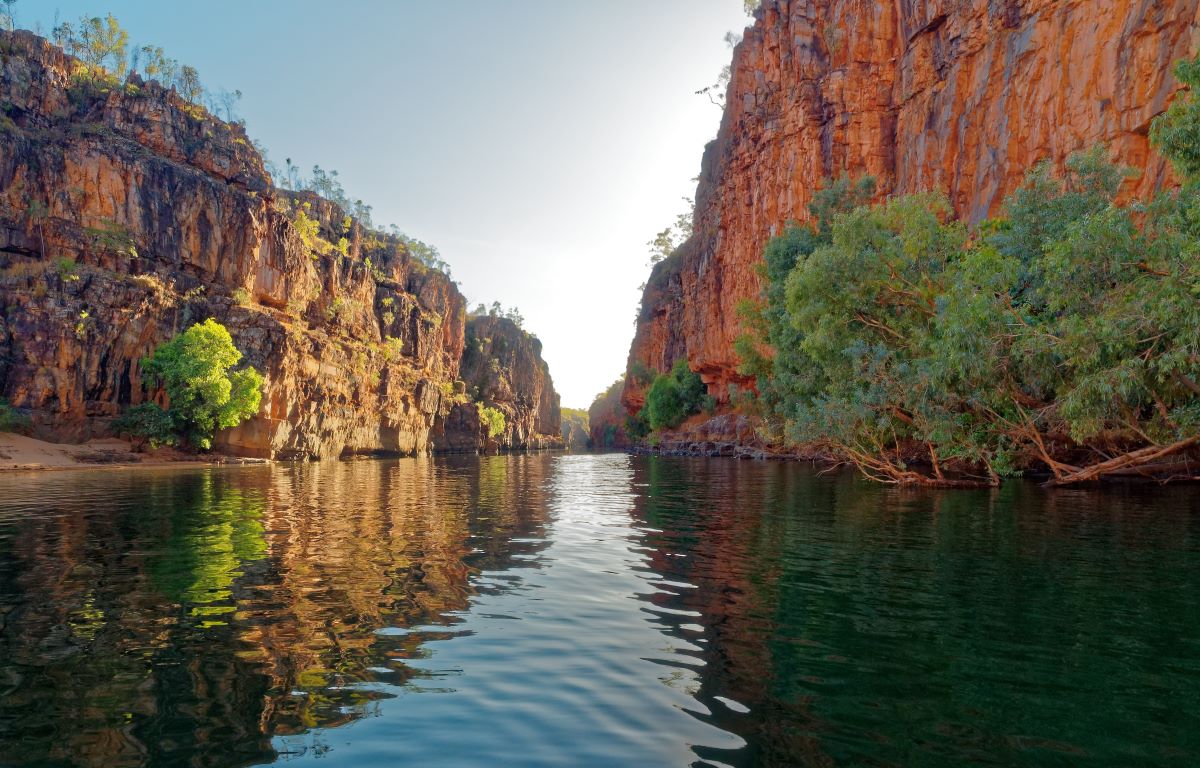 This large museum in Darwin, hosts various Aboriginal exhibitions and workshops, and because they are not all permanent features, it is worth visiting even if you have been here previously to see what is new.
Bunjilaka Aboriginal Cultural Centre, Victoria
Located in the Melbourne Museum, this exhibit features First Nation Peoples culture, narratives and wisdom, through traditional language and visual displays.
The State Art Collection, Western Australia
One of this State Art Collection's biggest assets, is the collection of works by Indigenous Australians. The art gallery continues to grow by up to 400 pieces of work each year.
National Gallery of Australia, Tasmania
The long-term exhibit "Our land: parrawa, parrawa! Go away!" at this Hobart Museum, features the story of Aboriginal people and colonisation. Their story is aided by accompanying films you can view whilst here, traditional objects and historical accounts.
Dreamtime Cultural Centre, Queensland
Visit the Ted Mitchell Gallery, where you can marvel at the 34 metres of sandstone, that has been reconstructed into caves which depict the culture of Sandstone Belts Indigenous Peoples. There is also a retail shop on site that offers authentic Aboriginal & Torres Strait Islander souvenirs
First Nation Culture to Experience
The Laura Quinkan Festival, Queensland
On these sacred Bora grounds of Cape York Peninsula, this annual dance festival celebrates Aboriginal culture through music, song and performance.
Dhawura Aboriginal Cultural Tour, Australian Capital Territory
Join a tour and be guided by one of the Ngunawal people, the Traditional Custodians of the region. You will learn about bish tucker (food), the use of customary tools and artefacts and information about the surrounding land and its wildlife.
Kakadu Women's Weaving Workshop, Northern Territory
Partake in this rare chance to attend a weaving workshop with Aboriginal women from the Arnhem region. They will teach how to collect and prepare select plants for fibres and to traditionally dye and weave them.
Maalinup Aboriginal Gallery, Western Australia
This Perth based gallery provides cultural activities and performances, and displays impressive painting and artwork by local Indigenous artists. The store also sells a large range of native bush tucker, including jams, herbs and spices.
Pamagirri Aboriginal Experience, Queensland
This unique experience is set in the Rainforestation Nature Park, in Tropical North Queensland. Offering an invitation to Aboriginal and Torres Strait Islander culture, you can witness a Corroboree of traditional dancing, listen to the sounds of the didgeridoo or see how you go throwing a boomerang.
Yalinguth First Nations Augmented Audio App, Victoria
An immersive audio app that you can download and listen to as a guide for your journey. The original location that was used once developing the app, was nearby Gertrude Street in Fitzroy (Ngárgo), Melbourne.
Aboriginal Cultural Tour, New South Wales
Tour Barangaroo Reserve, a place of cultural importance and spiritual significance to Indigenous Australians. An Aboriginal educator will lead your visit, where you will be engrossed by the native history of the area.
By choosing to incorporate Aboriginal operated tourism on your journey throughout Australia, you are supporting the employment of First Nations People, and therefore providing empowerment; both economically and as a storytelling platform.