If you're thinking about buying a food processor and you're still not sold that it's worthy of your hard-earned money, here Live Enhanced explore 12 reasons why you should stop thinking and start buying one now. 
Prep like a pro
.
source: bestbuy.ca
Even after cooking for 20 years, I still cannot cut onions as perfectly as I'd hoped. With a food blender, you can slide, grate, and prep almost any kind of vegetable and fruit with ease. 
Some food processors even come with a plethora of accessories that add functionalities to the machine. For example: 
Whipping attachment

: It's used for making icing, whipping egg whites, cream, or other ingredients to create fluffy or airy icing. 

French fry disc

: This is used to slice potatoes and other veggies into, you guessed it, French fry-looking slices that are larger and fatter than julienne. 

Dough blade

: This accessory is used in making dough for pizza crust or bread. 
Sauces galore
.
Are you a fan of pesto, 5-cheese sauce, and all kinds of sauces? If you are, then you'll be amazed by how easy you can make them at home. You no longer have to rely on bottled or canned sauces for your noodles. Most food processors are able to handle hot or cold ingredients, so even if you've boiled vegetables or made stew for your sauce, the processor can still mix these ingredients without trouble.
Homemade dips
.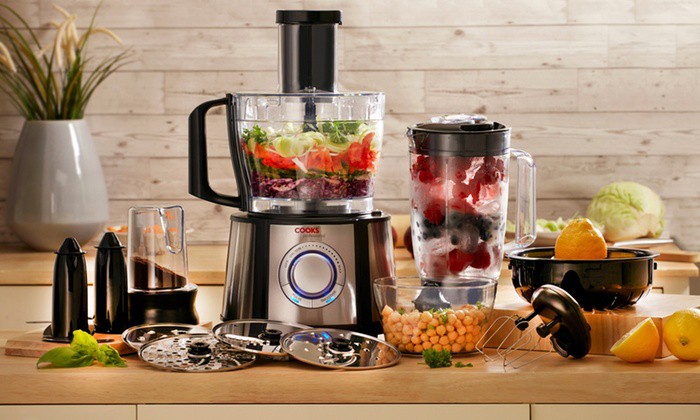 source: medium.com
I make salsa and hummus almost every week. When I discovered how easy it is to make them at home with my food processor, I've never had to buy factory-made again. These have been such a hit at parties that many of my friends and family request my homemade hummus and salsa at every gathering. 
Make as many nut butters as you can without spending a ton of money
.
Almond butter, peanut butter and any other nut-based butter spread are such scrumptious spreads, but they can be expensive if you buy two variants at every grocery run. Imagine using a kilo of regular peanut to make 4 bottles of peanut butter for half the price of a branded peanut butter. Amazing right? It won't be possible if you do it by hand though, so having a food processor definitely helps. 
Chop nuts in seconds
.
The textures of nuts make it challenging to slice using a knife. If you need to chop different kinds of nuts for your baked goods, mix trail, ice cream, or any other recipes, the food processor can do this task for you in a matter of seconds. 
Make mashed potatoes without sweating
.
source: pinterest.com
Have you ever helped your grandma make homemade yam or mashed potatoes? Were you the one assigned to mix and mix it continuously on the pan until the yam is cooked? A food processor takes these activities from your hands and mash root crops immediately after you've switched the on button.
Slice meat evenly
.
Not everyone uses a food processor for easy meat slicing, but it is actually possible and quite a pleasurable experience especially for fragile cuts like bacon, ham and other similar meat cuts. You'll need one of the disc accessories included in most brands, but it's a no-brainer to use that even beginners can quickly slice meat in the food processor straight out of the box.
Go crazy with homemade ice cream without buying an ice cream machine
.
source: pinterest.com
For people who want to explore creating all kinds of homemade ice cream, but cannot find it in their hearts to invest in an ice cream machine, using a food processor may be the solution you never knew you needed. Yes, you can chop nuts, grind chocolate bars, mix the cream in and add whatever chunks of fruits, marshmallows and other ingredients into the batch and come out with amazing flavors. 
Make homemade baby food
.
Say goodbye to your branded baby food in tiny bottles. Once you learn how to use your food processor to turn any meal into a baby-food version, you won't go back to the grocery-bought ones again. 
Cook more healthily.
The problem with getting healthier is prepping food becomes a job. From slicing vegetables to tossing your own salads, it can be difficult to keep up. But with a food processor to speed up all slicing and dicing activities, this shouldn't be an issue anymore. 
In general, a food processor really helps you save time preparing food in the kitchen. Time you could use to cook more food, play with your kids, make dessert, and multi-task other activities.
Food processors are one of the cheapest kitchen gadgets that could serve you for years. And because it is multi-purpose (compared to a sandwich maker or ice cream maker), you could really put the food processor to the test and use it for all kinds of kitchen tasks.