It saves time and tedious effort from driving long miles when owners decide to ship family vehicles when moving homes. People who move homes to a distant region protect the cars from wear, road-related problems and adding unnecessary miles by using car shipping services.
By opting to have your family's belongings and vehicles shipped for you when moving, your family can fly to your new home and arrive well rested and ready for unpacking and settling into your new lives. This allows you to move your family in one trip, rather than taking multiple trips across the state or state lines to ensure everything and everyone arrives safely.
Below are options at Live Enhanced ship family vehicles when moving.
Shipping by Cargo Train
source: momwithfive.com
Train routes are limited, and vehicle owners must drive to the station when shipping their cars by rail, but the cost is cheaper. Rail services give an option for open or enclosed transport. Staff members take good care of the cargo on board during and after offloading until the vehicle's collection. A train can transport vehicles of all sizes and weights without challenges. Nonetheless, it generally takes longer, does not change the schedule to suit a client, and requires delivery or pick up at a designated station.
Air Shipping
Air shipping is an option for those planning fast shipment of their family vehicles to a distant location. Air is the quickest freight shipping method. The luxury of speed comes at a high price. An airplane is the most expensive way to ship your family′s vehicles when moving. There are, however, specific circumstances that make the price tag well worth it, like when NYC commercial movers to or from an Island territory or mountainous region.
Ocean Shipping
source: encompassinsurance.com
Ocean shipping reigns when transporting cars across the ocean, like when relocating to another continent. A ship is the most popular means of freight transport globally, mainly because water covers 71 percent of the earth's surface. That large surface area makes a ship more convenient when transporting vehicles to international destinations. The cost of sending cargo via ship is lower than transporting on an airplane by up to five times.
A slow pace is the main downside to shipping family vehicles on a cargo ship. A flight from the USA to Hong Kong can take less than 15 hours, but a cargo ship will take 15 days. Rough seas that can damage cargo and security concerns are also a challenge of transporting cars by ship.
Towing On a Trailer or Dolly
Towing vehicles over a long distance prevent the wear and tear that would have occurred after driving them for many miles. It also saves the cost of gas. Transporting vehicles on a dolly or trailer allows the convenience of collecting them at the old home and offloading them at the new residence. However, towing requires skill and practice. Vehicle owners without towing skills need to hire a skilled driver.
Hiring a Professional Auto Transporter Service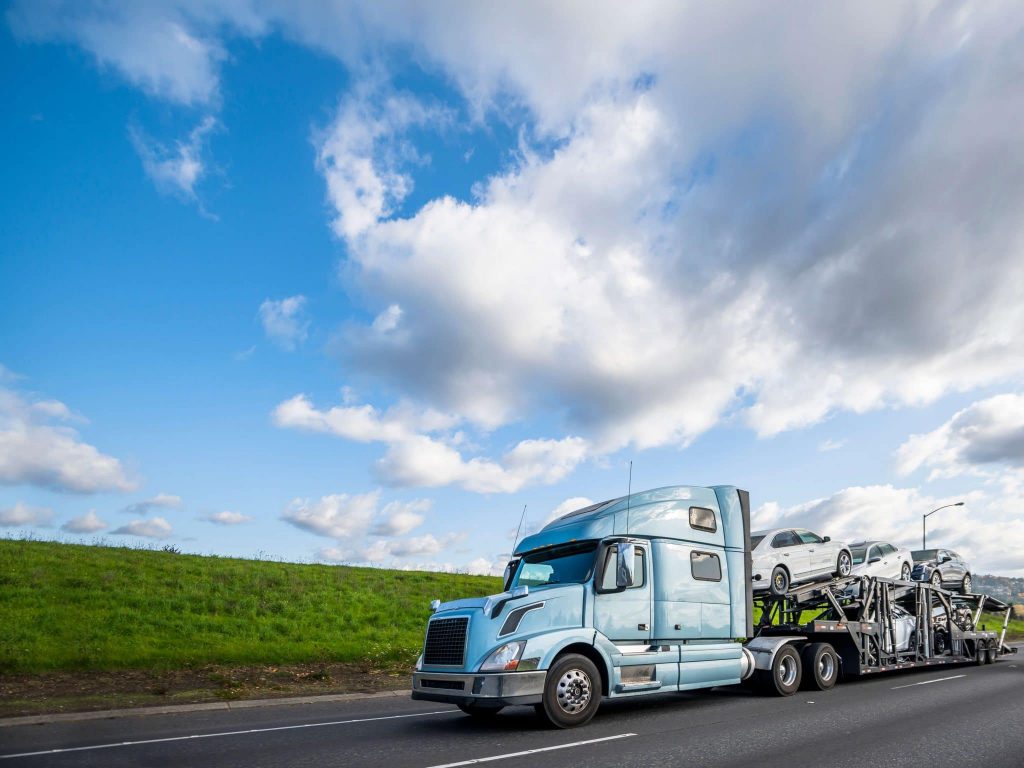 source: amerifreight.net
Hiring professional auto transporters is a popular way of transporting cars, especially for long distances. Shipping them on trucks eliminates the need to drive for a long distance and adding mileage on vehicles. Auto transporters provide these car shipping options.
Open Car Transport
Vehicles in open car transport are shipped on special carrier trailers with racks for positioning 4-10 vehicles. The truck does not have walls or a roof but has safeguards and special equipment to secure vehicles to storage ramps.
Open car transport is safer than people assume. Transporters secure cars to ramps and beams so they cannot sway during the journey. Beams and bars deflect most objects from vehicles on board, and access is restricted to authorized employees. The cars will not sustain wear from driving long distances but will be exposed to elements like dust, traffic grime, and weather conditions.
Enclosed Auto Transport
Enclosed car transport uses an enclosed trailer to protect vehicles from traffic grime and weather. The cars are covered from above and on all sides. Transporters fit fewer vehicles into the enclosed trailer. Because fewer cars are being shipped together and due to the extra added level of care provided to the vehicles, enclosed transportation of vehicles tends to cost a little bit more than open car transportation. It is an excellent choice for owners of these vehicles that require much care.
High-end vehicles

Custom vehicles

Antique models

Modified or fragile vehicles
When using enclosed auto transport, the vehicle arrives as clean as it was when it was loaded. The vehicle has avoided exposure to harsh weather, wind, and dust. Enclosed carriers use a specialized platform with a gentler slope for loading and unloading. The cars are secured firmly to prevent sliding around inside the enclosure. Enclosed car transport service providers charge an additional 30-40% for added protection.
Cost of Car Shipping
source: mayflower.com
Distance significantly determines the cost of auto shipping. The price starts from about $0.58/mile for long-distance shipments exceeding 1,500 miles. The price for fewer than 200 miles is higher. It can cost upward of $2 per mile. The size of a vehicle also affects the price. Transporters charge more for larger vehicles. The price of hauling a bulky minivan can be close to double that of transporting light and compact cars. The season, shipping timeline, collection, and drop-off location, and other customer-specific requirements also affect the price.
Shipping family vehicles is convenient because an owner can organize for multiple family vehicles to be carried at once. When utilizing a car shipping company alongside a moving company, families can fly to their new homes well rested for the unpacking process. Shipping a car also allows families the option of self-driving their moving trucks, saving the cost of hiring a moving company. The protection offered by transporters ensures that vehicles reach their destination in the same condition as before.