Every year, thousands of motor vehicle accidents take place along pedestrian crossings around the world. Many urban cities are quickly embracing advanced pedestrian crossing systems in an effort to eradicate these avoidable accidents. There are a variety of factors that affect pedestrians' safety when crossing busy streets. These include traffic congestion and an individual's perception of danger. Sometimes it can boil down to a person failing to pay attention to oncoming traffic.
Currently, there are several technologies that are helping to improve pedestrian crossing in cities worldwide. These include solar-powered pedestrian crossing lights that caution oncoming passengers to halt whenever pedestrians are crossing the street.
How this technology works
source: citymetric.com
The solar-powered pedestrian crossing system can either be activated by motion sensors or a push button. When activated, flashing beacons blink amber, cautioning oncoming drivers to slow down. they also blink red to indicate "stop". The fact that this system relies on solar energy makes it cost-efficient and eco-friendly to the community. 
Activation of the flashing beacon lights is wireless across both poles. This effectively eliminates the need to dig trenches and run underground cables/conduits. The ON signal can be configured to remain ON for a suitable time period. This gives pedestrians enough time to cross the street safely, without worrying about getting hit by approaching vehicles.
Thanks to this innovative pedestrian crossing light technology, pedestrians can feel safe when walking across the street. Executing some minor design changes without necessarily incorporating such smart technologies will do little to curb the ever-increasing road carnages being experienced every day.
Here are 2 other pedestrian crossing light technologies: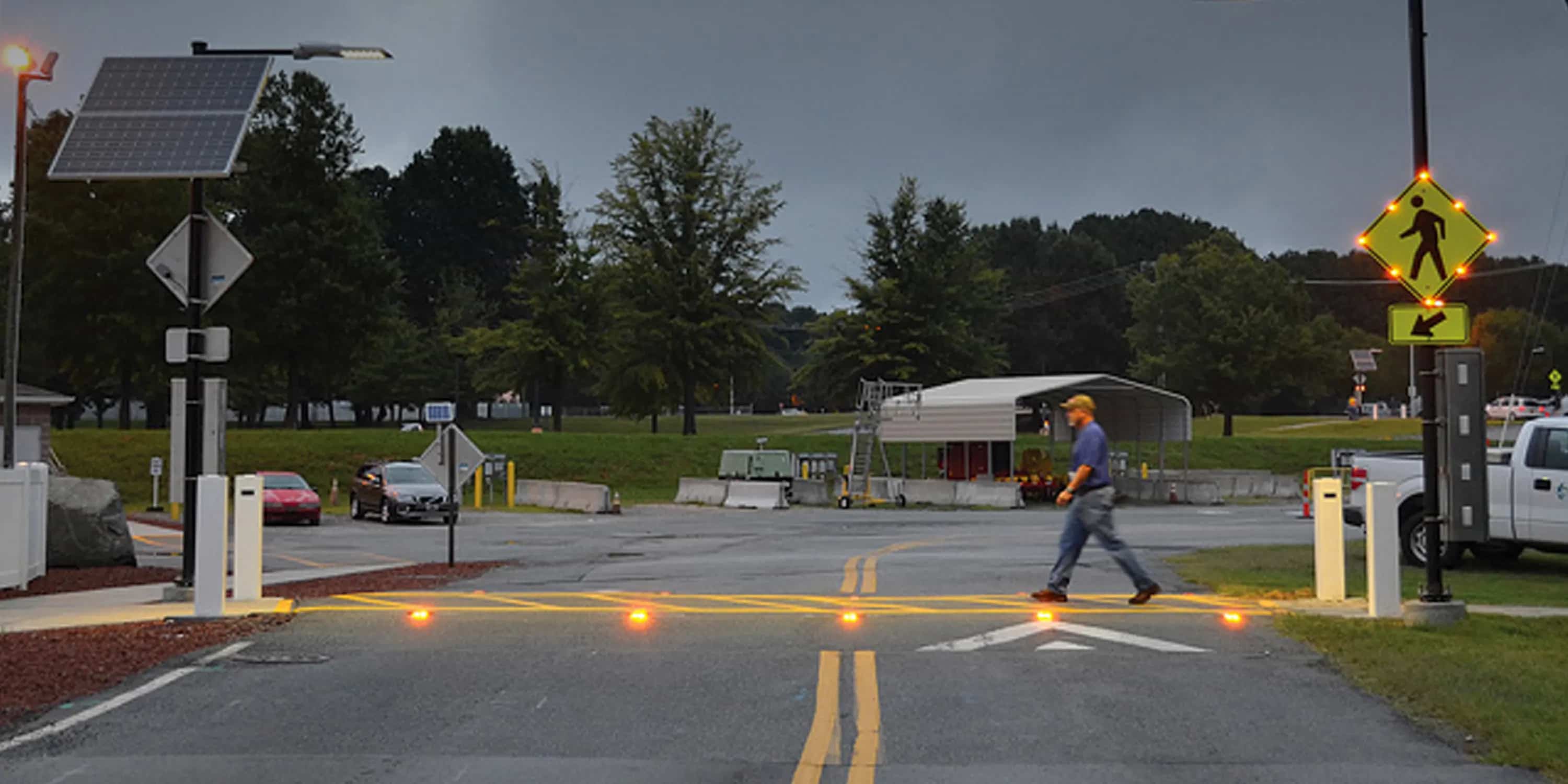 source: tapconet.com
Although this fascinating technology is still in its infant stages, it's already being incorporated in some towns. Whenever pedestrians cross the street, a visible strip of bright red LEDs illuminates the pedestrians crossing. These LED lights remain ON until all the pedestrians have safely crossed the road. Once it's clear, they produce a flash and consequently dim out. This technology utilizes cameras to perceive the presence of pedestrians. When people are detected, the LEDs light up.
You may also like to know about Schools and Businesses: Going Green with Solar Flagpole Lights
source: drivingtests.co.nz
Just like the Line of Sight, Starling Crossing is still a work in progress. This technology relies heavily on LEDs laid upon the road. Rather than painting the road with white markings to indicate the presence of a pedestrian's crosswalk, LED lights are used instead. These lights change depending on the traffic conditions. For instance, when a huge crowd is crossing the street, the LED crosswalk widens automatically. In contrast, it vanishes when all the pedestrians are gone.
Although most highly sophisticated pedestrian crossing light technologies are still in the prototyping stage, communities can still implement smart crossing systems to help reduce pedestrian accidents. Smart light solar systems derive a wide range of applications. These include cyclists crossings, running paths, middle-of-the-block crossings, and hiking trails. In addition, these systems come with AC or DC power options and they meet all the required quality standards. Apart from the apparent benefit of incurring nil electricity bills and improving the safety of crossing pedestrians, smart pedestrian crossing systems don't require trenching and have no power interruptions. if you want to know more about technology updates, fashion & beauty, Interior & architecture designs must visit LiveEnahanced.com.