A nail gun is an industrial tool that is used to drive nails into wood or some other type of material. The cordless nail gun does not have a wire and is easier to carry to distant places for use.  Another advantage of a cordless nail gun is that it has no hoses, no compressor, no hassle, provided the tool is being charged. The cordless technology in today's times is fast growing and improving. The nailers are getting more powerful, holding a longer charge yet they are earning the same durability that the pneumatic tools have built.
Source : encrypted-tbn0.gstatic.com
The Types Of Nail Guns Those are Available:
The Pneumatic Nail Gun:

this type of a gun is powered from a compressed air supply and it is the most popular type of nail gun.
The Combustion Powered Nail Gun:

this nail gun is being powered by a gas and an air explosion in a small cylinder, the nail is being pushed by the piston directly and there are no rotating parts.
The Powder-Actuated Nail Gun:

 these nail guns are divided into two broad categories:
The Direct Drive or The High-Velocity Devices:

the gas pressure is directly acted upon on the nail to drive it.
The Indirect Drive or The Low-Velocity Devices:

the gas pressure acts on the heavy piston which drives in the nail.
The Electric Nail Gun:

It has a rotating electric motor which gradually compresses a powerful spring and then suddenly releases it.
Solenoid-Powered Nail Gun:

a metal piston is being propelled by a solenoid which has a long front rod that gets the nail propelled.
Why is a Cordless Nail Gun Better Than Any Other?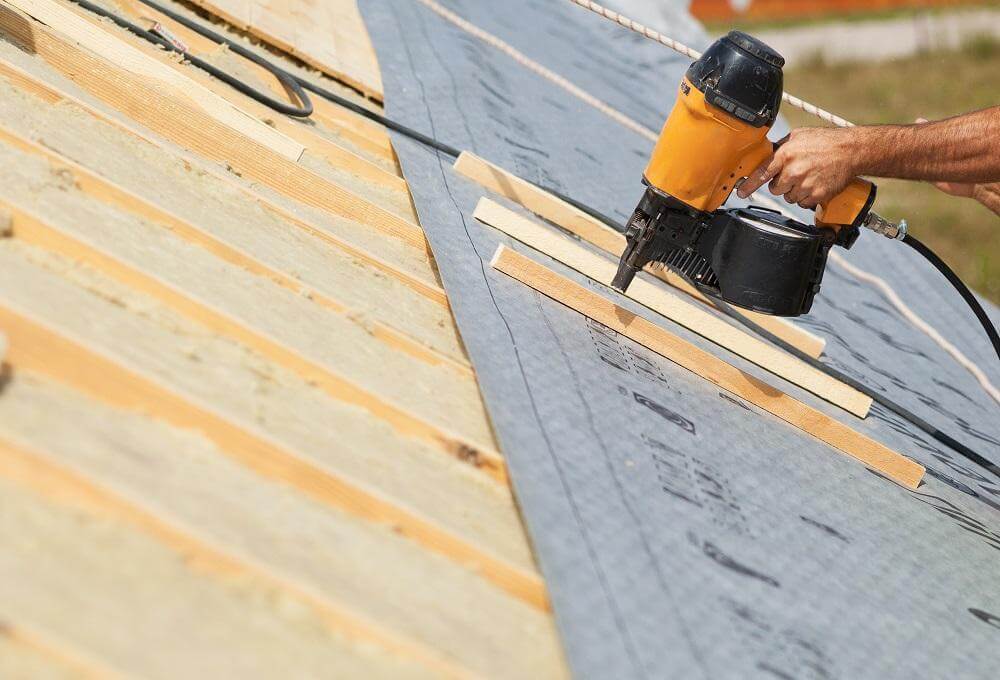 Source : pbs.twimg.com
When you are choosing a nail gun, weight is considered a major factor. The more powerful nail guns can be very heavy in weight. This will be very difficult considering that you have to work for a lot of time in a day.
Features of The Cordless Nail Guns:
The cost:

the cordless guns could be more expensive compared to the other corded ones.
Ergonomics:

with a cordless nail gun

you won't have to carry a hose around nor are there chances of you tripping on it and you can easily work with it however you are comfortable.
The performance:

some models of these guns take a while before firing for a spin.
The maintenance:

the maintenance is pretty much simple and easy as long as you have enough of batteries with you to help your gun function properly.
Things you Need To Know About A Cordless Nail Gun:
The cordless nail gun comes in a variety of shapes and sizes. Contractors prefer these tools due to their increased versatility and also because they do not make a lot of sounds while working. While looking for a cordless nail gun one thing you must keep in mind is that several models of these require the use of fuel cell along with the battery pack. This fuel cell is essential when in larger nail guns more energy is needed to fire.  These airguns do not require any air compressor to rely on. Cordless nail guns are powerful and quick and are far easier to use in tight spaces, they require less startup time and can be more portable than the pneumatic air guns.
Benefits of Using a Cordless Nail Gun:
The tool can be used anywhere and anytime

No restrictions provided you have your tool fully charged

Contains slimmer batteries with improved technology of lithium-ion batteries

Fuels cells range in lifespan and the cost; this shouldn't be a great deal if you plan to go cordless.