Wondering how to choose the perfect Christmas hamper? This article will enlighten you about facts you should consider before picking gifts.
Christmas is the most festive season of the year and is just around the corner. There is light, love, and music in the air. You are probably planning to give your close ones a special present. But how do you know which gift to choose for whom? 
The gift should be something that the recipient would love. It should also reflect your personality to mark that the gift is from you. With so many varieties to choose from, you can easily get confused about the right Christmas hamper. In this article, we have gathered a few tips to help you choose the perfect gift for your friends and family. 
Who is the Gift for?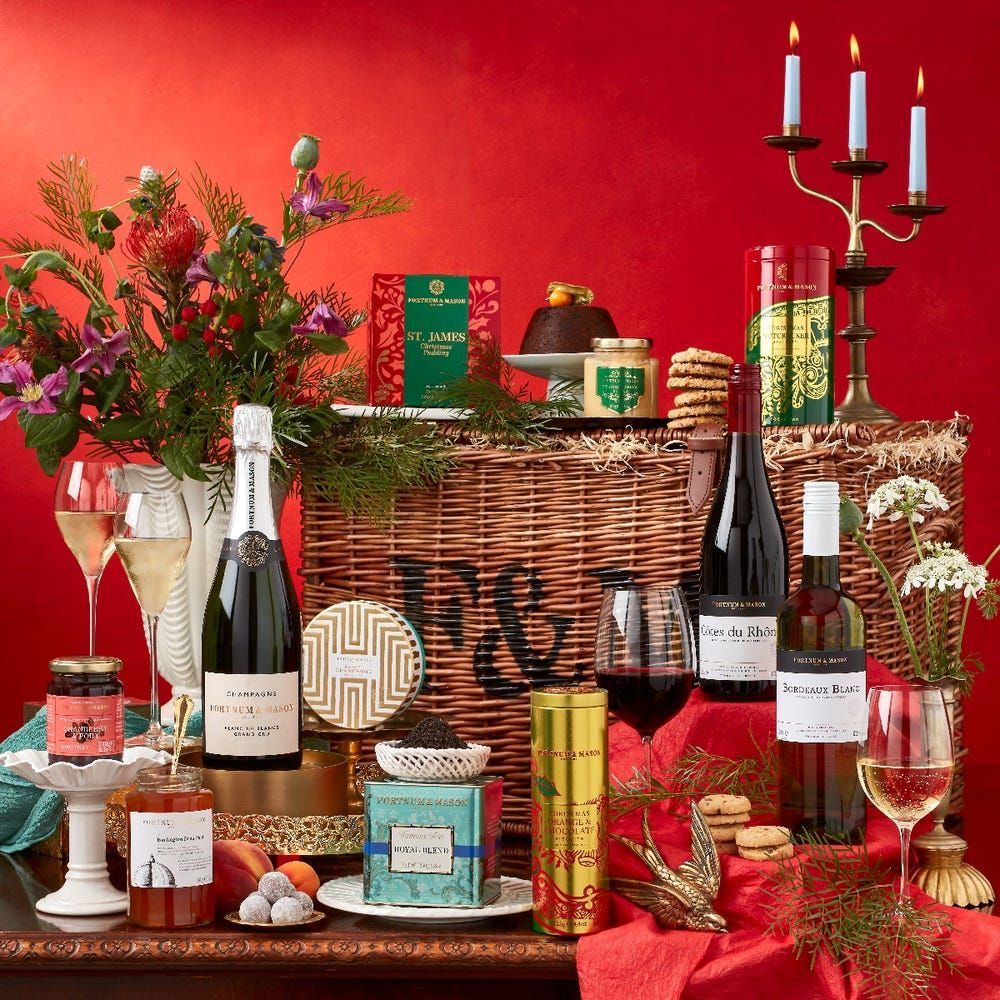 source: hearstapps.com
This is perhaps the most important factor when choosing a gift. Who the recipient is to you? Are they family, a friend, or a colleague, or someone from work? 
Also, take notes on the things they love. The recipient might be a coffee lover. In that case, a nice blend of grounded coffee beans or packs of instant coffee can make an awesome gift. If the recipients are wine lovers, a bottle of their favorite one will cheer them up. A present that you like may not be useful to the receiver if not picked wisely.
What if you want to pick a gift for your boss, and know the person's interests very well? You can always play it safe by giving them items such as a hamper containing a mix of sweet, salty, and savory. Nothing can go wrong with a mixed basket full of different gourmet items. They must like something from the hamper!
Fix a Budget
You need to calculate how much you are willing to spend per gift. Don't just choose a gift that you like without evaluating the price. That will just fall heavy on your pocket. This is more of a concern if you are getting presents for many people. You may lose track of what you have in your pocket and go overboard with shopping. 
In addition to this, fixing a budget will narrow down your options and make it easier for you to choose. For example, if you are buying shoes, fixing a budget of $100 will cancel all the options beyond that limit. So you can now choose more conveniently. 
A Gift that Gives Back
source: tajonline.com
Choosing to give something that gives back to the community is very thoughtful. In this year with global disasters, it is always a good idea to give back and show gratitude in any way you can. For this, you can buy from small local shops to support them. Many companies share portions of their profits as charity. Even a plant can be a gift that gives back. And choosing a present like this will surely make the recipient value your gift much more. 
Presenting Your Present
How you present your gift shows a lot about how much effort and thought you have put into it. The contents are not the only thing that you should be thinking about when you choose your packaging. It should look eye-catching yet elegant. You can choose from a plethora of packaging materials and designs to suit your gift. You may want to go for a basket, or maybe a simple, cute box, or even tie your gift with a ribbon. 
For packaging material, there are many renewable sources you can go for. For example, paper is always better than plastic for the environment. Choose a wrapping material that gives a Christmas vibe. 
Beware of the Source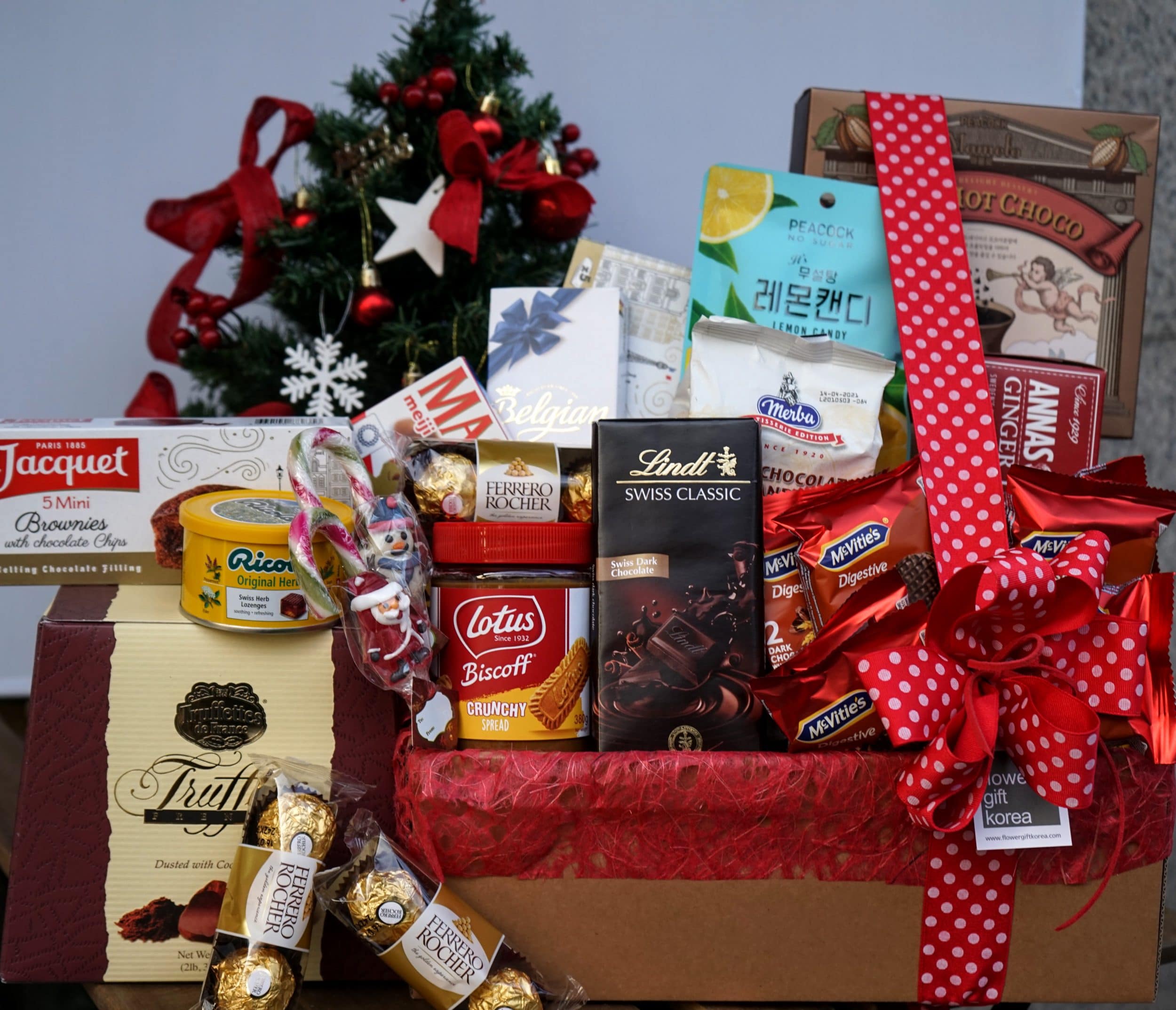 source: flowergiftkorea.com
As the saying goes "All that glitters is not gold", you can't always understand the quality of a material just by looking at it. This is where a credible and authentic supplier comes into play. You don't want to give something of inferior quality. So always check your source. Does the shop you are buying from have good reviews? Do they sell authentic, good-quality products? A good and trusted supplier will provide you with the product with the best quality, amazing packaging, and on-time deliveries.
Start Planning Early
Last moment plans might be a lot of fun but not when it comes to gifts. You need to plan, get your gift ready, and send them in time. It would be no fun if your recipient gets the gift after Christmas. It is never a good idea to delay your plan to buy the christmas basket. Your options will unquestionably be restricted, and you will doubtlessly wind up buying something not good enough.
Also while buying gifts online, people often overlook the delivery dates. Even though it takes 2 to 3 days to be delivered, if your product is being shipped from abroad, or you have customized orders, it can take much longer.  To avoid any unpleasant situation, it is always better to place your order early.
In this pandemic, a lot of people prefer sending gifts directly to the recipients via delivery companies without having to go there themselves. If you are thinking of doing that, then check out how much time the company needs to deliver a product. Send the product beforehand so that your recipient receives the gift just in time. 
Want to invite friends over in this pandemic? Click here to know more. 
Add a Personal Touch
source: pinterest.com
Want to make your gift more meaningful? There is no better way to do this than by adding a personalized note. This will not only make your gift unique but also memorable for the recipient. If the gift is for a loved one then write how much they mean to you and why you thought of that particular gift for them. 
What to Buy?
We have shortlisted some of the most popular and loved gift items you can get for your loved ones this Christmas. Hopefully, this list can make your selection hassle a bit simple and organized. 
Christmas Baking Kit
f the person you are sending the gift to loves to bake, this would be a perfect one for them. The kit can include a cookbook containing various recipes of different cakes, baking essentials, some fancy mason jars, and colored sugar! You can also add sprinkles and cake toppings for more fun!
Coffee Basket
source: guim.co.uk
A coffee enthusiast's dream would come true with this hamper. You can add different grounded coffees, coffee flavoured candies, a jar of cream, and your gift is good to go. Your recipient would cherish the gift first thing on Christmas morning! What better way to start a day other than a cup of frothy, hot coffee?
Sweets and Cookies
If your recipient has a sweet tooth, get this hamper without a second thought. Here you can add boxes of assorted chocolates and sweets, candies, and the signature candy canes for Christmas!
Herbs and Spices
When your recipient loves to experiment with cooking, this would be the perfect gift for them. Since Christmas is a huge occasion, there have to be varieties of delicious food on the table. Put in small jars containing different spices. Add some fresh herbs. And don't forget some cinnamon rolls!
Gift Hamper for Your Partner
If you have a partner, you must be searching for the perfect gift for him. Picking gifts for men can be quite tough. You can give him a basket full of essential items, such as shaving foam, shower gel, and a nice perfume or cologne. 
When you are choosing a gift for your female partner wide range of options are available. From jewellery to stuffed toys, they are likely to love it all. 
You know your partner best. So give something that will be cherished. And don't forget to add a sweet note with the present to show your love.
A Surprise Pet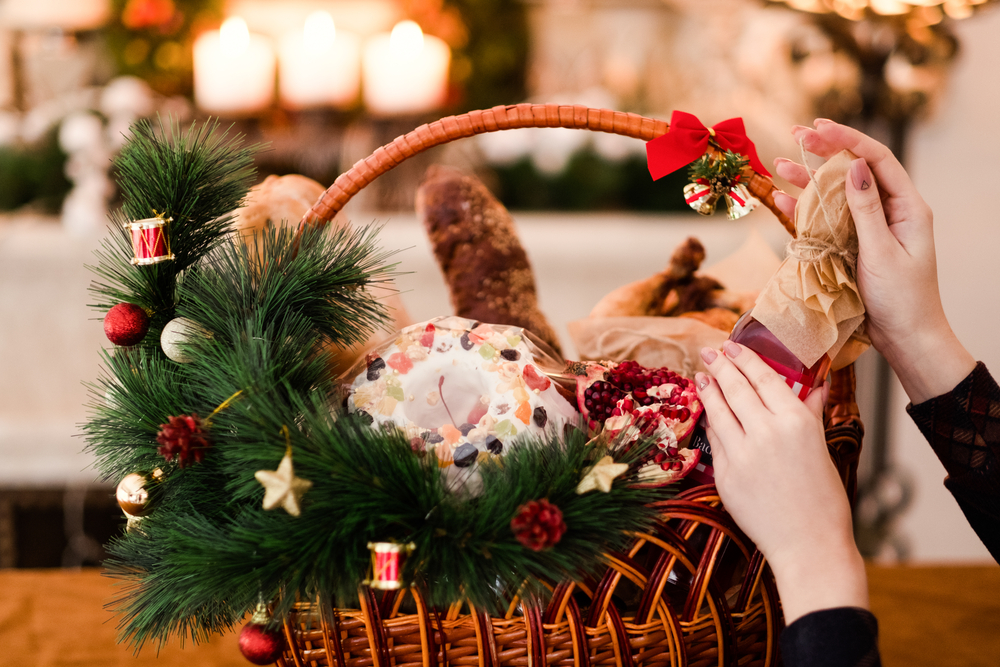 source: littlestepsasia.com
A lot of people are huge animal lovers and would love to have a pet, be it a dog, cat, or bird. It would be awesome to give them a pet as a gift. You can also prepare a hamper with all the essentials needed to take care of the animal, like soft toys, food, and food trays. 
The Ultimate Wine Hamper
Who doesn't love a glass of great wine on Christmas? And what could be better than receiving that wine as a gift? Make a basket with their favorite wine, add some chips, and maybe a nice mug for the drink, and viola! 
Late Night Snacking
Do you have a friend who is a night owl and craves munchies at midnight? A late-night snack hamper can make their hearts and stomachs full! Add biscuits, soda, noodles, and any munchies that you want. 
Whichever gift you choose, keep our tips in mind, and we hope the person receiving your gift will love it! Just make sure the gift is from the heart. Merry Christmas!