Acne is one thing that comes unannounced and wants your full attention to be dealt with. We often ignore the importance of a good face wash and keep ourselves occupied with other frivolous products that might not be working because the first step itself was wrong. Washing your face when it suffers from acne and pimples with a mild and cleansing face wash is so crucial to clear your skin from those nasty bacteria that can further your acne problem.
Dermatologists advise using face washes that are made with chemical-free and natural ingredients. So, that your skin does not get more riled up when you are already having pimples. Your priority in dealing with acne should be to clean your skin thoroughly with a good face wash. So, you make sure that dirt, oil, and many other factors do not clog your pores, and cause new pimples to appear.
To help you in finding your face wash easily, we have curated a list of the 7 best face washes for acne, which goes on as follows:
1. Greenberry Organics Charcoal Detox Face Wash
This face wash claims to calm and soothe acne-ridden skin. It is a natural cleanser containing the benefits of charcoal that detoxifies your skin. It eliminates the excess oil and sebum from the skin to give you a fresh and clean face. Furthermore, it also contains mulberry and tea tree extracts that work in fighting acne and reducing acne scars.
It suits all skin types. It has a chemical-free formulation. However, it has a strong fragrance that may aggravate sensitive skin.
2. Clovia Botaniqa Anti-Acne/Pimples Natural Face Wash With Chamomile Oil & Vitamin E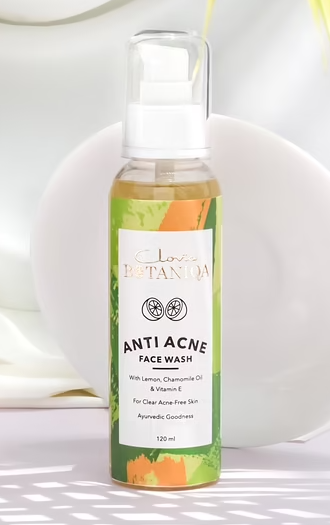 With the goodness of Ayurveda, Clovia Botaniqa anti-acne natural face wash works very incredibly in reducing acne and giving you clearer skin. It soothes the inflammation and redness of acne, as it has chamomile oil as an ingredient. The skin oil, sebum, impurities, and bacteria levels are lowered down by the lemon extracts present in the face wash. Moreover, it does not dry your skin after washing the face with it because it has vitamin E, which helps in keeping your skin moisturized. Not only that, this face wash suits people from all age groups and all skin types.
Clovia Botaniqa anti-acne face wash is free of toxins, sulfates, and other chemicals. The brand is made-in-India that believes in inventing products that are effective yet efficient.
3. Perrene Sulphate Free Clarifying Oil Control Face Wash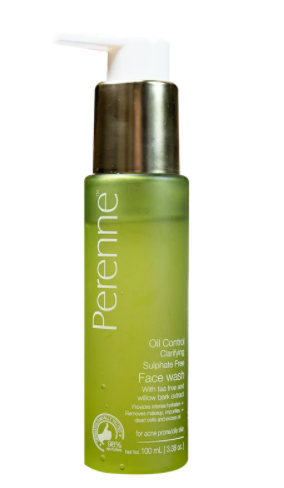 This face wash has a formulation of glycolic acid in it, which exfoliates the skin gently. It washes out the oil and sebum from your skin. Thus, helping to decline acne and acne scars. It has many other natural ingredients like willow bark and aloe vera extracts, which help in calming your skin.
4. La Roche-Posay Effaclar Medicated Gel Cleanser
If you're looking for an acid-based facewash, then this one is perfect for you. It has alpha-hydroxy acids and salicylic acid, which help to exfoliate your skin and reduce oil production. It has no fragrance, which makes it well suited for sensitive skin.
However, we would recommend you to be mindful of its usage and read all about the acids before using them on your skin to avoid any irritation or reaction.
5. Panoxyl Acne Foaming Wash
This face wash contains dermatologists' favorite active ingredient called benzoyl peroxide. This ingredient helps in fighting acne-causing bacteria and removes the excess oil from the skin. It also unclogs the pores that might result in acne later. The formulation is just right to prevent and treat occasional breakouts and acne.
However, this is not recommended for people of all age groups. Teenagers should not be using this face wash, as it has potent chemical ingredients.
6. SkinCeuticals LHA Cleanser Gel
With a combination of salicylic, lactic, and glycolic acids, and small pumice beads, this face wash is best to use when you have acne during your menstruation. It is more like an exfoliating face wash that clears blemishes and pimples by mildly exfoliating the skin.
However, this is not for people with cystic acne, as it can be harsh for them.
7. Sebamed Clear Face Cleansing Foam
This face wash from Seabamed helps in balancing the optimum pH levels of your skin. It is very useful for treating breakouts, whiteheads, and more. It is a mild foaming face wash that helps to soothe inflamed acne and breakouts. Moreover, it suits all skin types.
However, the price of this one is a bit more than a face wash should be, which makes it not so pocket-friendly.
These are our pick of face washes that can help in demolishing the acne from your skin. We would like to recommend that you use other products, like a toner and moisturizer, that will help in treating acne and pimples, as a face wash alone won't cut it. A face wash is crucial yet not enough to treat those acne scars and for that, you have to use some toner or serums that work in reducing their appearance. A quick tip on the use of chemicals and acids for treating pimples, from our side, would be to do in-depth research about them before using or even consulting a dermatologist.
Read Also – How to Choose The Best Face Wash for Acne?