A common kitchen dilemma: How can I clean the disgusting ring around my kitchen counter and sink? When it comes to counter care, many folks rely on all-purpose cleaners. But beware—not all surfaces are created equal. Sure, you could use the stuff you have under your kitchen sink, and there are plenty of ways to clean dark wood surfaces in the home. But when it comes to cleaning a big quartz countertop or a marble tabletop, not every solution will work as you want it to. 
Looking for the best way to clean kitchen countertops? We break down the best ways to clean everything, from the butcher block and quartz to marble and granite. In this article, we'll go over how to clean kitchen countertops made from many different materials and keep them looking great as time goes on.
Marble, Quartz, and Granite Countertops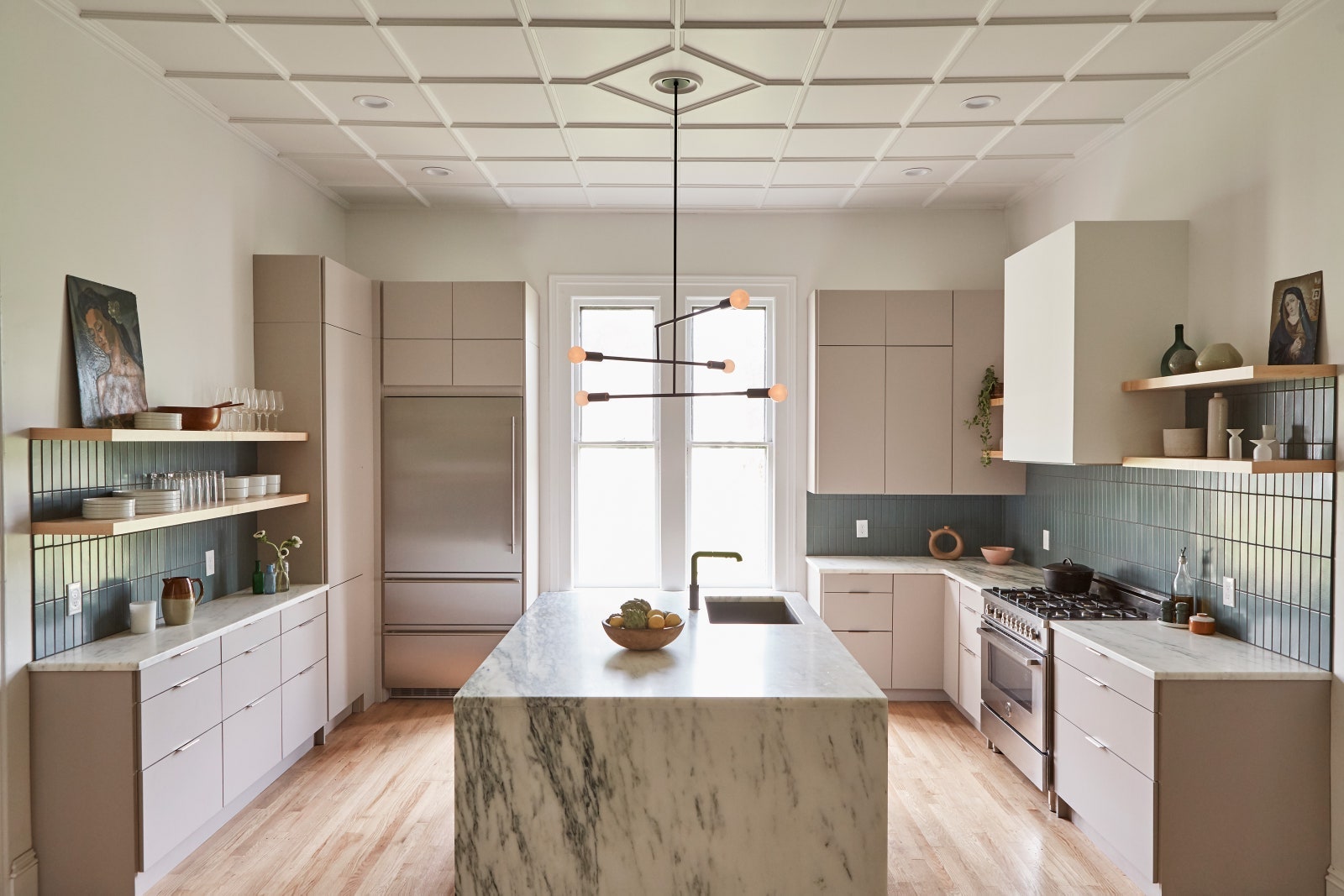 source: architecturaldigest.com
Countertops can be made from various materials, but few are as stunning as natural stones such as marble, granite, or soapstone. While these materials are beautiful, they're also delicate and require specific care. However, one of the main benefits is that they come in an array of colors and finishes, so you can design a kitchen that matches your personal style. To find some of the most impressive and modern kitchen counterparts, check out Caesarstone.
Some useful prerequisites for cleaning Quartz, Marble, and Granite Countertops:
Before we jump to one-to-one counterparts, here are some common ways to keep your countertops (of all types) clean without using tons of products that could damage your surface. 
   

Counters should be wiped down each evening, especially in the kitchen, where gunk tends to build up when food is prepped. By cleaning daily, you avoid the buildup of germs and grime that can only lead to not-so-fresh countertops.
Wiping your counters with soap and water isn't enough to eliminate most germs. To make sure that you're disinfecting as well as cleaning:
Spritz a 1:1 solution of isopropyl alcohol and water onto the countertop and any other surfaces on which bacteria might be found (like dishcloths or coffee-makers).

Let the solution sit for about 3 minutes (longer if it's a big surface).

Wipe down with a damp cloth and then dry with another clean cloth. If you've sealed the surface properly, in theory, you only have to do this once or twice a year or so. 
    Your kitchen can be an antibacterial zone. Besides wiping down countertops with a disinfecting wipe, soak your sponge in vinegar and water. Vinegar is a good disinfectant and will cut through grease. If you have hard water stains in your shower, try the same idea: Soak a washcloth in vinegar and place it over the stain for about 20 minutes, then rinse with water and dry.
    Use a clean microfiber cloth and warm water instead of chemicals like Windex and Lysol for best results.
Butcher block countertops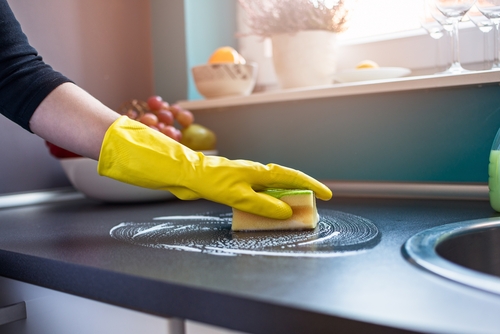 source: deluxemaid.com
Butcher block is less expensive than stone but still helps block heat stress, so your countertops are more protected. It's also extremely durable and a great surface for food prep, if you don't mind a little upkeep.
How to clean Butcher Block countertops:
Care and Cleaning:
For best results, use a multi-purpose countertop cleaner.

Spray it at the beginning of your cleaning routine and let it sit for several minutes. This will help soften up any dirt or grease buildup.

Wipe clean with a damp cloth and then dry completely to spot any areas that may need more attention.

For any stubborn stuck-on messes, make a paste out of baking soda combined with a little hot water, or spray with distilled white vinegar and let it sit for a few minutes before wiping away.
Granite countertops
source: pinterest.com
Granite is smooth, super hard, and remarkably heat-resistant — perfect for a busy kitchen. It won't scratch, can't be burned, and is nearly impervious to stains and corrosive substances when kept sealed.
How to clean Granite countertops:
Granite needs love too. It is imperative that you cultivate the culture of learning how to keep your granite shining for as long as possible. As for soap scum, if you follow the right steps, it's not a problem. To disinfect a granite countertop, clean it with hot water and soap to remove any debris, then spritz the surface with a 1:1 solution of isopropyl alcohol and water. Wipe down with a damp cloth, then dry it thoroughly to avoid water spots.
Laminate countertops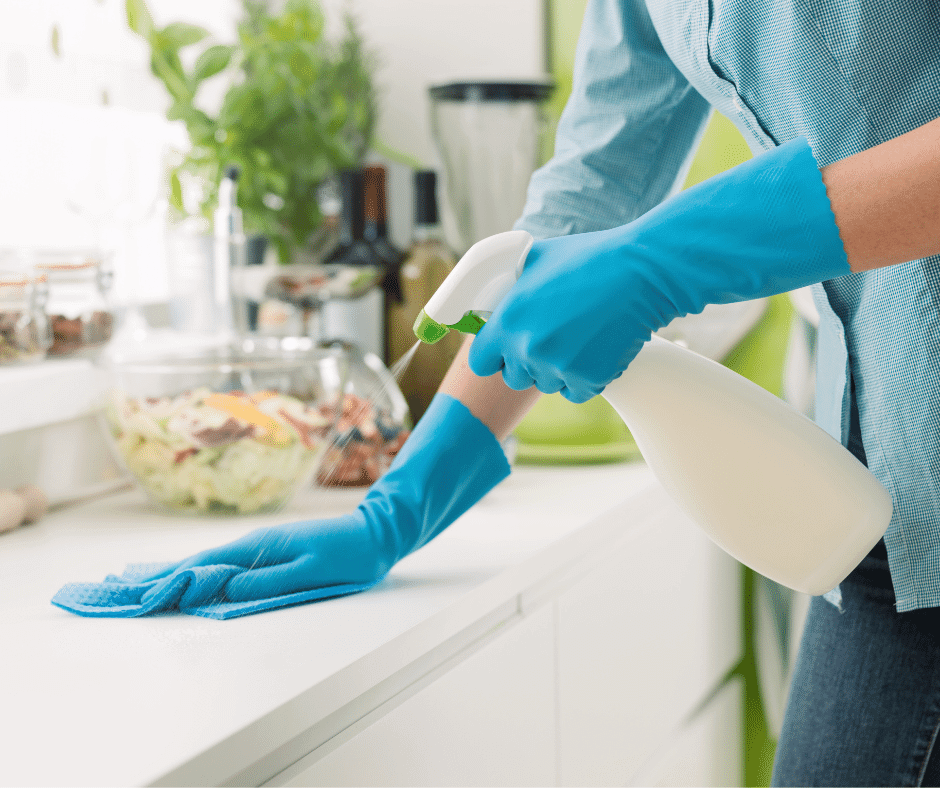 source: bcstone.com
If you love the look of granite, but you need to stick to a budget, you're in luck. Laminate countertops give the same natural stone texture and color as the more expensive product and can be installed in less time and for less money. The best part – is they're a little more resistant to most scratches, smudges, and stains. This countertop is a great option for a price that's chump change compared to real granite.
How to Clean Laminate Countertops:
Though laminate is durable, spills can still happen, especially with kids around. Luckily, laminate countertops are a breeze to clean. So when you're cleaning up after dinner, wipe down your countertops using water and mild soap in no time at all. 
For tougher messes, like spaghetti sauce, use a drop of liquid dishwashing soap on the surface, let it sit for a few minutes, then wipe it away before rinsing. For stains (like wine and grape juice) that seem to soak into the surface, apply nail polish remover (acetone) with a soft cloth using small circles strokes, then rinse thoroughly and dry. Use only acetone that is specifically labeled as 100 percent pure.
Concrete countertops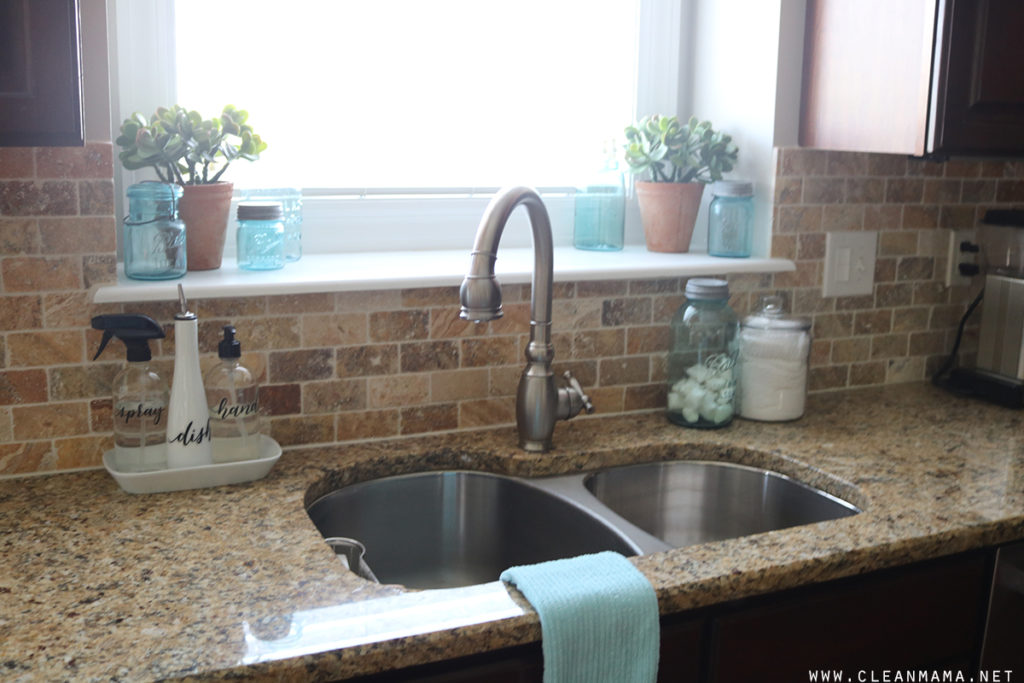 source: cleanmama.com
Concrete is a durable and long-lasting material that's great for countertops. It's heat safe, making it perfect for cooking, and it's even possible for savvy DIYers to create their own concrete countertops.
How to clean concrete countertops:
The easiest way to clean a sealed concrete countertop is with hot water, dish soap, and a sponge or soft cloth. If you're cleaning unsealed concrete, it's best to start clearing away any debris with a soft cloth. Next, mix ½ cup of warm water and ½ cup of vinegar in a spray bottle and apply the mixture directly to the countertop. Let it sit for five minutes, then wipe off with a damp microfiber cloth.
Stainless steel countertops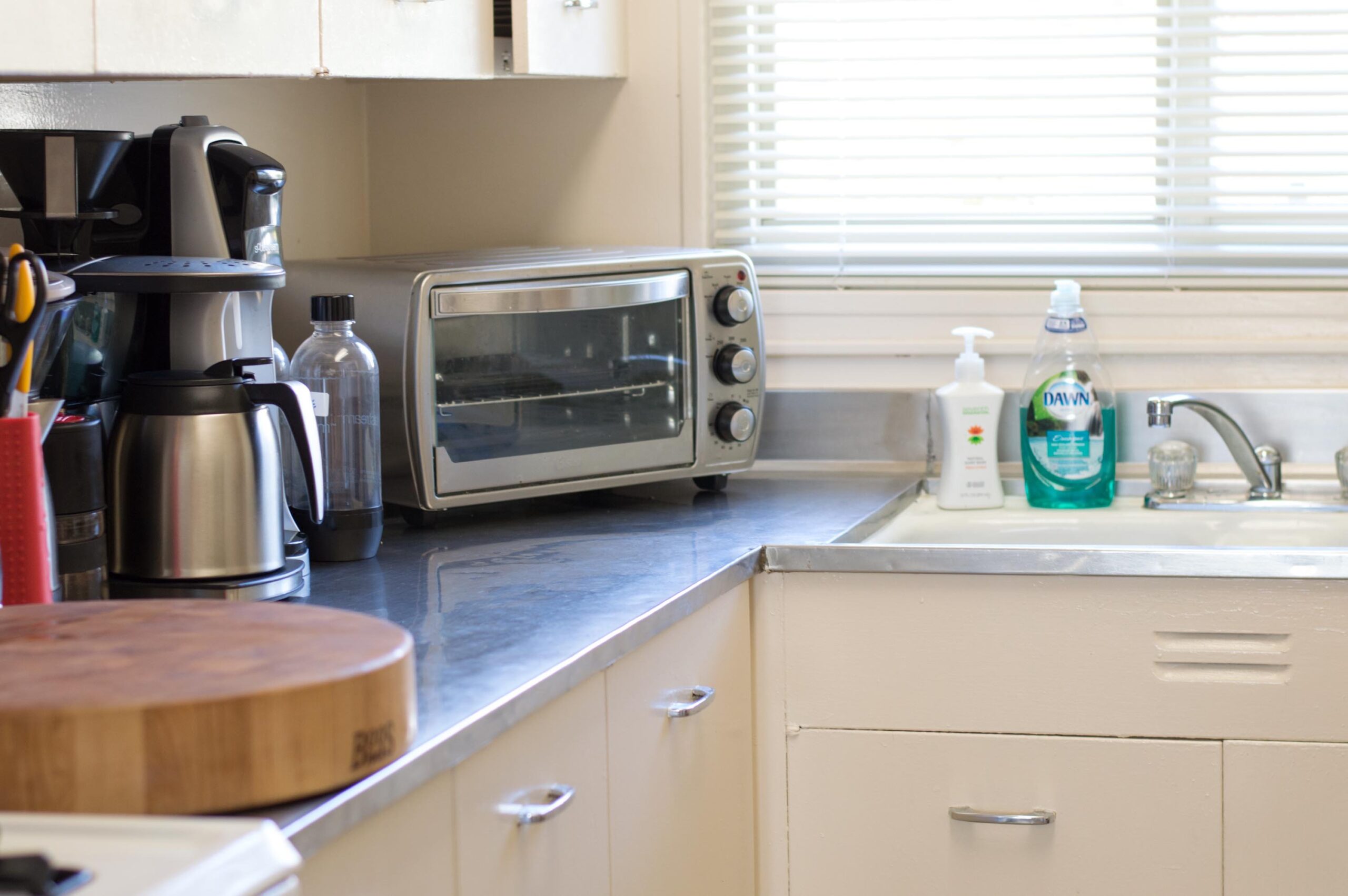 source: apartmenttherapy.info
Stainless steel countertops are a great choice for the everyday cook. With their professional look, they're often chosen for modern and contemporary kitchens and are also a standout selection for vintage-inspired spaces.
How to clean stainless steel countertops:
Warm water, dish soap, and microfiber. That's what you need to keep your stainless steel clean and shiny. It is the best way to clean kitchen counters made of stainless steel. Avoid abrasive cleaners that can damage the surface, and use a non-abrasive cloth or paper towel with olive oil to get rid of fingerprints and stubborn smudges.
Bottom line
Cleaning a kitchen countertop — whether wood, tile, or marble — is one of the most important steps in keeping your home looking its best. Luckily, the time and effort required vary depending on what type of surface you're dealing with. We've got a handy guide to the general guidelines for each counter material type, so you can get started cleaning today!