Those days are gone now when cafes were simple eateries, where people grab something to eat and drink. But now these places are the most evolving hangout places for friends, colleagues-meetings, spending alone time, reading novels and many more now people are not satisfied with just delicious food they expect more requirements and services. 
Benefits of Theme Cafe 
So besides an authentic interesting menu and of course, great service, why do people love going to the same cafeteria again and again? Yes, it's about the interior design of the places.! Audiences love spending time in stylish-chic-looking coffee shops with unique themes or basic concepts like pet cafes where customers can drink their favorite coffee with cuddling little kittens, puppies playing around you, or vintage cafes where customers can capture some cool, Insta-worthy pictures with their loved ones. 
Nowadays we see many coffee shops that follow creative concepts and experiment with different themes for getting the attention of the audience. The first thing and last thing most important is hygiene. Some coffee shops have amazing interior or theme ideas but if hygiene is not well then it's not gonna work. 
So let's check out some amazing-trending theme ideas for your cafe so next time, if the interior asks you what kind of theme you are looking for, you can clearly explain your requirements. 
Pet's Cafe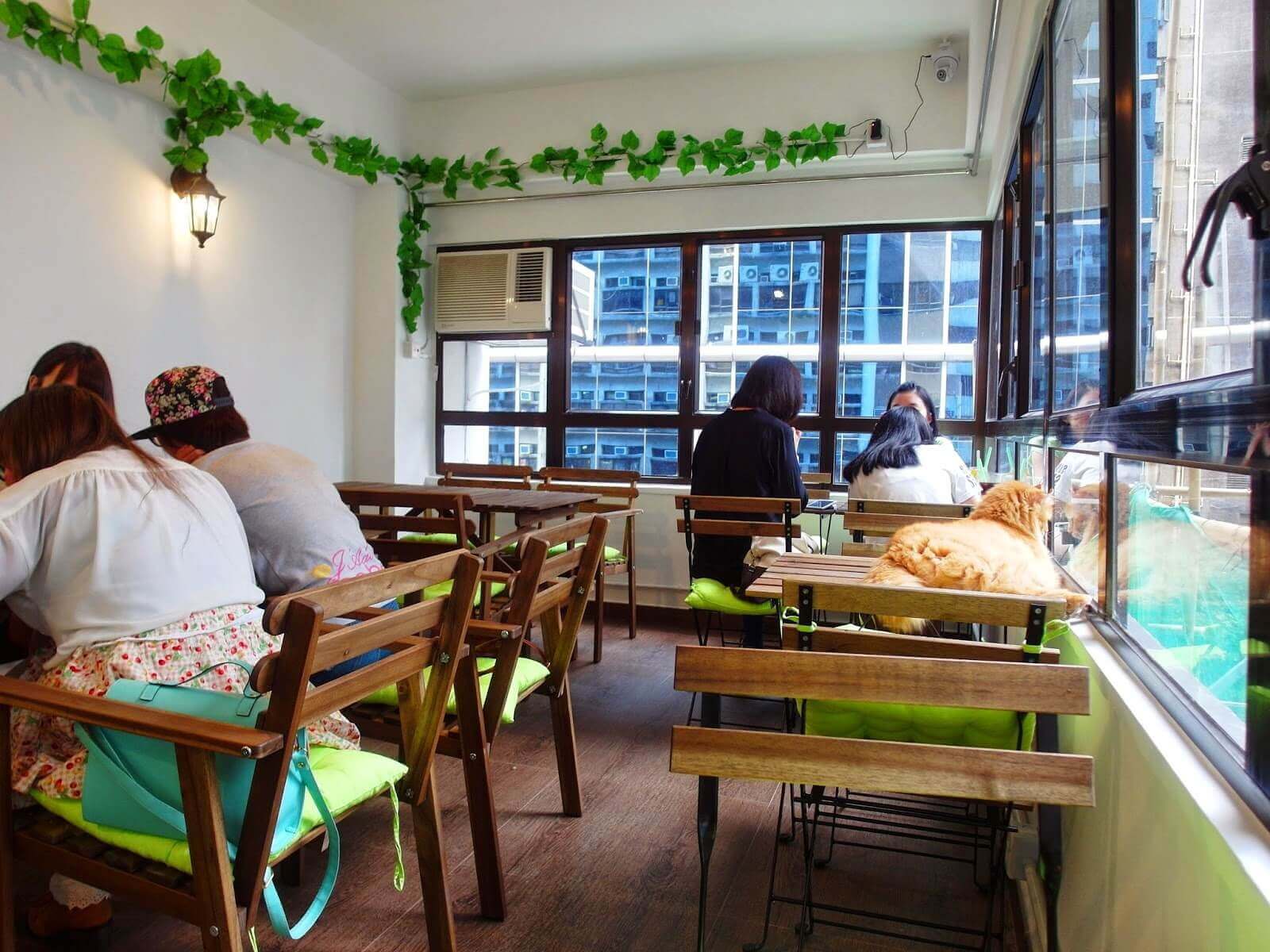 source: timeout.com
If you are a cat lover or dog lover this is a perfect theme for you, but if you are not then think about your customers, lots of people get attracted by this place – A place where customers can enjoy their food watching cats or dogs playing around them where they can bring their pets also and the place will serve them complimentary treats. The owner can also create a partition between dogs and cat cafe. make sure you have trained dogs & cats well, take care of hygiene, have a good large space. 
Plus you can also build some cute cat houses or dog houses or playing areas for them, places for getting relaxed because it's not only a cafe it's their home that makes your cafeteria attractive. or on Sunday there should be some game competition for pets and customer pets The idea is to create a simple and adorable place where people never feel they want to leave. 
Underwater Cafe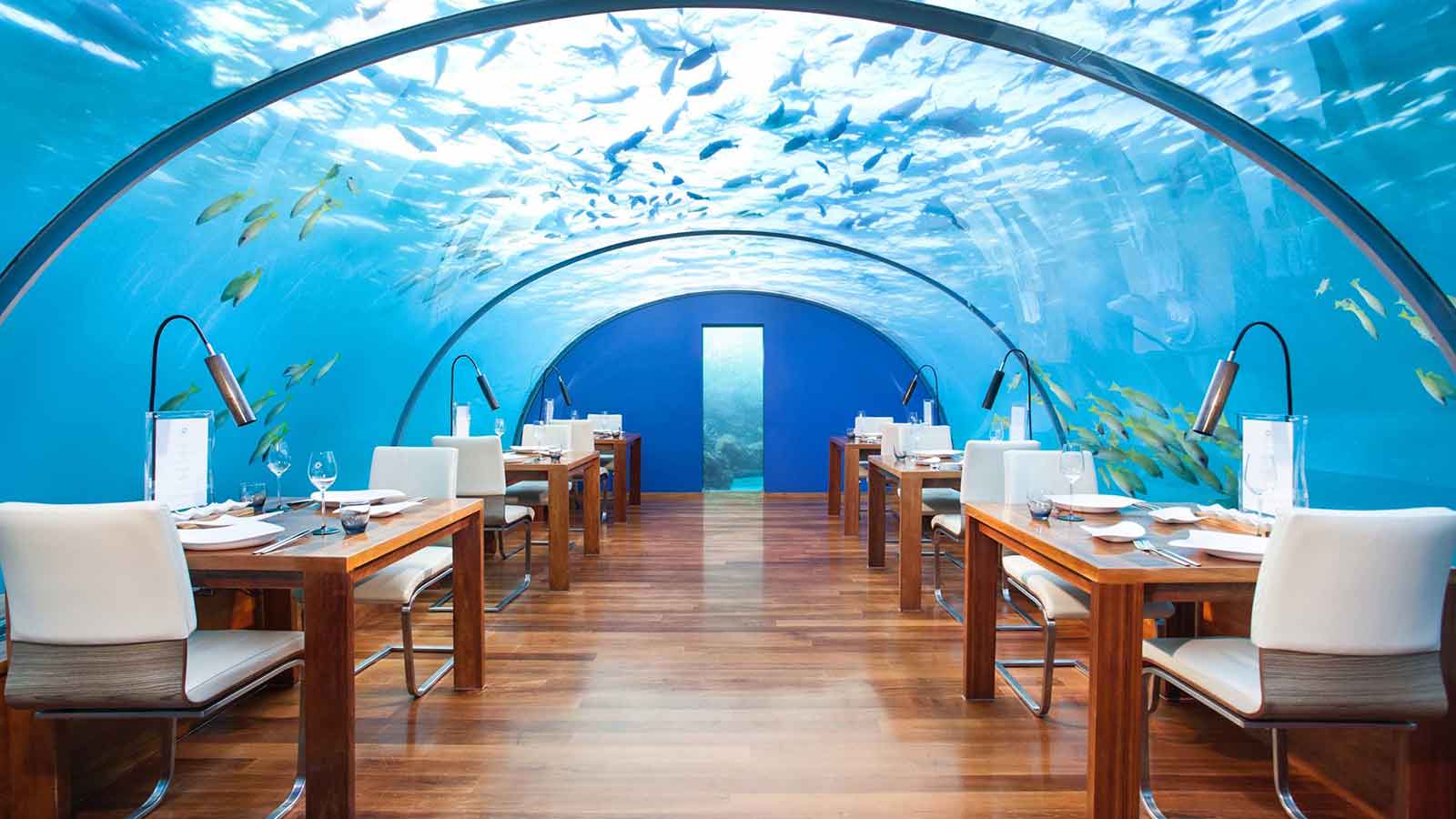 source: boatinternational.com
Lots of people want to explore underwater life, however, some might get scared of scuba diving or they are having Thalassophobia or Aquaphobia. This is a marvelous way for them to explore underwater life where they can enjoy their food & drinks while watching a group of colorful fishes, jellyfish, aqua, and many more marine animals.
In Burj-al-Arab hotel-Dubai, they have applied this theme in their restaurant but you can apply this kind of theme at in your cafe if your budget is low then you can go for a simple aquarium and arrange them near every dining spot and put some fish food also there so customers can also serve little treats to fishes. The owner has to create their place as people can enjoy it.
Fitness Cafe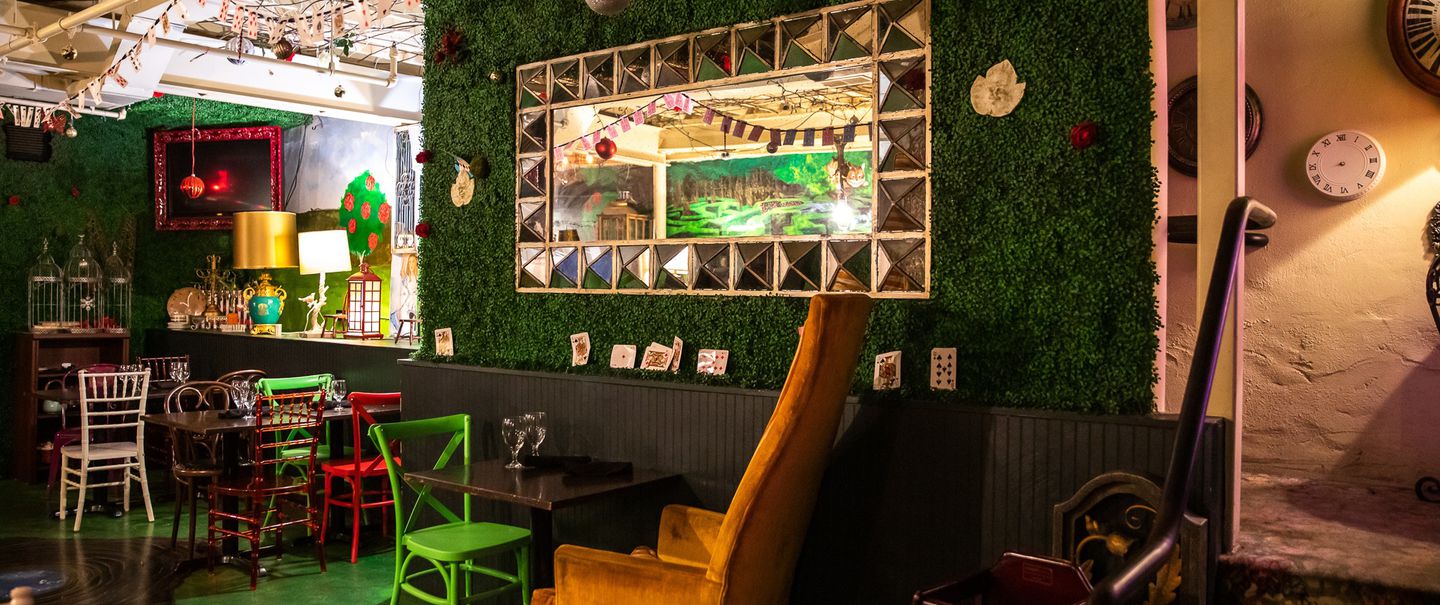 source: cheapism.com
Many of now want to follow a healthy lifestyle, for them the fitness cafe serves delicious & 100% healthy food, only find a chef who cooks amazing healthy recipes, for the interior you can go for some health motivation quote written on walls, arrange some fitness machine for customers until their order came to the table they can burn some calories if they want. 
Extra tips owners can also organize special dietitians or health motivation lessons weekly, the cafe also has some fitness books for fitness freak and the ambiance should be positive and energetic. The motto of this theme is people follow a more healthy lifestyle and take care of their health and they don't have to wait for more cheat days. 
Picnic Cafe 
source: thesmartlocal.com
A place where people can enjoy their food and order from the cafe also sometimes people love their lunch but they want a different place so for them you can go with this. The main target of these places is people enjoy their time with family, office colleagues enjoy their lunch if they want they can order food from the cafeteria 
The idea of creating these cafes is people enjoy their food with a beautiful ambiance and calm-positive atmosphere. That would be great if it's a garden kind of place. There should be some good spots for kids, family & friends. A place like a kids area with a treehouse for kids, outdoor and indoor seating arrangement for families & friends. The owner can also organize a bonfire and live music in the evening. In this theme, you don't have to invest a lot to make it simple & nostalgic.
Readers Cafe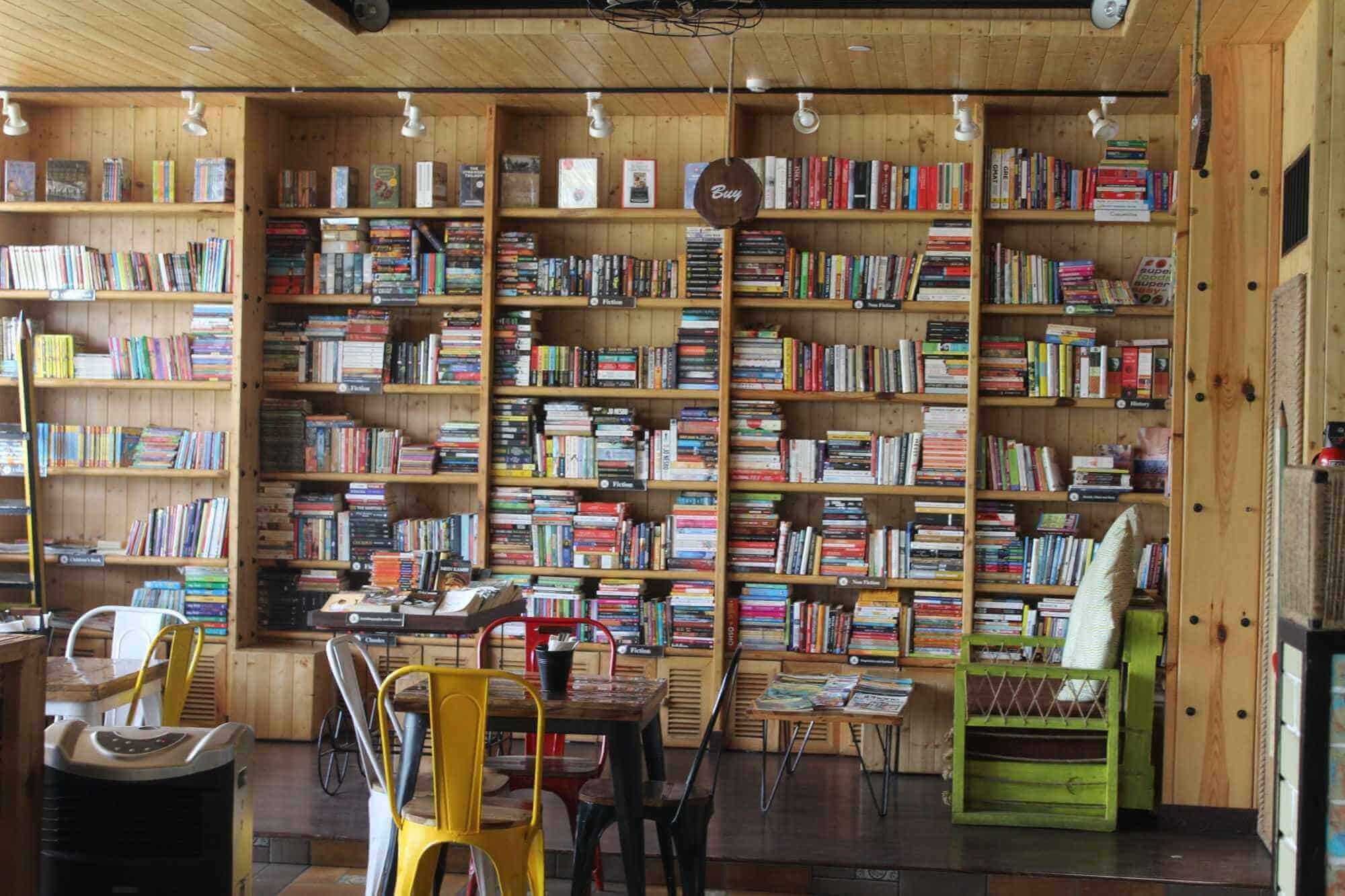 source: dfordelhi.in
Place feel like a dream comes true for book lovers, a place where readers pick books from the shelf and enjoy their latte while reading, for this kind of theme you need old antique bookshelf lots and lots of books-book collections should take up the walls from floor to ceiling and customers can spend days here going through a various variety of books ranging from comic to graphic to mythology to nature to travel books for every type customer needs 
Make sure the books should organized well and decor your cafe with some colorful old typewriters so the reader can find their inner writer out of themself, go with the quirky-cozy decor, some nice reading spots, and mouth-watering delicious menu, and your reader theme is applied successfully 
Art-Lovers Cafe 
The place felt like dream comes true for art-lover, a place where people can appreciate art and create art while enjoying their meal and if they want they can hang their paint on painting wall with their signature, once in a week cafe owner organized art competition, for creating this kind of theme you can go with sophisticated kind of vibe or colorful vibrant
Plus you need some canvas, colors, brushes, pencils and other basic needs of the artist, decor with some famous artist paintings and more.
Fan-Club Cafe 
The place feels like a dream come true for tv show-movie fan club, the idea of creating this theme is people who love famous tv shows-movie when they open the entrance door of the cafe they feel like they are part of a movie-tv show. 
Some famous cafeteria follows themes like take one of the FRIENDS famous – central perk located in Manhattan, there are coffee shops based on tv show ''BREAKING BAD'' theme cafe located on Istanbul-capital of turkey, Hogwarts cafe theme based on HARRY POTTER, superhero cafe in Malaysia based on dc superheroes comic, etc. 
There are so many things you can do with your place , but make sure that it's similar to set like if you are going with FRIENDS theme name your place central perk, orange sofa, mugs or plates customized with friends cast or some famous quote, customize menu dishes on their name like joey special pizza section, ross sandwich, Rachel trifle, phoebe cookies, chef Monica special mac & cheese, etc. 
The owner can also sell- giveaway customized gifts or illustration t-shirts on the date of show-movie anniversary, 
Greenhouse Cafe 
source: designwanted.com
Nowadays indoor garden themes are more common & it's also in trend, especially cities like California, London, and Newyork, customers can spot one easily. These types of cafe interior give the customers a positive vibe, fresh air, calming atmosphere and the owner can create a very feel-good, 'out in nature, very organic, kind of ambiance. Many eco-friendly & vegan cafes follow such ideas. 
To work on this kind of theme, we need to design an ample amount of space for organizing all plants. It's a perfect idea to create layers or rows of such plant spaces instead of just one. The owner can organize anywhere they want-''the more plants the better- well it's garden what customers can expect from it. The owner can also hang colorful small decorative hanging plants on ceilings and arrange layers of plants anywhere, design the way you want but make sure your customers feel relaxed. Go for light yellow light & simple furniture.
Rainforest Cafe 
source: mickeyvisit.com
Rainforest cafe is a jungle theme cafeteria, in 1994 this cafe was founded by Steven Schussler in Houston, this theme is in the trend until now, this kind of ambiance gives customers a fun-adventure vibe. For creating this ideal theme include a giant waterfall, adventure entrance (walking on a hanging wood bridge in a dark forest), colorful tropical birds flying around customers ) sometimes this kind of theme depends on cafe space. 
Themes like this are little similar to indoor gardens cafe but here the ambiance should be an adventure-wild go with lots of dark green growing plants with different sizes & shapes of different wood chair & tables, waterfall, rain, chirping birds sound in the background feel more like natural and that's what cafe serves delicious food and adventure dining experience. 
Gamers Cafe 
Gamers theme dining is heaven for game lovers. This kind of paces attracts customers who love to play board games and video games. Nowadays youngsters get easily attracted by these places- delicious food, friends, lots of games, what they need any more! 
The cafe serves all types of board games and plays stations with amazing meals and an energetic vibe, interior for this theme is to create a partition between board games & video games includes go for neon lights cool theme kind of for video games comfy giant couch or bin bags and on their side go for calm cozy home feel vibe chairs shape of dice ludo printed table chess printed tiles, etc. 
Ghost House Cafe 
source: eater.com
One of most haunted themes not only for just Halloween days- open for all time. A place where people's nightmares came true, however, it's a dream place for horror movie lovers. Some cafes just follow this theme only on Halloween days or some might have followed for all time.
Creating this kind of theme you need to plan a scary-adventure entrance, different kinds of plating like serving drinks on skull-shaped glass customize menu, hang decor spider on the ceiling, etc. 
Boho-Style Cafe 
Do you know? What is a boho means! boho is a short form of bohemian design and this design is inspired by free-spirited travelers, writers, artists, etc, who used to live in the ancient Central-Eastern European region called Bohemia.
That Romania culture is still comprehensively loved and followed by millions of people across the globe, be it in the form of interior designs, fashion styles, or arts and music. Boho-style cafe theme ideas are particularly famous among new-age coffee shops that target- the youth of this generation.
To create such a theme use crochet curtains, wooden furniture, floor cushions, low tables, plush carpet, hemp pillows or fairy lights, tassels, tribal rugs, dreamcatchers, Turkish lamps, beaded embellishments. and ottomans buy from vintage shops because boho style is usually a vintage style. 
Cultural Cafe 
source: timeout.com
Cultural cafes-mean places which are based on a theme that represents a particular cultural group like – Parisian, Italian, Moroccan-themed cafes, etc.
 Some might think that such a cafeteria target only those customers who belong to that particular cultural group. But that's just not the caste. People these days love to explore different cultures, traditions, cuisine from all around the world. And if your place interiors are reliable and true to the cultural values of the places which you've decided to represent, expect a lot of customers simply to walk in because what the owners have to offer is unique, authentic, and traditional.
 Some of the most famous themes in this category of cafe theme ideas are – Parisian, Milan, Prague, Scandinavian, Brazilian, cafes with Dutch interiors, Mexican, Portuguese, Turkish, Vienna, and many more cafes.
Conclusion 
We hope that you know what kind of cafe theme you need, Choosing and then sticking to a unique-interesting theme idea for your cafe's interiors will boost the potential of your business Not only will it make your space look a lot more unique-attractive and inviting, but also, it helps you build a strong company brand image.