This article details the main criteria for choosing a sofa for the living room, how to choose the color of the sofa, its frame, style, design and the most practical upholstery.
The sofa in the living room is a gathering place for the whole family: in the evenings they sit comfortably and watch a movie, and in the mornings they discuss plans for the upcoming day. It is very important that this item is practical, comfortable and pleasing to the eye. Which sofa to choose for the living room, so that it is comfortable and lasts a long time, this material will tell.
In order to understand which sofa to choose for the living room, you must first find out for what purpose it will serve.
Will it be just a decorative element or an important functional element?
Will the sofa be the place for daily sleep or will it be used only for sitting on it?
Is it comfortable for you to spend time on this sofa?
Will you receive guests on it?
Choosing the shape of the sofa
source: pinterest.com
To begin with, it is worth deciding on the shape of the sofa: it is worth measuring it, as it should fit in the place where you want to put it. For small and medium-sized living rooms, a sofa for three people is most suitable (the length of such a sofa is about two meters). This, I must say, is the most common option. It is best if it is a sofa with a straight shape; it is convenient to place it in the room, for example, near the wall.
It is also important to know in order to choose a corner sofa for the living room – this option will fit well into a studio apartment (for zoning the hall and dining room). Also, a corner sofa is well suited for large families or people who like to receive guests: five or even six people can easily fit on it.
If you do not have a very large living room, then you can buy a convertible sofa: you can work, relax, and sleep on it. And if the living room is quite small, then treat yourself to a small mini-sofa in a minimalist style: it will decorate the guest room and give you a pleasant and comfortable place to relax.
If you have a spacious living room, then you can easily put a sofa there, designed for six or more people.
Besides, if you are unsure about the shape – choose shapeless bean bag sofa. It is a perfect option especially for families with little kids.
Frame selection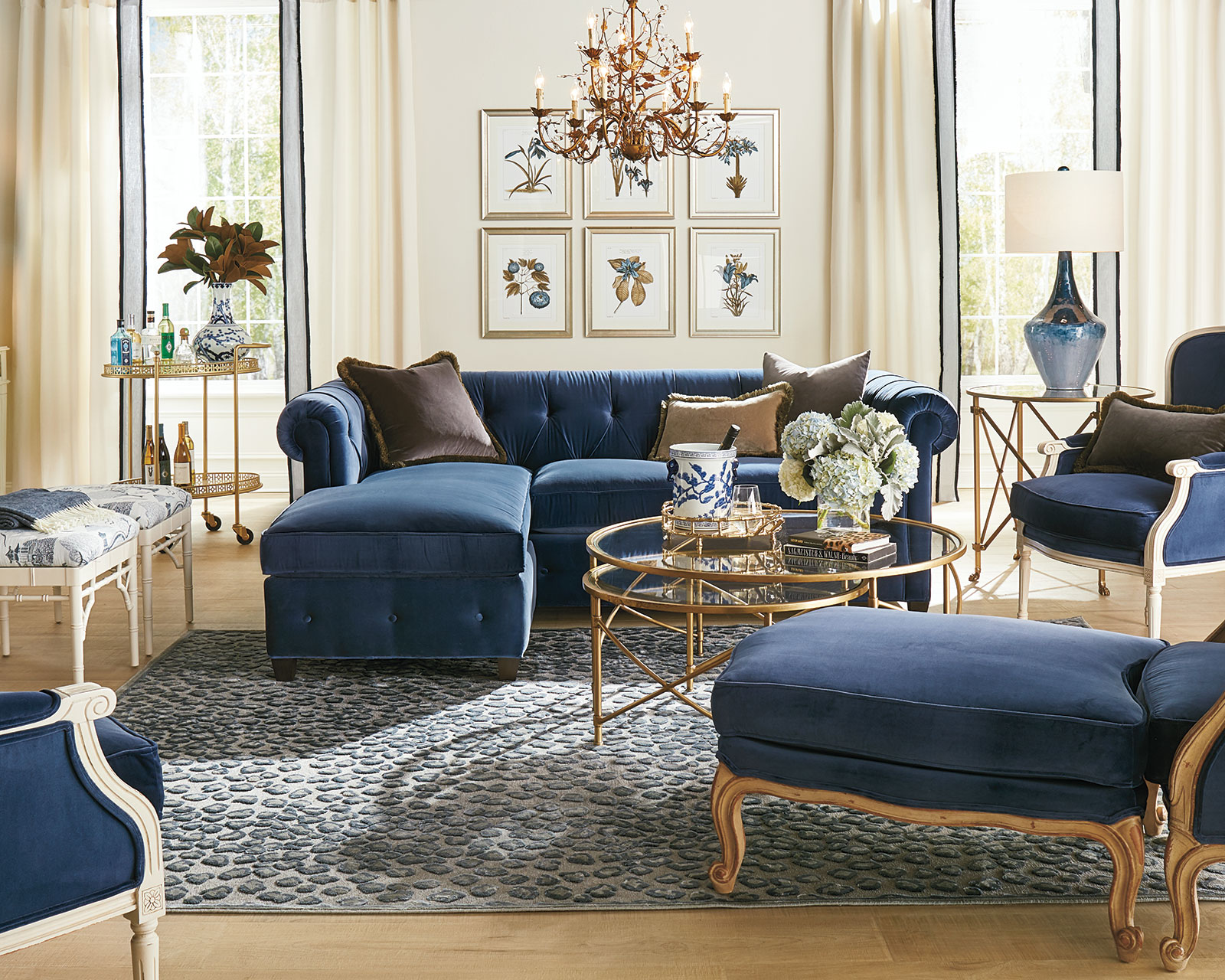 source: ballarddesigns.com
Now you can start choosing the frame of the sofa. This design bears most of the load during the operation of the product, so it must be very strong. Basically, the supporting parts of the frame are made of alder, pine, spruce and birch.
Plywood or chipboard can be used to fill the frames of the frame, so do not be alarmed when you see these materials in the composition. Chipboard is not afraid of moisture, but the service life of this material is not very high, so it is better to choose plywood after all. Multilayer plywood will serve for a long time – it is a very durable material.
What is the best filler?
source: pinterest.com
How to choose a sofa in the living room so that it serves for a long time and is comfortable and convenient for you? Choose a frame from a wooden beam, and a filler – a spring block. The springs are very strong and comfortable: they are not afraid of weights.If daily sleep is expected on the sofa, then spring filler will be the best option.
More often, polyurethane foam is chosen as a sofa filler: it adapts to the human body, so it is very soft and comfortable to sit on it. Also, latex, holofiber, synthetic winterizer and other materials are used as fillers.
You can also try viscoelastic foam, developed by NASA and widely used in the manufacture of furniture. This foam remembers the contours of the body. When the load is removed from it, the material returns to its original position. The best filler is easy to check: just sit on the sofa, and then get up and see how quickly the seat took its original shape.
Tip: you won't be allowed to look at the filler itself in the store, since it is inside the sofa, so pay attention to the seams. If the seams are sloppy, then the factory does not think much about quality, and the sofa filler can be made carelessly.
How to choose upholstery for a sofa in the living room?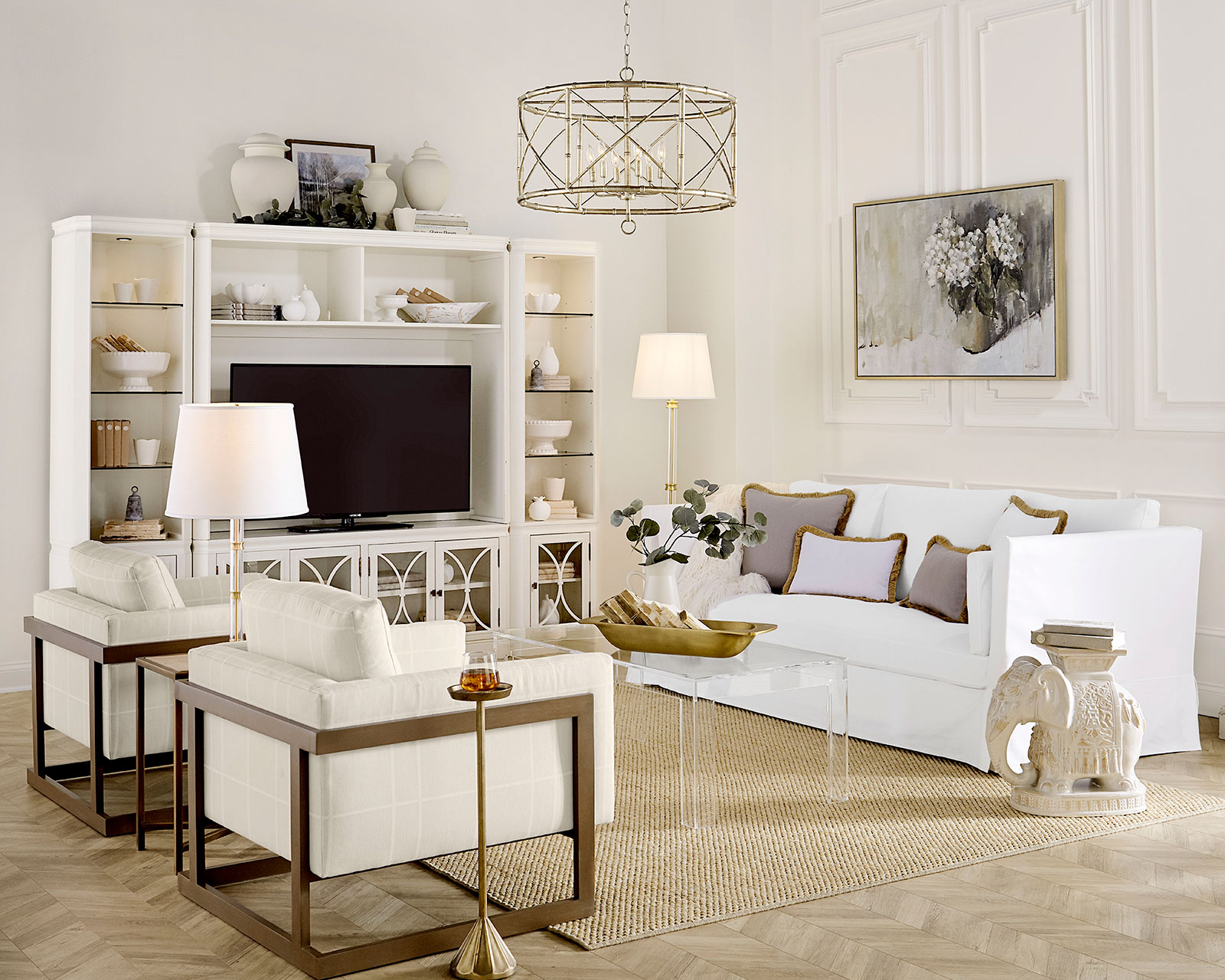 source: ballarddesigns.com
To begin with, think about whether it will be easy to care for the material, whether your pets will scratch the upholstery, whether children will spill coffee on the sofa, how durable such upholstery is – that is, pay attention not only to the style of the upholstery, but also to its functional load.
There are three types of upholstery: fabric, genuine leather and eco-leather.
Fabric upholstery is suitable if there are children or pets in the house. Most often, flock, velor, chenille, jacquard or tapestry are used for sofa upholstery. These fabrics do not let moisture through, are easy to wash and are resistant to wear.
Genuine leather is also a very wear-resistant material, but it is difficult to care for it and it costs the most. But note that leather upholstery gives a feeling of coolness. And in general – a leather sofa is a classic and luxury.
Eco-leather (artificial leather) is not inferior in performance to genuine leather, but it costs much less. Eco-leather is easier to care for than genuine leather: it is wiped with soapy water and then washed off with clean water.