Having the opportunity to show off your home to friends and family and welcome them into it is one of the most delightful aspects of home decorating. In order to ensure that your family and friends have a memorable stay (whether you love hosting or not! ), make your guest oasis perfect. 
Uncluttered, comfortable, and a little like home are the best features of guest rooms. But it's also a place where you can put your own personal touch and make your guests feel like they're staying someplace they really care about. Here Live Enhanced explore some great guest room decoration ideas, whether you're looking for bold wallpaper or other ways to transform your room. 
Wow Your Guests with Best Guest Room Decoration Ideas
source: pinterest.com
Check out these interior tips & tricks to transform your boring guest room into a luxurious one; sure to impress.
Bring Some Wall Art
Adding wall art to a room adds personality. You don't have to spend a lot of money on wall art either. There are many guest room decoration ideas out there. One of the best ways to do this is to use wall art like mandala art, wooden world map or grouping of art. If you want to buy wall art, make sure you get something that fits well with the rest of the room. You don't want to go out and buy a huge piece of art just because you think it looks good. Make sure you find something that works well with the rest of your furniture and accessories.
Elegant Lighting Fixtures
Lighting is an often-overlooked aspect of a bedroom. Make sure you choose lighting fixtures that are both functional and beautiful. Consider recessed lights, track lighting, and pendant lighting. These options allow you to control the amount of light in the room without having to open blinds or curtains.
Throw Pillows
source: pinterest.com
Another great way to decorate a guest room is to use organic throw pillows. These are perfect for adding color and texture to a room with an eco-friendly touch. You can even put them on the bed if you want. You can choose between different colors and patterns to match the rest of the room's décor.
Splash of Colors
A great way to make any space feel warm and inviting is to use colors that match your room's theme. If you're decorating a guest bedroom, then go with a neutral color palette, like white or cream. A bright accent wall may add some pop to the room, but keep it simple. You don't want to overwhelm guests with too many patterns or textures.
Comfy Bedroom Interior
Bedroom furniture is a great way to add a touch of style to any bedroom. A comfortable bed is a necessity, but don't forget about the rest of the furniture in the room. Accent tables, lamps, and even throw pillows can help make your space feel complete.
Adorable Stuffed Animals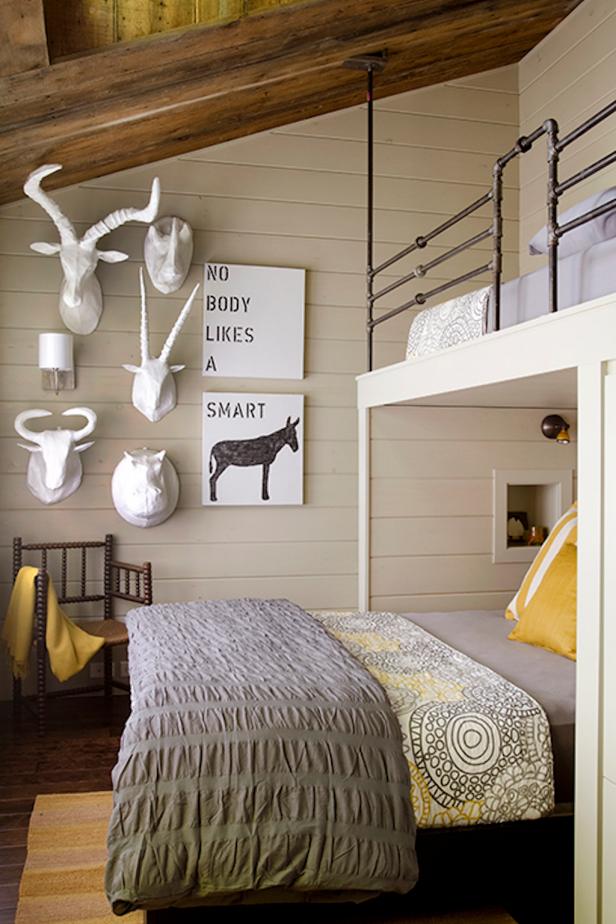 source: hgtv.com
Stuffed animals are always fun to look at. They are cute and cuddly, and they bring a smile to anyone who sees them. A stuffed animal can brighten up a child's room, and it can help keep a teenager entertained. You can place these items anywhere in the room, including the bed.
Put Your Personal Touch on It
If you're going for a classic look, then stick to traditional furniture and accessories. But if you'd rather play around with something fun, try adding a few personal touches. Maybe hang a picture of your favorite celebrity or sports star? Or maybe add a throw pillow featuring your child's artwork?
Give It a Green Touch
Adding greenery to your room makes it look fresh and clean. Plants give off oxygen and remove carbon dioxide. So, if you want to make your room look good, then you should definitely add some plants. You can choose between houseplants, potted plants, and hanging plants. Houseplants are great for small spaces while potted plants are great for larger rooms. Hanging plants are perfect for bathrooms and bedrooms.
Make a Multiple Use
source: mydomaine.com
Our spaces can sometimes be used for multiple purposes. Your guest room design may also serve as an office or craft room. If you're designing them, consider how they can be used for multiple purposes. For multipurpose spaces, a daybed is always a good solution, since it can be used as a couch for one minute and then converted into a bed for the next. It is one of the best guest room decoration ideas which is sure to impress your guests
Introduce Full-length Mirror
The lack of full-length mirrors can be one of the most frustrating aspects of traveling. Ensure that every guest bedroom design includes a full-length mirror. Also, it creates a feeling of spaciousness and airiness in a room. A narrow mirror can be tricky to hang on the back of a door, but you can always choose one if you don't have a lot of space.
Create a Cozy Spot
source: shhoonya.com
You should always make sure your guests have multiple areas where they can relax and enjoy themselves if you have the space. It can be as simple as adding one cozy chair somewhere in the room to accomplish this. It can be a good idea to include a chair or two where your guests can sit and read a book or unwind.
Try Out Loft Beds 
You might consider building up and creating a loft bed if you're really tight on space. Kids would love this loft area, as it has a large bed downstairs and a smaller bed upstairs. In order to upgrade your guest room decor ideas, a small renovation budget might be necessary, but the results may be well worth it.