Anyone interested in picking up a powerful cordless vacuum cleaner in 2019 will have probably asked this exact question.  In this Dyson Cyclone V8 Absolute review, we'll be attempting to answer it as concisely and definitively as possible.
Over the past few years, Dyson has invested heavily in the development of new-generation cordless vacuum technology for the modern household.  All of which is reputed to deliver the most outstanding performance and general versatility, combined with unbeatable battery life.
Catering to the needs of buyers at a variety of levels, there are several options available at different price points.  At the very top of the table comes the Dyson Cyclone V10 Absolute, while the current entry-level ranks are populated by the likes of the V6 and V7.  Sandwiched between these – both in terms of pricing and features – you have the Dyson Cyclone V8 Absolute.
According to the manufacturer, the official size and weight specifications of the Dyson Cyclone V8 Absolute are as follows:
Length– 49″
Height– 9.8″
Width– 8.8″
Weight– 5.75lbs
Designed to get the job done on all types of floors, the V8 targets those who want a powerful and versatile cordless, though would prefer not to spend around $700 on the range-topping V10. Some compromise is therefore expected as you progress down the rankings, but to what extent does the Dyson Cyclone V8 Absolute represent a good buy?
As you'll see in the following breakdown, the V8 is a premium vacuum that more than justifies its price.
What Are the Dyson V8 Absolute's Main Features?
source: hopefornepal.org
Available in a variety of attractive colors, the Dyson Cyclone V8 Absolute has been designed to get the job done brilliantly on carpets and hard floors alike.  It uses the company's signature "direct drive" cleaning system to dig deeply into carpets and soft floor coverings, picking up more dirt and debris than most comparable cleaners. There's also a soft woven nylon carbon fiber head attachment, which delivers unbeatable performance on hard floors.
The power and cleaning performance of the Dyson Cyclone V8 Absolute are extraordinary – particularly when considering its impressive battery life. The V8 runs for approximately 40 minutes on normal mode or a full 25 minutes in 'Powerful' cleaning mode.  As a note of comparison, the V10 is good for up to 60 minutes in normal mode – the V7 offering up to 30 minutes cleaning time from a full charge.
Other than these, some of the V8's additional selling points include:
Multiple Configurations – The device can be adjusted quickly and easily to tackle all areas of the home and even the trickiest corners.
Quiet Running – Intelligent circuitry significantly reduces vibrations and general operational noise for a much quieter clean.
HEPA (High-Efficiency Particulate Air) Filtration – Advanced filtration effectively removes a minimum of 99.9% of allergens and pollutants from the air.
Extensive Warranty – All vacuum from Dyson currently ship with a warranty of at least two years for total peace of mind.
Pricey or not, the Dyson Cyclone V8 Absolute adds up to an impressive piece of engineering and a tempting proposition.
Is the Dyson v8 Absolute Worth the Money?  
source: wpengine.netdna-ssl.com
If you can genuinely afford to spend this kind of money on a vacuum cleaner, the answer is yes. The Dyson Cyclone V8 Absolute has the potential to revolutionize the way you go about keeping your home clean.
In terms of power, performance, and versatility, there are no cordless vacuum cleaners on the market that compare with the latest lines from Dyson. This may technically be a mid-range cleaner from the collection but nonetheless outperforms comparable handhelds by a significant margin.
Rather than pairing a powerful upright with a secondary handheld, this is an all-in-one solution that covers all bases.  In which case, you could also say that the Dyson Cyclone V8 Absolute represents excellent value for money.
You may also like to know about How to Clean Your Dryer Vent to Reduce Fire Risk?
Where To Buy Dyson V8 Absolute?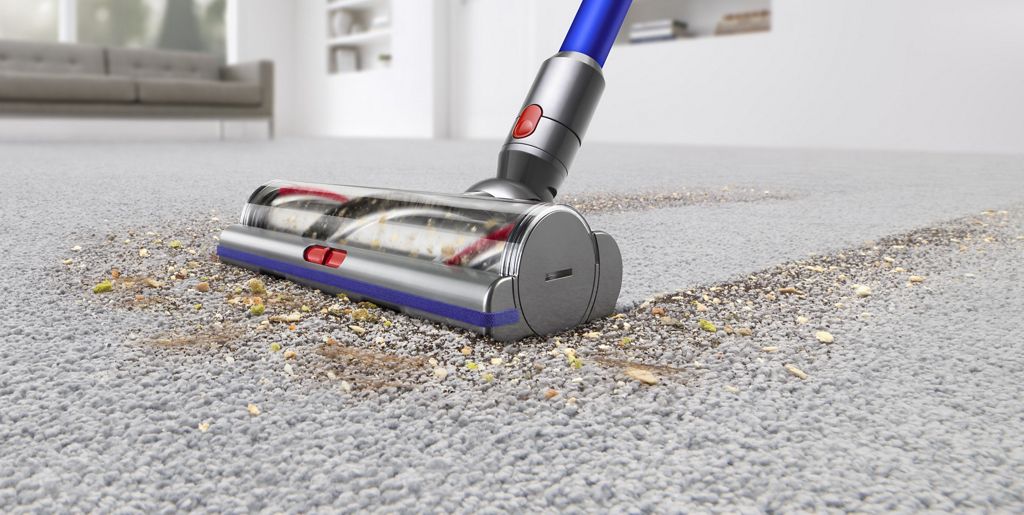 source: liquidimageco.com
Getting the best deals on the Dyson Cyclone V8 Absolute almost always means shopping online. Dyson typically implements a relatively fixed pricing structure, which is why you'll rarely come across a device like the V8 at a heavily discounted rate.  However, the comparatively low overheads of running an online store typically mean that the best deals can be found online.