Danish Design Store
Unique, distinct, and highly eclectic, the Pelican chair by Finn Juhl is an icon of the millennial world that attracts with its sculptural beauty and artsy interpretation. Let's take a look at everything that you need to know about its design:
About The Designer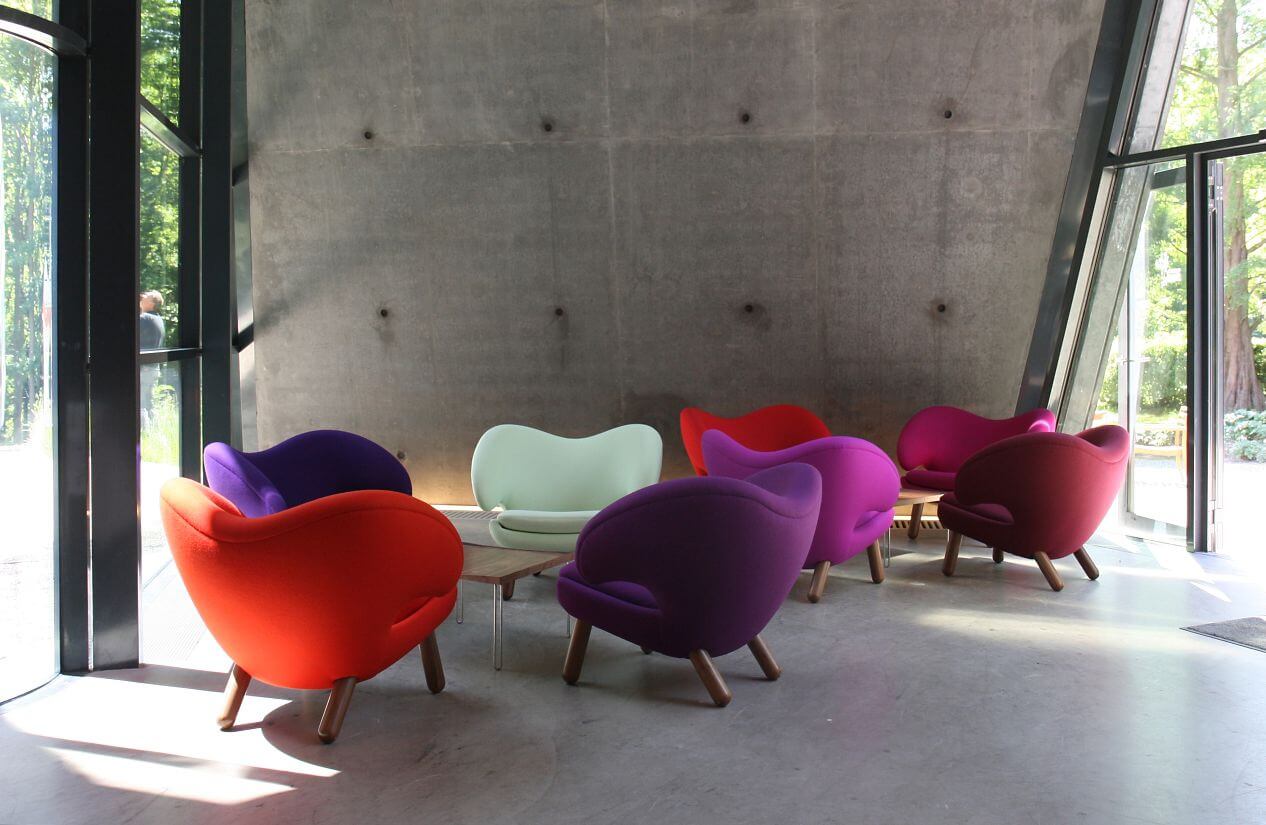 source: https://www.dwr.com
Like every youth, Finn Juhl – the eventual mastermind behind the Pelican chair – had a dream when he was young. He wanted to be an art historian, but due to his father's prerogative he ended up going to architecture school at the Royal Danish Academy of Art. When he acquired fame as a furniture designer, Juhl referred to himself as self-taught. His unfettered flair for the non-academic pursuit shows in most of his work. His work was largely inspired by artists such as Picasso and Henry Moore. He preferred thinking out of the box, as demonstrated by the unique customary greeting via a Japanese paper fish that was carried out at his modern office in Copenhagen.
Finn Juhl experienced furniture designing from a sculptor's point of view. He preferred to let his imagination loose, working by experimenting with the volume, shape, and expressiveness of his pieces. He didn't limit himself by functionality – he had an artist's sensibility that led his work to be the perfect interpretation of the adage, 'function follows form.'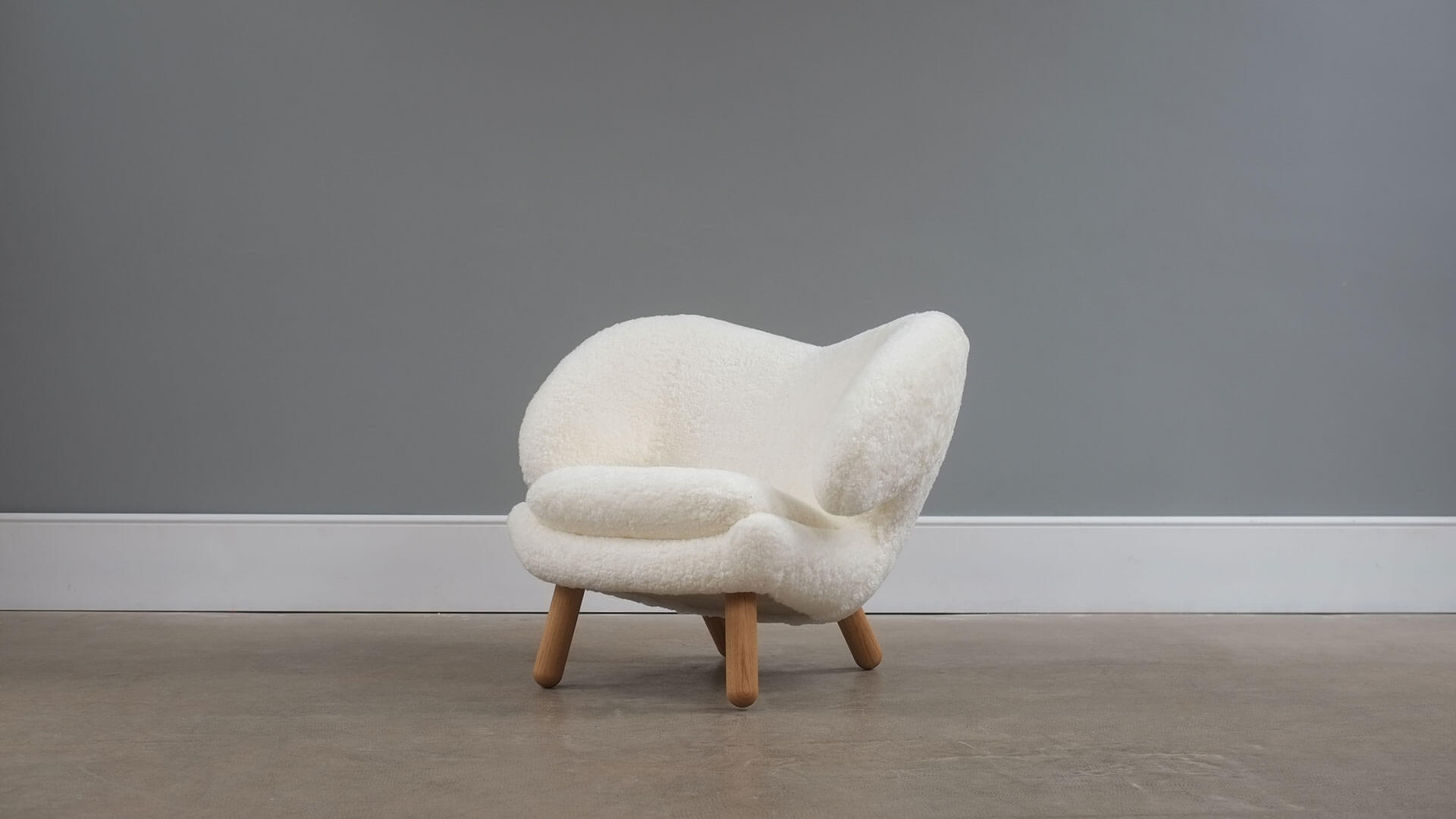 source: https://www.themodernwarehouse.com
History of the Pelican Chair
sminkinc
Juhl collaborated with the cabinet maker Neils Vodder in the designing of the Pelican chair, and it was first introduced at the Cabinet Makers' Guild in 1940. The fantasical approach to its design must have caused quite a stir because its commercial production was very limited. At the time of its conception, the Pelican chair challenged the norms set by the conventional, straight-laced modernist aesthetic that was popular at the time. Although the chair received critical reviews in the beginning, today it is one of the most iconic furniture pieces you'll ever come across, proving that it was well ahead of its time.
OneCollection even reintroduced the Pelican Chair design at the Cologne furniture fair in 2001. They've now come up with a special edition of this chair to celebrate its 75th anniversery that is upholstered in a fabric based on one of the initial concept drawings from 1942.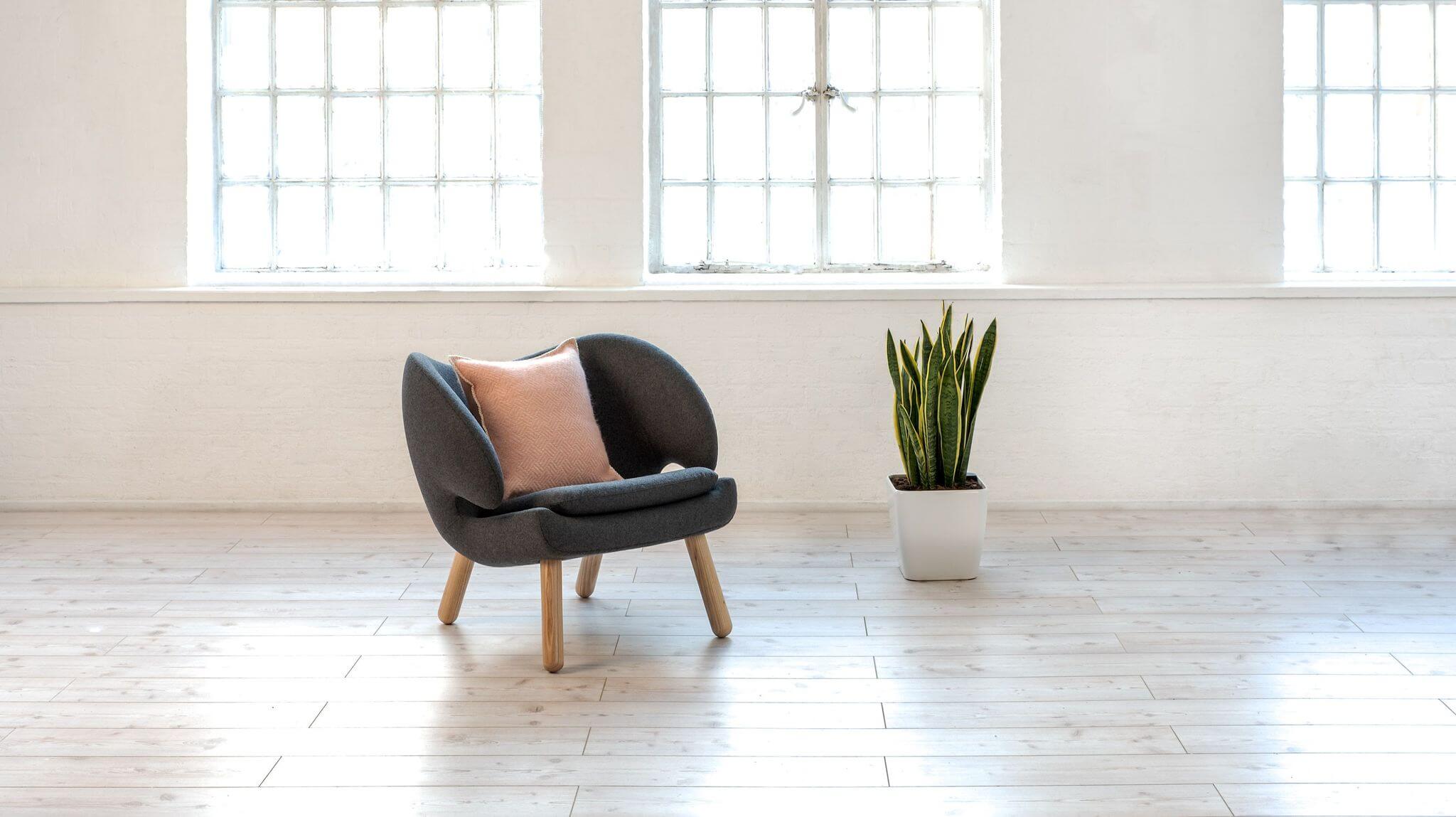 source: https://voga.com
Materials and contemporary alterations
Danish Designco
The Pelican chair is an extremely comfortable piece of furniture that is manufactured according to the best industry practices. It features a hand-sewn upholstery in number of synthetic and natural fabrics like nylon, leather, and more that's arranged over a pine frame. Its legs come in many sturdy types of wood that include teak, oak, maple, and walnut. However, many of its contemporary iterations have been replaced with a hard foam shell with a steel core. Some versions of this chair even feature a buttoned tufting.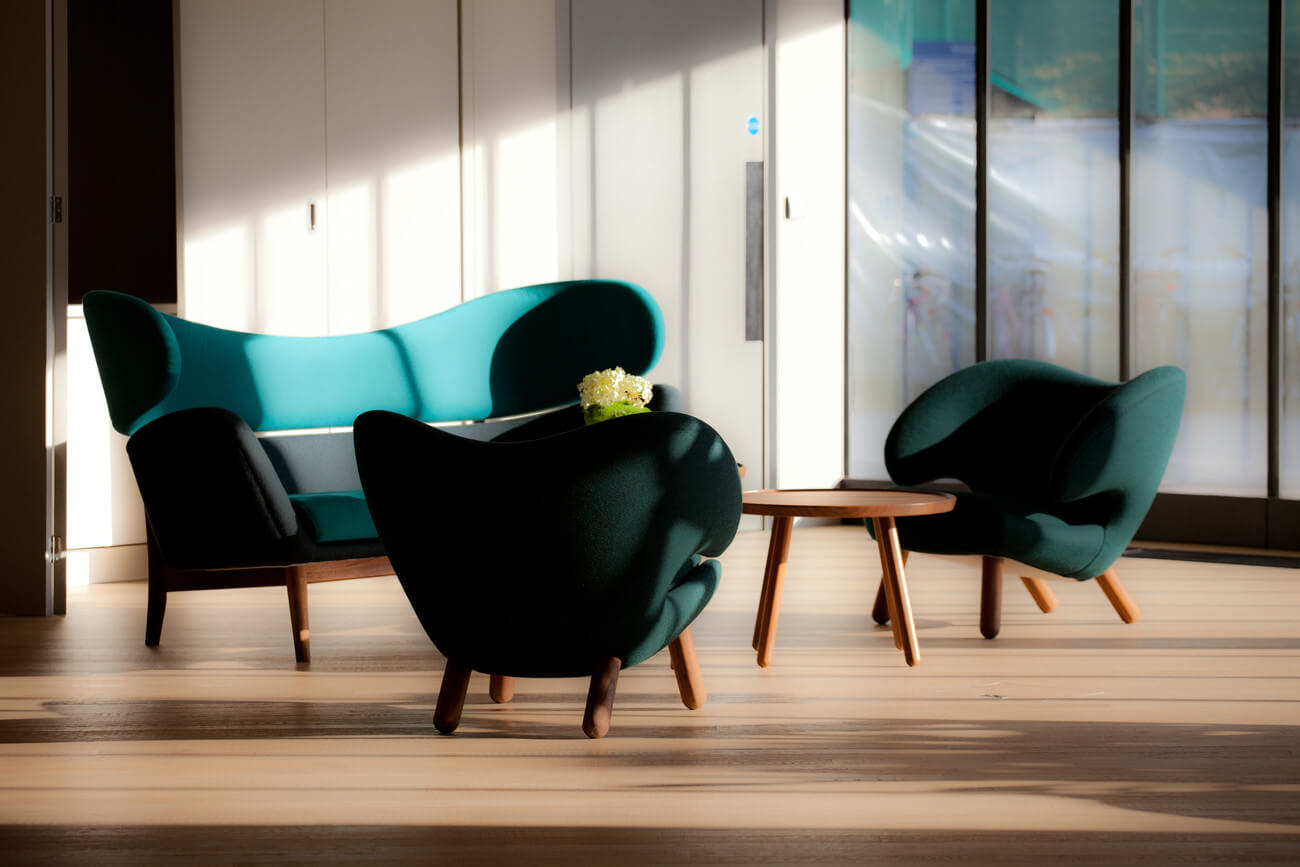 source: https://www.scandinavia-design.fr
About the chair
The Modern Warehouse
The Pelican chair consists of a widely contoured seat that is supported on four slanted wooden legs. The concept behind its design was simple; Juhl didn't just percieve the chair as a product of decorative art in space, but considered it a form and a space in itself. So, although back in the day its design was considered very idiosyncratic, today its culptural beauty is believed to be a contemporary masterpiece.
Things to remember before purchasing the Pelican chair
Furniture Fashion
The unique design of the Pelican chair is very veratile, but you do need to consider some facts before purchasing it:
Is it an accent piece: The first thing you must consider is if you're planning to use this chair as an accent piece. If that is the case then you'll need to pick an upholstery color that is unique, eccentric, and stands out compared to the rest of your furniture.
Do you need a pair: If you're going for a pair of Pelican chairs, then you'll need to select them in a color that contrasts your main sofa and coffee table. You'll also need to ensure that there is enough circulation area around and about it after placement for you to move comfortably.
Can your space handle it: Lastly, the Pelican chair is really large. It won't look as good in a small space. Its oversized outlook would look awesome in a large space, though.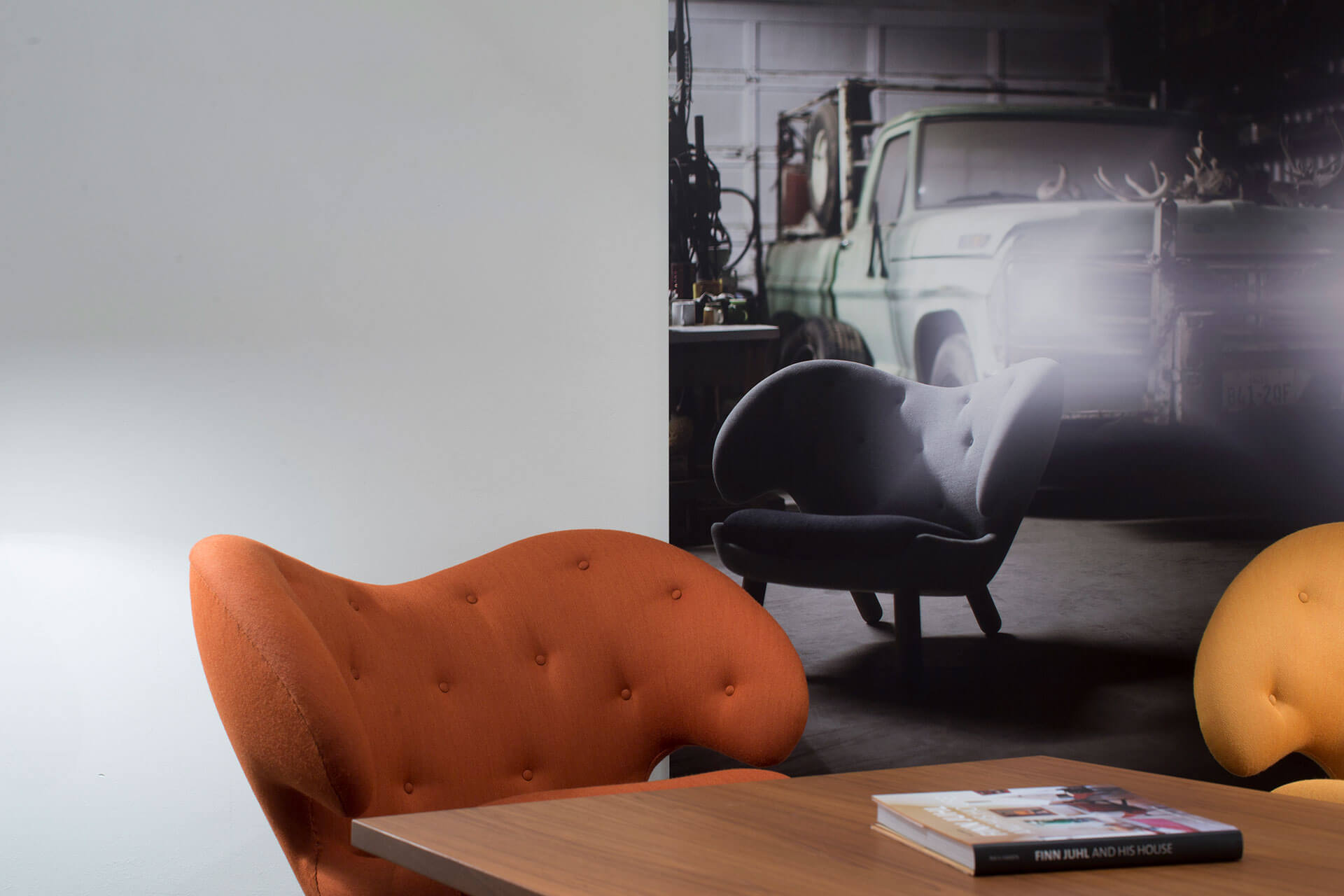 source: https://freshersmag.com
Interior design styles to pair with
Hibino
Here are some interior design styles that you can pair with the Pelican chair:
Eclectic: This style is a collaboration of eccentric pieces derived from various other styles, so the unique outlook of the Pelican chair would definitely suit it well.
Modern: The artsy, free-flowing form of the Pelican chair is all the contrast that you'll need to introduce in the sleek simplicity of a modern style interior design.
Contemporary: The contemporary style is always a gorgeous mix and match of eccentric and popular furniture, so the Pelican chair would fit right in it.
So, these are some of the facts that you'll appreciate knowing about the Pelican chair. Its organic shape and contoured body is the metaphorical hug that everyone needs.