Are you looking to renovate your bathroom? Have you envisioned what you want the final outlook to be? When you imagine the final design, have you chosen to use tiles?
Tiles can help to transform the overall appearance of a bathroom. It can help to amplify the theme for the space or add a touch of character and be a statement feature. When you choose to incorporate tiles into your bathroom, it is essential to ensure the renovation work is completed correctly and to a high standard.
Ensuring that the renovation work is to a quality standard can hold many benefits. The obvious one is that you can enjoy spending time in the bathroom you have dreamed of owning. Another reason, and one less obvious, is the value it can bring. For those considering moving house in the future, a renovated bathroom can add up to 5% to the property's overall value. It is worth keeping in mind when designing how you want the bathroom to look once renovation work has been completed.
If you are preparing to renovate your bathroom, consider tiling your bathroom. It could be tiling the floors, the walls or both. There are advantages that come from tiling your bathroom, here are just a few of them.
Benefits Of Tiled Bathroom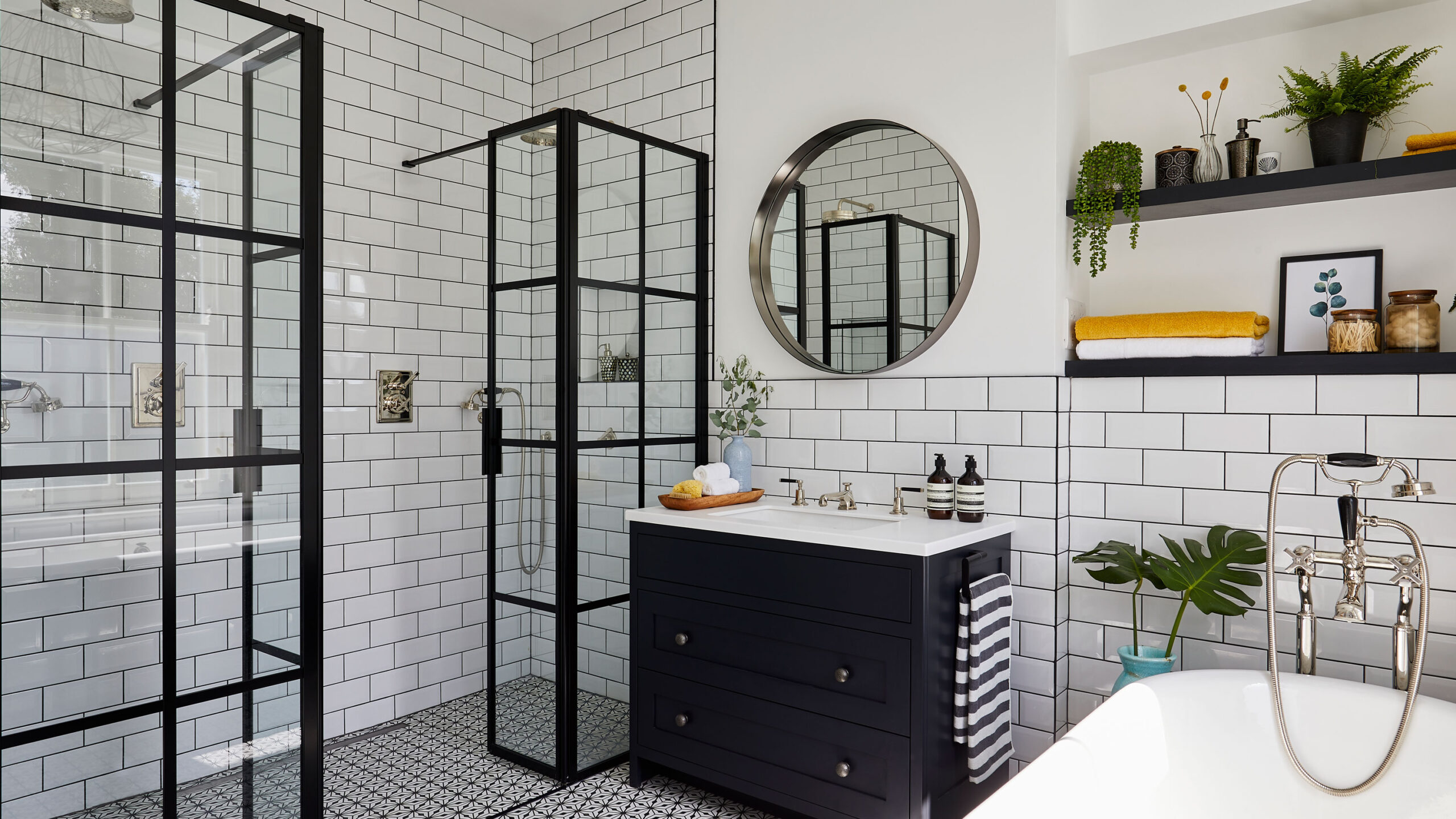 source: pinterest.com
Choosing to have tiles in your bathroom can be an excellent style choice. If you decide to incorporate tiles of bold colours, it can help to create a statement feature for the bathroom. Opting for tiles that are more neutral tones helps to create a calming ambience – perfect for those that want to have a serene, spa-like theme for their bathroom.
Many would assume tiles would be mainly for the flooring. However, tiles can make a great backsplash behind the sink. They are also ideal for around your bathtub, the shower and even on the walls. They are an effective way to transform the room's overall tone by the colours and style of tile you choose to use.
Using tiles in the final design for your bathroom can have many benefits. These are just a few of the benefits you can reap.
source: hgtv.com
Durable And Long-Lasting

 – Bathroom renovations can be a costly project. Materials used, tiles chosen, and new showers or baths are investment pieces. Adding tiles to your bathroom is a worthwhile investment. Tiles are durable and long-lasting, which can last for decades with proper management and careful care. The only aspect that might need refreshing or a touch-up would be the grout. If you choose to have laminates for the flooring, they do not last as long as a tiled flooring would.

Options Ideal For You – 

With tiling increasingly popular to decorate a space, especially a bathroom, the market expands with available choices. For instance, take a look at the extensive range of 

porcelain tiles

 available from Hyperion Tiles. The company stocks various porcelain tile options that can be used for the flooring or on the walls. Whatever your style, the colour scheme for the bathroom, or the look you are trying to create, there will likely be a tile option that can help you bring your vision to life.

Easier To Maintain

 – The bathroom walls are the most susceptible to issues such as mould and mildew. Minimising these issues and tackling them can be harder to achieve on other materials. Tiled bathrooms are easier to maintain, which means these issues are not as common or damaging. Water will inevitably be spilt on a bathroom floor because of the shower, the bath, or the sink. Having laminates as the flooring can be ruined easily as the water can be soaked underneath. It causes the glue to stick them down to dislodge and for the laminate to become misshaped. This then allows additional space for mould to grow. Choosing to use tiles helps you to avoid this unpleasant issue. Instead, you can enjoy the clean and fresh look a tiled bathroom offers.
What To Consider Before Tiling
source: thespruce.com
Knowing the benefits of a tiled bathroom should be more than enough reason to incorporate tiles into your bathroom renovation designs. With so many stylish options and choices of tiles to choose from, it has never been easier to achieve the bathroom of your dreams.
Before any work begins tiling your bathroom, here are a few things worth considering to help you ensure the ideal result is achieved.
Know What You Need
Renovation projects can be costly. It is understandable that you want to find ways to save money and stay within your budget. One way to keep spending to only making necessary purchases is by investing in what you need.
Overspending can quickly be done. It could be purchasing tools you do not need to use or to purchase more than enough materials. Before buying any materials or tools, calculate how much is required. When you know how much materials are needed and what tools you need, you can compare the options available. It enables you to find the materials you need at an ideal cost.
If you did not measure the space to estimate how many tiles you will need, you might be ordering too many tiles. Ordering too many tiles leaves you with a stack of unused tiles. Additionally, it causes you to overspend on tiles that will unlikely be used on the project. Unused materials are not only wasted funds but are also wasted supplies.
DIY Or Professional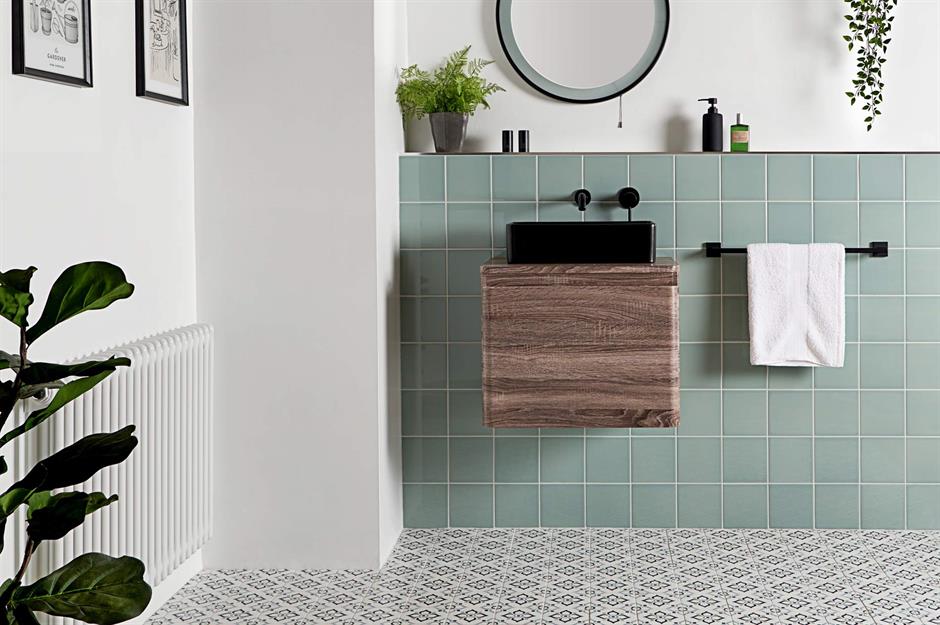 source: pinterest.com
When it comes to tiling, it is a task that does not require a professional to complete. It can be a task that you complete by yourself. For those with a limited budget, choosing to tile the bathroom yourself can help make the renovation project a little more affordable. The internet is inundated with guides on how to tile a bathroom wall and floor. However, if you do not feel confident in tiling your bathroom, investing in the help of a professional will be worthwhile. It can help you from making mistakes that could be costly, such as replacing tiles to amend any errors.
One thing to remember if you do choose a professional, ensure that you conducted thorough research into their services and standards. Read the reviews of former clients to gain an insight into the quality of the service. Keep in mind that reviews left will either praise the service highly or has a negative tone. If there are a few negative comments, see if there is a common theme in why they did not have a positive experience with the business or individual. It will help you make a more informed decision about who to go with should you choose to invest in the services of a professional.
In Conclusion
After the tiling of your bathroom has been completed, you can sit back and enjoy the newly renovated space. It may inspire you to look into other home renovation projects to complete. A freshly updated bathroom can transform the room and make an excellent addition to the home, especially if you choose to sell in the future.
Keep in mind some of these points when preparing your bathroom renovation project. It could help you achieve the bathroom of your dreams whilst keeping within your budget.