Furnished shared rentals are less expensive
Finding a room to rent in New York City is hard. Now, finding a short-term, furnished room for rent is nearly impossible. However, that is only true based on the old rental systems. Meaning, when you are required to go through a credit check and sign a minimal one-year lease, only to perhaps get rejected. However, there is a way to skip all of that. How do you find private rooms that are legal, are affordable and are fully furnished like your parents' home?
Okay, the main reason that short-term New York apartments for rent are difficult to find is that a lot of companies don't allow short-term leases. And the whole purpose behind this is simple. It's a business baby. These real estate companies don't want to promote services that imitate hotels but at a cheaper price. That'll take away their customers and that's where it all boils down to.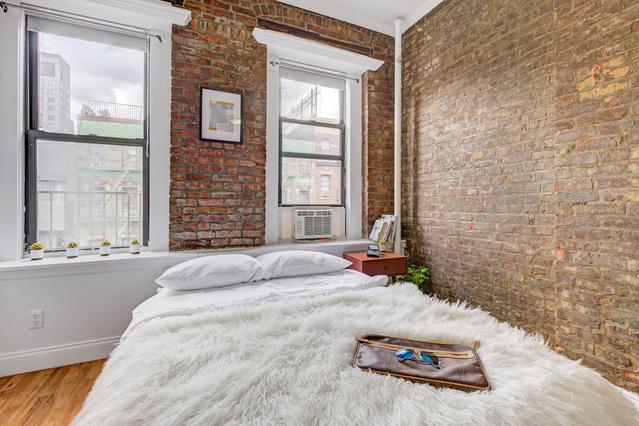 source: nestpick.com
On the other hand, a lot of lenders don't want short-term leases as well. They wish their renters to stay in as long as possible. If they were to rent a room for less than 90 days, they would have to pay a 5.85% tax and a $1.50 tax to the city which are known as daily hotel fees. Now, people don't want to do that. That is why there aren't many Airbnb options or at least, affordable Airbnb options. 
Make sure to ask a lot of questions to people who offer short-term private rooms for rent in New York because there are a lot of scams out there. You don't want someone running away with your money or even worse, being kicked out of the house with two more months of rent to stay. Don't be afraid to ask questions. You have to make sure that the landlord has the legal ability to provide you with a short-term rental apartment. 
If you are already in New York or planning to go and live in New York for a short period of time, then this article is for you. 
Let's explore some of the short-term rental options that you have in New York. Some of these options include coliving. Visit sharedeasy. club for more information about coliving in New York.
Your short-term rental solutions in NYC
source: nestpick.com
One of the best options is to look for agencies that specialize in short-term rooms for rent, many of which (like SharedEasy) were created by folks who were sick of the lack of short-term rentals in the city.
These companies create a network of furnished rental options, based on a coliving business model. While this involves sharing your apartment with others, it is way better than dealing with random landlords or worse, real estate brokers. 
What's more important, furnished shared apartments are less expensive than the typical private rooms for long-term rent. However, keep in mind that any legitimate short-term rental company will not offer rent for less than 30 days.
The apartments come all furnished and it is way better than staying in a hotel where you have to pay $500 a night if you're staying in Times Square. Even a small studio apartment for $6,000 a month, is more convenient than staying for a week at these hotels.
Room conditions
source: rentberry.com
The first thing to know about shared rooms or apartments is that you need to be flexible. You have to be prepared to make compromises regarding living with other people and adapting to the common conveniences. In return, you will get flexible moving out or relocating dates. 
Now, most of the co-living spaces like SharedEasy include wifi and utilities, and housekeeping, and you don't have to pay a dime more to get these services.
Another thing that you need to be clear on is where you want to be in terms of neighborhood. And also, consider the type of building you want to live in. Every co-living space comes with different options based upon location and building type. 
Now, as we mentioned earlier apartments are furnished but you will need to be careful about doing damage to the furnishings. Check with the coliving company about what kind of costs are involved in case you damage the furniture or appliances. 
The best time to find a short-term rental in New York
The thing that co-living spaces and normal rooms for rent have in common is that they are both easier to get through the months of June and September. This is because that's the time when most students leave the city and a lot of apartments and shared rooms are emptied. So due to the high offer, the price is logically lower. Avoid at all costs the months of December through March to find a shared room or a private room because this is when everyone is in the town and the prices are going to be much higher. 
source: roomsinthecity.com
Now, there are co-living companies that do allow you to stay with them for a few days, but in this case, the price would be different from where you sign the minimal 30 days lease. The good thing about coliving companies is that they allow you to move from building to building in different neighborhoods according to your needs, with no extra payment required.
The process of getting a shared room in New York
Unlike the normal rental procedure, no credit checks are required, when getting a 30 days lease with a coliving company. However, you will need to submit to a previous rental background check, and maybe go through a short interview process.
Some companies do charge a service fee to cover the cost of processing payments and apartment maintenance. Some companies will charge you a security deposit that's usually equal to one month of rent and is returned at the end of your lease. 
To get a one-month stay in a private room in a shared apartment in New York, you will pay on average $1,500. If you don't mind sharing the room you can expect to pay $800 to $900 a month for your bed. 
Final thoughts
source: apartments.com
Getting a short-term apartment for rent in New York can be pretty hard. There are a lot of fees involved in the process that's why a lot of landlords or real estate companies go with the minimal one-year lease. 
However, there are co-living companies out there that can offer you a room for as little as 30 days. You can easily get your room in a shared apartment or a shared room. The costs are lower, the spaces are all furnished and they offer all the services from the internet to the appliances with no extra costs involved. 
You don't have to rely on real estate brokers and pay thousands every month, any longer.